Northwestern Indiana from 1800 to 1900
A regional history written by Timothy H. Ball . . . .
Source Citation:
Ball, Timothy H. 1900. Northwestern Indiana from 1800 to 1900 or A View of Our Region Through the Nineteenth Century. Chicago, Illinois: Donohue and Henneberry. 570 p.
NORTHWESTERN INDIANA FROM 1800 TO 1900
5
INTRODUCTION.
This work will include, in the term North-Western Indiana, all the area between what is known in the United States survey as the Second Principal Meridian and the Illinois State Line, from township 26, northward to the Indiana Boundary Line. The width of this region is thus nine ranges and about one section, or fifty-five miles, and its length is nearly twelve townships, or about seventy-two miles, making an area, including a part of Lake Michigan, in even numbers, of 3,960 square miles.

In this area are seven entire counties and parts of two others, but only a very small part of Cass County, and the counties to be included in this history, as forming North-Western Indiana, are Lake, Porter, LaPorte, Starke, Pulaski, and White, and Newton and Jasper.

It will thus, at the southeast corner of the parallelogram, barely touch the Wabash River a few miles from Logansport. The Tippecanoe, the Iroquois, the Yellow, the Kankakee, and the Calumet, are its principal rivers.

In thus taking the second principal meridian as the limit eastward of North-Western Indiana there are left for North-Eastern Indiana fourteen ranges, or thirty miles more than one-half of the full width of the State.

The entire history of this region, in much detail, could not in a volume of this size be given; but in-

6

teresting and certainly valuable facts connected with its early settlement and growth, will here be found, some of which can be found nowhere else; and the author believes that the condensed and the detailed history and the gathered facts and incidents, as arranged in this book, will be an acceptable and a valuable addition to the accumulating store of our historic treasure, as we are in Indiana, closing up one century of progress and closing up at the same time the Nineteenth Century of the Christian Era.

In regard to the sources of information for the statements contained in this work, the author can claim, in the first place, some personal knowledge derived from his own observation, as he has had a home in this region since 1837, coming here from the State of Massachusetts in the spring of that year, when eleven years of age (old enough to observe, and, as he had then studied Latin and Greek in academies and high schools, cultivated enough to discriminate and make records); and since 1875 he has been the Historical Secretary of the Old Settlers' Association of Lake County: and, in the second place, he has availed himself of the helps furnished by different County and State publications. Especially from an Illustrated Historical Atlas of Indiana, published in 1876, by Baskin, Forster & Co., he has taken many statements of early times and of settlements in counties which his personal knowledge did not reach, statements in regard to those early years which could not now be obtained. That historical atlas is a valuable work for Indiana up to 1875.

That some corrections would need to be made, and that room would be found for desirable additions, in the historical writings of those who have gone before

7

him in giving county history, might naturally be expected, and from his long residence in this region, while most of those writers referred to have been nonresidents and strangers, and on account of his special training and the line of work which for many years he has pursued, the author of this book believes that the readers will find here some carefully prepared and quite accurate history, and he cherishes the hope that it will become a recognized authority, in its special lines of treatment, concerning North-Western Indiana.

It is hoped that no apology is needed for inserting here the rather lengthy extracts that follow.

Well said Dr. Baron Stow, of Boston, at a large religious semicentennial in 1864, speaking of the disposition of aged persons to give reminiscences of their youth, "this tendency to retrospection and historical narration is not merely an accident of human decline; it is a beneficent arrangement of Divine Providence. In all education, experience renders an important service, and for its teaching there is no substitute. 'Thou shalt remember all the way in which the Lord thy God hath led thee.' 'One generation shall praise Thy works to another, and shall declare Thy mighty acts.' The past is thus brought forward into the present; the stream of tradition is kept running; and, while the less valuable facts may be precipitated and left by the way, the more important are borne along as materials for the continuous history of our race. * * * The world and the church of our times do well to understand how much they are indebted to the memories of the more aged as the successive reservoirs of facts, and now much also, to what are thoughtlessly called the garrulities of age, for the communication of those

8

facts. If it is an ordering of Providence that every generation shall create a portion of history, it is equally intended that every generation shall convey to its successor all that is worthy of transmission. * * * The successive generations overlap one another in precisely the way to form a continuous channel for the traditionary current." ["The Missionary Jubilee." Pages 91, 92.]
THE PLAN OF THIS BOOK.
In giving a view of North-Western Indiana for one hundred years, or through the Nineteenth Century, it is not proposed to give a continuous history of this region, county by county and township by township, as it is now divided and subdivided; but, while recognizing these divisions as they now exist, it is proposed to give the history of the region as a whole, to show its early settlement, its growth, and what it now is, by treating in separate chapters, as topics or subjects of interest, the various particulars which belong to its topography, its physical features, and its general history. The reader who will look over the chapter headings as given under the word "Contents," will see what these particulars are supposed to be, and so he will know what to expect in the book itself. Especially he will find, in making up the hundred years of history, some thirty years of Indian life; twenty years of white pioneer life, ten of that being white in connection with Indian life; and then fifty years of railroad growth and the modern civilization and progress belonging to the last half of the Nineteenth Century in the United States of America. When the reader has gone over these various chapters, has considered by

9

itself each subject, each topic, he will see what Northwestern Indiana once was, and what in seventy years of civilized life it has become.

T. H. BALL,
Crown Point, Indiana, 1900.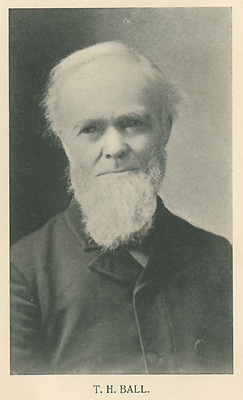 Map of North-Western Indiana, 1900
[Click Image to Enlarge]
Note. The county histories which I have examined are these:

1. "History of La Porte County, Indiana, and its Townships, Towns, and Cities, by Jasper Packard." 1876.

This is an excellent and very reliable work.

2. History of La Porte County, C. C. Chapman & Co., Chicago, publishers. 1880.

Writers names not given.

This work has not dealt quite fairly by General Packard. From his valuable and carefully prepared history it has taken not the substance only, but the very wording, at times, sentence by sentence, with no marks of quotation, no apparent acknowledgment; yet, as a very much larger work,-- it weighs four and a half pounds -- it contains interesting material and is valuable for reference.

3. Counties of Porter and Lake, Indiana. 1882. F. A. Battey & Co., Publishers. Weston A. Goodspeed and Charles Blanchard, Editors.

This is also a large book, weighing four pounds and an eighth, and with some blemishes and some large faults is a valuable reference book.

4. History of Pulaski and White Counties, by the same company as the above.

5. History of Jasper, Newton then included, Benton, and Warren counties, by the same, F. A. Battey & Co., Chicago. 1883.

These four works, written by various persons, not

10

generally residents of the counties, are about the same in size, four pound books, and gotten up in the same style. They are all valuable, but too heavy for pleasant reading.

6. It is almost needless to mention "Lake County," 1872, by T. H. Ball, and "Lake County," 1884, from which some extracts are taken, both now out of print.

I have also looked into a Biographical History of the counties of Tippecanoe, White, Jasper, Newton, Benton, Warren, and Pulaski, by the Lewis Publishing Company, Chicago, 1899, two large volumes, costing the subscribers fifteen dollars. And I have examined with care a late History of Indiana, 1897, by W. H. Smith, in two good sized volumes. This is an interesting and a valuable work, but contains very little in regard to Northern Indiana.

T. H. B.
NAVIGATION OF
NORTHWESTERN INDIANA FROM 1800 TO 1900
FRONT MATTER AND DEDICATION
CONTENTS
INTRODUCTION
CHAPTER 1 - GENERAL OUTLINES
CHAPTER 2 - THE INDIANS
CHAPTER 3 - THE EARLY SETTLERS
CHAPTER 4 - WHAT THE EARLY SETTLERS FOUND
CHAPTER 5 - PIONEER LIFE
CHAPTER 6 - COUNTY ORGANIZATIONS
CHAPTER 7 - OUR LAKES AND STREAMS
CHAPTER 8 - LAKE MICHIGAN WATER SHED
CHAPTER 9 - TOWNSHIP AND STATISTICS
CHAPTER 10 - RAILROAD LIFE
CHAPTER 11 - POLITICAL HISTORY
CHAPTER 12 - THE WAR RECORD
CHAPTER 13 - RELIGIOUS HISTORY
CHAPTER 14 - RELIGIOUS HISTORY
CHAPTER 15 - RELIGIOUS HISTORY
CHAPTER 16 - SUNDAY SCHOOLS
CHAPTER 17 - TOWNS AND VILLAGES OF NEWTON AND JASPER
CHAPTER 18 - TOWNS AND VILLAGES OF WHITE, PULASKI AND STARKE
CHAPTER 19 - VILLAGES, TOWNS AND CITIES OF LAKE
CHAPTER 20 - VILLAGES AND TOWNS OF PORTER
CHAPTER 21 - VILLAGES, TOWNS AND CITIES OF LA PORTE
CHAPTER 22 - EARLY TRAVELS
CHAPTER 23 - PUBLIC SCHOOLS
CHAPTER 24 - PRIVATE AND PAROCHIAL SCHOOLS
CHAPTER 25 - LIBRARIES
CHAPTER 26 - OTHER INDUSTRIES
CHAPTER 27 - SOCIAL ORGANIZATIONS
CHAPTER 28 - THE KANKAKEE REGION
CHAPTER 29 - DRAINING MARSHES
CHAPTER 30 - ANIMALS AND PLANTS
CHAPTER 31 - MISCELLANEOUS RECORDS
CHAPTER 32 - COURT HOUSES
CHAPTER 33 - ARCHAEOLOGICAL SPECIMENS
CHAPTER 34 - BIRTH PLACES OF PIONEERS
CHAPTER 35 - McCARTY
CHAPTER 36 - ATTEMPTS TO CHANGE
CHAPTER 37 - ALTITUDES
CHAPTER 38 - MISCELLANEOUS RECORDS
CHAPTER 39 - SOME STATISTICS
CHAPTER 40 - WEATHER RECORD
CONCLUSION
Transcribed by Steven R. Shook, April 2012