Northwestern Indiana from 1800 to 1900
A regional history written by Timothy H. Ball . . . .
Source Citation:
Ball, Timothy H. 1900. Northwestern Indiana from 1800 to 1900 or A View of Our Region Through the Nineteenth Century. Chicago, Illinois: Donohue and Henneberry. 570 p.
NORTHWESTERN INDIANA FROM 1800 TO 1900
476
CHAPTER XXXII.
COURT HOUSES.
NEWTON COUNTY.
Newton County has no court house exhibited here because its modern building has not yet been constructed, the old frame building of 1860 being still in use; but it has certainly the largest and best shaded public square in Northwestern Indiana. Its dimensions are 300 feet by 400 feet, and the native, forest trees still shade it. If the county seat should be removed this grand square could not be moved with it. When the question of removal is settled no doubt a good building will be erected.
JASPER COUNTY.
Jasper County has had quite a number of county buildings. A small log building had been provided for the session of the Circuit Court in April, 1840. About 1845 a frame building was erected for the purpose of holding courts,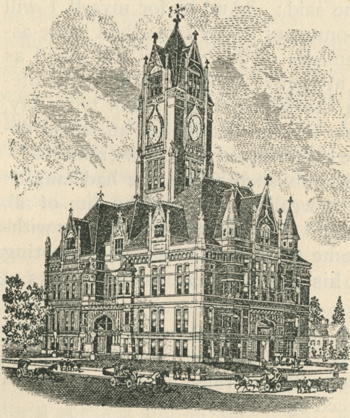 477

and in 1853 a brick court house was built at a cost of twelve thousand dollars. This was destroyed by fire in November, 1864, and another court house was erected. The first jail was built of logs in 1847 by George W. Spitler, costing forty-nine town lots. This was burned in 1856, and for the next twenty years and more Jasper had no jail.

The contract for the present court house was formed in July, 1896, and work soon commenced. The building was completed in 1898. It is constructed of Bedford stone, with what is called rough finish. Like all our modern stone structures it is a solid looking building and presents an imposing appearance. Cost $165,000.00.

It stands within a public square, which seems to be the prevailing style.

Auditor of Jasper County, Henry B. Murray.
WHITE COUNTY.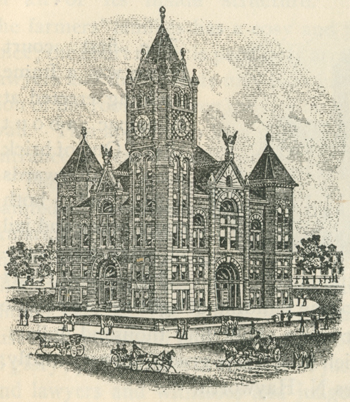 In Monticello selected for a county seat and named in September, 1834, town lots were laid off by John Barr, Senior, County Agent, and a sale was ordered for November 7, 1834. A small, two story, frame

478

court house was soon built, which was ready for use in 1836. Cost, about five hundred dollars. A log jail was built. In 1850 a second court house was built, costing nine thousand dollars, and a new jail.

In the history of Pulaski and White it is said that one jail was "built in 1854, and another in 1864, costing seven thousand and seven hundred dollars." Another authority says that in 1875 a third jail building was erected, built of stone, and that this with the sheriff's residence attached, built of brick, cost twelve thousand dollars. That nearly eight thousand dollars should be laid out for a jail in 1864 and twelve thousand in 1875 does not look quite probable. In 1894 was built the present massive and imposing court house, of gray stone, costing eighty-five thousand dollars.

M. J. Holtzman, Auditor.
PULASKI COUNTY.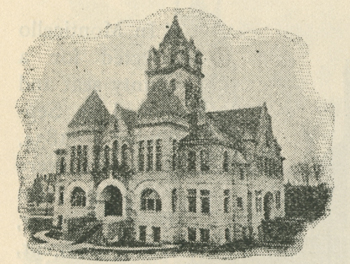 The first court house was a frame building erected at Winamac about 1841. One of brick was afterwards built, and both court house and jail in 1876 were considered substantial structures. The present court house is a fine looking building of light-colored stone erected in 1895, costing about fifty thousand dollars. The square in which it stands is graded up very neatly.

Auditor, James N. Hayworth.

479
STARKE COUNTY.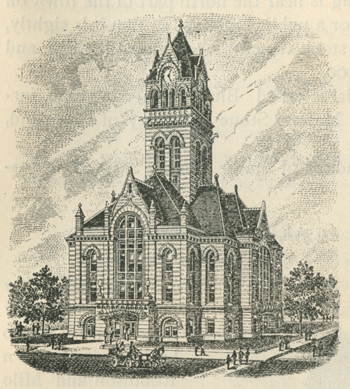 The court house at Knox, while not so large nor so costly as some of the others, is quite as fine in appearance, and presents to a visitor an inviting and interesting arrangement in all of its inside structure. The room for the farmers' families has a cosy and pleasant appearance; the court room is peculiarly arranged so that the lawyers and their clients may pass in to the inner portion of the room between the seat for the judge and the wall. This appears to be a great convenience, as the entrance is near the seat for the judge.

The inside of the dome has interesting designs painted or frescoed upon the wall. On the north, America is represented by an Indian; on the south is the figure of Justice; on the west a figure representing Glory; and on the east is presented Eternity. America should ever be the home for justice; and being just Americans will have their share of all true national glory; but well is it in temples of justice for litigants and lawyers and witnesses and judges to remember,

480

in the East there is that which overshadows all time.

The building is near the north part of the town on good ground for a public building, so that it is sightly, and is a good stone structure, completed in 1898, and costing $125,000.

The material is called Blue Amherst stone, furnished by the Malone Stone Company of Cleveland, Ohio.

Present auditor of Starke County Aug. H. Knosman.
LAKE COUNTY.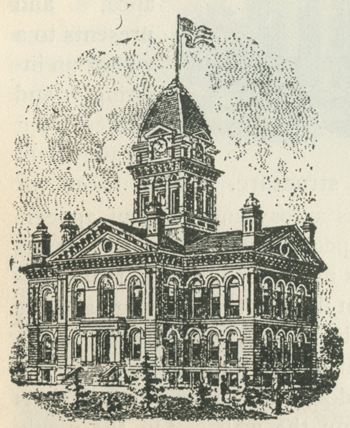 Near the center of Lake County, by the enterprise of two brothers, Solon Robinson and Milo Robinson, there was erected in 1837 a log building designed for a court house, although no county seat for Lake had then been located. Courts were held in this building, and when, in 1840, this central locality was finally selected for the most northwestern county seat in Indiana, the log building was adopted as the court house, and has been known in all these years in the annals and traditions of Lake County as the "Old Log Court House." In May of 1838 it had been made the temporary court house of the county by the act of the

481

county commissioners in accordance with an act of the State Legislature.

In 1838 the lower room was fitted up "for a prison" at a cost of sixty-four dollars.

The cost of the entire building may have been five hundred dollars.

This log building, so near as any one now living can tell, was outside of what is now the southwest corner of the public square, in the present paved roadway.

In 1849 a frame court building was erected, occupied in 1850, and a brick office building was on the east side and one on the west, for treasurer and auditor, and -for recorder and clerk, all fronting the south. Cost of all about ten thousand dollars.

For about thirty years these buildings and a frame jail building, supplied the needs of the county. But it was decided to erect a more costly and larger building in 1878, and on September 10th of that year the corner stone of the present brick and stone building was laid, with masonic "ceremonies, in the presence of a large assemblage of citizens. The building was ready for use in 1880. Cost $52,000. In round numbers, and also quite exact, the log building was in use ten years, the frame buildings thirty years, and the present one has been in use twenty years.

For sixty years Crown Point has been of Lake the county seat. For sixty-two years courts of justice have in Crown Point been held.

The third court house of Lake County was built near the center of what Solon Robinson marked out and donated for a public square, to be free from fence or obstruction for the common use of all the citizens.

482

But originators, donors, and founders cannot bind altogether those who come after them; and the present arrangements seem to suit the citizens of the present. What other generations may do remains for other generations to see.

In 1882 was built on Main street, on a lot adjoining the Methodist church, reserved for many years by Carter & Carter, of New York City, as a location for an Episcopal church, a brick jail edifice, at a cost of about $24,000.

Around the court house yard, was laid in 1889, a walk ten feet in width, of sandstone, six inches in depth, and about sixty-four rods in length. The yard is about 315 feet from north to south and about 220 from east to west. Auditor, M. Grimmer.
PORTER COUNTY.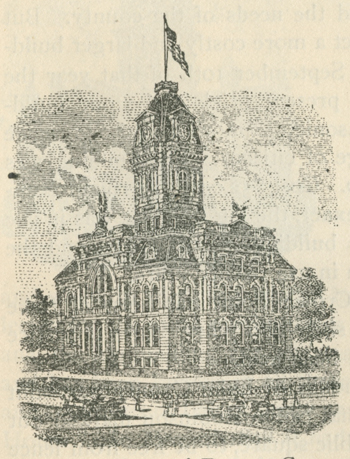 A frame court house was built in 1837. A log jail was put up in 1838. In 1853 was erected a brick court house, costing about $13,000. In 1871 was built a jail costing $26,000. Commenced in 1883, finished in 1885, the present court house was built of Bedford stone. Cost $149,000. Auditor of Porter County, M. J. Stinchfield.

483
LA PORTE COUNTY.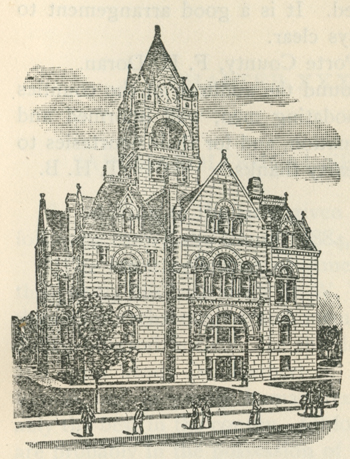 In La Porte County, the town of La Porte having been selected for the county seat, the Commissioners contracted for a brick court house in 1833, to be forty feet square, and to cost $3,975, They also arranged for a jail building to cost $460. These buildings were not completed, probably, until 1834. The La Porte County court house of the present, the corner stone having been laid June 30, 1892, by the Grand Lodge of A. F. A. Masons of the State of Indiana, is the grandest temple of justice in northwestern Indiana. It was completed in 1894. The cost was $305,000. It is of brown stone from Lake Superior. It has three stories. The workmanship is excellent. It contains rooms well arranged for the accommodation of farmers' families when they come to town on any business. It is only the second court house of the county; and judging from its looks, one would not suppose another would ever be needed.

The ample ground around the building is in fine condition, well kept with good stone walks. The iron railing for the fastening of horses is on only three

484

sides. On the main street in front of the public square no teams can be tied. It is a good arrangement to have the front always clear.

Auditor of La Porte County, F. H. Doran.

Note: I have found the auditors of the counties intelligent, accommodating men, well informed and ready to give information, and for their courtesies to me, I here return hearty thanks. T. H. B.
NAVIGATION OF
NORTHWESTERN INDIANA FROM 1800 TO 1900
FRONT MATTER AND DEDICATION
CONTENTS
INTRODUCTION
CHAPTER 1 - GENERAL OUTLINES
CHAPTER 2 - THE INDIANS
CHAPTER 3 - THE EARLY SETTLERS
CHAPTER 4 - WHAT THE EARLY SETTLERS FOUND
CHAPTER 5 - PIONEER LIFE
CHAPTER 6 - COUNTY ORGANIZATIONS
CHAPTER 7 - OUR LAKES AND STREAMS
CHAPTER 8 - LAKE MICHIGAN WATER SHED
CHAPTER 9 - TOWNSHIP AND STATISTICS
CHAPTER 10 - RAILROAD LIFE
CHAPTER 11 - POLITICAL HISTORY
CHAPTER 12 - THE WAR RECORD
CHAPTER 13 - RELIGIOUS HISTORY
CHAPTER 14 - RELIGIOUS HISTORY
CHAPTER 15 - RELIGIOUS HISTORY
CHAPTER 16 - SUNDAY SCHOOLS
CHAPTER 17 - TOWNS AND VILLAGES OF NEWTON AND JASPER
CHAPTER 18 - TOWNS AND VILLAGES OF WHITE, PULASKI AND STARKE
CHAPTER 19 - VILLAGES, TOWNS AND CITIES OF LAKE
CHAPTER 20 - VILLAGES AND TOWNS OF PORTER
CHAPTER 21 - VILLAGES, TOWNS AND CITIES OF LA PORTE
CHAPTER 22 - EARLY TRAVELS
CHAPTER 23 - PUBLIC SCHOOLS
CHAPTER 24 - PRIVATE AND PAROCHIAL SCHOOLS
CHAPTER 25 - LIBRARIES
CHAPTER 26 - OTHER INDUSTRIES
CHAPTER 27 - SOCIAL ORGANIZATIONS
CHAPTER 28 - THE KANKAKEE REGION
CHAPTER 29 - DRAINING MARSHES
CHAPTER 30 - ANIMALS AND PLANTS
CHAPTER 31 - MISCELLANEOUS RECORDS
CHAPTER 32 - COURT HOUSES
CHAPTER 33 - ARCHAEOLOGICAL SPECIMENS
CHAPTER 34 - BIRTH PLACES OF PIONEERS
CHAPTER 35 - McCARTY
CHAPTER 36 - ATTEMPTS TO CHANGE
CHAPTER 37 - ALTITUDES
CHAPTER 38 - MISCELLANEOUS RECORDS
CHAPTER 39 - SOME STATISTICS
CHAPTER 40 - WEATHER RECORD
CONCLUSION
Transcribed by Steven R. Shook, April 2012