Northwestern Indiana from 1800 to 1900
A regional history written by Timothy H. Ball . . . .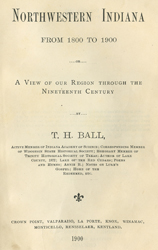 The following history of Northwestern Indiana was written by Timothy H. Ball and published the printer Donohue and Henneberry of Chicago, Illinois, in 1900. Ball arrived in Porter County in 1837, settling with his parents in the now extinct village of City West. He later moved to Lake County, Indiana. Ball was a trained historian and a very able writer who resided in Northwestern Indiana nearly his entire life. He wrote extensively about the historical development of the area, especially the counties of Lake and Porter. As such, his perspectives of the early history of the entire region are rather insightful.

Below, we present a complete transcription of Ball's book. The book embraces historical information concerning the counties of Jasper, Lake, LaPorte, Newton, Porter, Pulaski, Starke, and White. However, rather than presenting material on a county-by-county basis, Ball provides a more holistic review of the entire area embraced by Northwestern Indiana. The style and presentation of Ball's writing makes for the understanding of the early history and development of the region much clearer than the information published in most of the county histories prepared by other writers. Substantial information concerning the early history of Porter County is included in this book.

The following four maps are included in this book:
Northwestern Indiana, 1900
Jasper County, Indiana, 1900
Lake County, Indiana, 1890
State of Indiana

Source Citation:
Ball, Timothy H. 1900. Northwestern Indiana from 1800 to 1900 or A View of Our Region Through the Nineteenth Century. Chicago, Illinois: Donohue and Henneberry. 570 p.
NAVIGATION OF
NORTHWESTERN INDIANA FROM 1800 TO 1900
FRONT MATTER AND DEDICATION
CONTENTS
INTRODUCTION
CHAPTER 1 - GENERAL OUTLINES
CHAPTER 2 - THE INDIANS
CHAPTER 3 - THE EARLY SETTLERS
CHAPTER 4 - WHAT THE EARLY SETTLERS FOUND
CHAPTER 5 - PIONEER LIFE
CHAPTER 6 - COUNTY ORGANIZATIONS
CHAPTER 7 - OUR LAKES AND STREAMS
CHAPTER 8 - LAKE MICHIGAN WATER SHED
CHAPTER 9 - TOWNSHIP AND STATISTICS
CHAPTER 10 - RAILROAD LIFE
CHAPTER 11 - POLITICAL HISTORY
CHAPTER 12 - THE WAR RECORD
CHAPTER 13 - RELIGIOUS HISTORY
CHAPTER 14 - RELIGIOUS HISTORY
CHAPTER 15 - RELIGIOUS HISTORY
CHAPTER 16 - SUNDAY SCHOOLS
CHAPTER 17 - TOWNS AND VILLAGES OF NEWTON AND JASPER
CHAPTER 18 - TOWNS AND VILLAGES OF WHITE, PULASKI AND STARKE
CHAPTER 19 - VILLAGES, TOWNS AND CITIES OF LAKE
CHAPTER 20 - VILLAGES AND TOWNS OF PORTER
CHAPTER 21 - VILLAGES, TOWNS AND CITIES OF LA PORTE
CHAPTER 22 - EARLY TRAVELS
CHAPTER 23 - PUBLIC SCHOOLS
CHAPTER 24 - PRIVATE AND PAROCHIAL SCHOOLS
CHAPTER 25 - LIBRARIES
CHAPTER 26 - OTHER INDUSTRIES
CHAPTER 27 - SOCIAL ORGANIZATIONS
CHAPTER 28 - THE KANKAKEE REGION
CHAPTER 29 - DRAINING MARSHES
CHAPTER 30 - ANIMALS AND PLANTS
CHAPTER 31 - MISCELLANEOUS RECORDS
CHAPTER 32 - COURT HOUSES
CHAPTER 33 - ARCHAEOLOGICAL SPECIMENS
CHAPTER 34 - BIRTH PLACES OF PIONEERS
CHAPTER 35 - McCARTY
CHAPTER 36 - ATTEMPTS TO CHANGE
CHAPTER 37 - ALTITUDES
CHAPTER 38 - MISCELLANEOUS RECORDS
CHAPTER 39 - SOME STATISTICS
CHAPTER 40 - WEATHER RECORD
CONCLUSION
Transcribed by Steven R. Shook, April 2012