Northwestern Indiana from 1800 to 1900
A regional history written by Timothy H. Ball . . . .
Source Citation:
Ball, Timothy H. 1900. Northwestern Indiana from 1800 to 1900 or A View of Our Region Through the Nineteenth Century. Chicago, Illinois: Donohue and Henneberry. 570 p.
NORTHWESTERN INDIANA FROM 1800 TO 1900
117
CHAPTER VIII.
LAKE MICHIGAN WATER SHED.
As we leave the lakes and streams, the natural and artificial water courses, it may be a matter of interest to some, in another generation, to have the dividing line between Lake Michigan waters and Mississippi River waters traced with some degree of definiteness, for the drying up of water courses and the draining by means of ditches have already almost consigned to oblivion the names and the winding beds of some of the small streams that were well known to the Illinois and Indiana pioneers. This line will not be given as though taken from a surveyor's field notes, yet it will be sufficiently accurate for the purpose for which it is here inserted.

The substance of it may be found in a published volume of the papers read before the Indiana Academy of Science, but this is not taken from that volume.

This line, commencing at the head waters of the Des Plaines River in Wisconsin, a few miles from the shore of Lake Michigan, passes southward, winding slighthly, passing within eight miles of Lake Michigan, and then, just west of Chicago, passes by the south arm of the peculiar Chicago River, and going still southward passes west of Blue Island eight miles west of the Indiana State line. It then passes southwest around the head waters of Rock Creek, and

118

then southeastward around Thorn Creek, which is its most southern point in Illinois and is near Eagle Lake, two miles west of the Indiana line and directly west of the Lake County village of Brunswick and twenty-three miles south of the State line monument on the shore of Lake Michigan. The line now passes northward and enters Lake County in section 36, township 35, range 10, near the head waters of West Creek. It then bears southeastward to a high ridge one-fourth of a mile north of Red Cedar Like, and passes along a low, curving ridge, on which was once a wagon road, and which is the most beautiful and well defined portion of the line in Lake County. It passes now three miles over timber table-land, winding slightly, three miles eastward and nearly two miles south of the center of Crown Point, it passes across section 17, then 16, township 34, range 8, and then south on the east side of the old Stoney Creek. It then passes east across sections 35 and 36 and into section 31, where is now LeRoy. It here turns northward, having reached its extreme southern limit in Indiana, now not quite eighteen miles from Lake Michigan. Winding here around the head of the south branch of Deep River, passing between that and Eagle Creek, bearing eastward, south of Deer Creek, and northward, it leaves Lake County almost due east of the center of Crown Point, distant seven and a half miles and nearly a mile and a half south of its point of entrance into the county. It soon passes north of a little lake from which flows Eagle Creek. It now passes eastward and then a little south, winding around Salt Creek, three miles and a half south of Valparaiso between ranges 5 and 6, having crossed

119

section 12 in range 5. It passes, now, about due north just east of Valparaiso to Flint Lake, three miles north of the center of that city and the source of its water supply, and winding around the north of Flint Lake it passes on in a northwest direction to Westville, and then passing northeastward to a ridge two miles north of La Porte and eleven miles from Lake Michigan, which ridge is said to be, according to some barometer, two hundred and seventy feet above Lake Michigan. Passing north of the lakes around the city of La Porte, and north of the head waters of the Little Kankakee, and near the line of the railroad track, near by the village of Rolling Prairie, passing eastward but a few miles from the north boundary of Indiana, it comes into Portage Township, St. Joseph County, where on the portage between the Kankakee and St. Joseph rivers this notice of it will end.

Here seems to be a suitable place to notice those "lake ridges" which cross La Porte, Porter, and Lake counties, "which are nearly parallel to the present lake shore." According to Professor Cox they mark the ancient shore lines from which, time after time, the lake has receded. Five of these continuous sand ridges Professor Cox has counted. The last one inward is that ridge along which now runs the watershed line, the highest ridge of land in La Porte County. The theory of formation of these ridges is this: That the sand which the dashing lake waves cast upon the beach, sparkling in their apparent playfulness sometimes as they dance along, and then breaking in their fury far up on the beach when the fierce north wind sends them rolling in, in their might, this sand soon becomes dry. "Then the wind takes it and drives it like drifting snow to the first

120

barrier of trees and bushes, when it is checked, and begins to accumulate, forming a ridge. The vegetation, well rooted, reproduces itself, growing to the top as the sand rises, and finally a range of hills is the result of the combined action of wave and wind on the moving particles of sand."

In this way, most probably, was that quite large ridge of sand formed at the northeast of the Red Cedar Lake in Lake County, by the influence of the strong southwest winds that so often prevail, and not, as some have imagined, by the melting there of some great iceberg.

All the sand ridges in Lake County seem to be due to the action of water, or of wind and water combined. Most of them lie north, but some are south, of the watershed.

Professor Cox found no evidences that the lakes around La Porte were ever a part of our Lake Michigan; but that its southern limit there was the high ridge distant now eleven miles.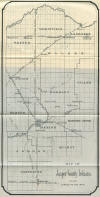 Map of Jasper County, Indiana
[Click Image to Enlarge]
NAVIGATION OF
NORTHWESTERN INDIANA FROM 1800 TO 1900
FRONT MATTER AND DEDICATION
CONTENTS
INTRODUCTION
CHAPTER 1 - GENERAL OUTLINES
CHAPTER 2 - THE INDIANS
CHAPTER 3 - THE EARLY SETTLERS
CHAPTER 4 - WHAT THE EARLY SETTLERS FOUND
CHAPTER 5 - PIONEER LIFE
CHAPTER 6 - COUNTY ORGANIZATIONS
CHAPTER 7 - OUR LAKES AND STREAMS
CHAPTER 8 - LAKE MICHIGAN WATER SHED
CHAPTER 9 - TOWNSHIP AND STATISTICS
CHAPTER 10 - RAILROAD LIFE
CHAPTER 11 - POLITICAL HISTORY
CHAPTER 12 - THE WAR RECORD
CHAPTER 13 - RELIGIOUS HISTORY
CHAPTER 14 - RELIGIOUS HISTORY
CHAPTER 15 - RELIGIOUS HISTORY
CHAPTER 16 - SUNDAY SCHOOLS
CHAPTER 17 - TOWNS AND VILLAGES OF NEWTON AND JASPER
CHAPTER 18 - TOWNS AND VILLAGES OF WHITE, PULASKI AND STARKE
CHAPTER 19 - VILLAGES, TOWNS AND CITIES OF LAKE
CHAPTER 20 - VILLAGES AND TOWNS OF PORTER
CHAPTER 21 - VILLAGES, TOWNS AND CITIES OF LA PORTE
CHAPTER 22 - EARLY TRAVELS
CHAPTER 23 - PUBLIC SCHOOLS
CHAPTER 24 - PRIVATE AND PAROCHIAL SCHOOLS
CHAPTER 25 - LIBRARIES
CHAPTER 26 - OTHER INDUSTRIES
CHAPTER 27 - SOCIAL ORGANIZATIONS
CHAPTER 28 - THE KANKAKEE REGION
CHAPTER 29 - DRAINING MARSHES
CHAPTER 30 - ANIMALS AND PLANTS
CHAPTER 31 - MISCELLANEOUS RECORDS
CHAPTER 32 - COURT HOUSES
CHAPTER 33 - ARCHAEOLOGICAL SPECIMENS
CHAPTER 34 - BIRTH PLACES OF PIONEERS
CHAPTER 35 - McCARTY
CHAPTER 36 - ATTEMPTS TO CHANGE
CHAPTER 37 - ALTITUDES
CHAPTER 38 - MISCELLANEOUS RECORDS
CHAPTER 39 - SOME STATISTICS
CHAPTER 40 - WEATHER RECORD
CONCLUSION
Transcribed by Steven R. Shook, April 2012