History of Porter County, 1912
County history published by The Lewis Publishing Company . . . .
Source Citation:
The Lewis Publishing Company. 1912. History of Porter County, Indiana: A Narrative Account of its Historical Progress, its People and its Principal Interests. Volume I. Chicago, Illinois: The Lewis Publishing Company. 357 p.
HISTORY OF PORTER COUNTY
97
CHAPTER VI
MILITARY HISTORY
HISTORIC WARS OF THE NATION - REVOLUTIONARY VETERANS IN PORTER COUNTY - WAR OF 1812 - BLACK HAWK WAR - WAR WITH MEXICO - CAPTAIN SMITH'S COMPANY - POLITICAL CAMPAIGN OF 1860 - SECESSION - FALL OF FORT SUMTER - CALL FOR TROOPS - PORTER COUNTY AROUSED - MEETINGS AT VALPARAISO - RESOLUTIONS ADOPTED - FIRST COMPANY OFF FOR THE WAR - NINTH INFANTRY - ITS RECORD - PRIVATES' BATTLE OF BELINGTON - FIFTEENTH INFANTRY - OTHER INFANTRY REGIMENTS IN WHICH PORTER COUNTY WAS REPRESENTED - CAVALRY AND ARTILLERY ORGANIZATIONS - ROLL OF HONOR - WORK OF THE CITIZENS WHO REMAINED AT HOME - TOTAL NUMBER OF PORTER COUNTY TROOPS - STATE MILITIA - SPANISH-AMERICAN WAR - MEMORIAL HALL

The historic wars in which this country has been engaged were the War of the Revolution, the War of 1812, the War with Mexico, the Civil war between the North and South - 1861-65, and the War with Spain in 1898. In the first, the English colonies in America rebelled against the tyranny and oppression of the Mother Country, and after a struggle which lasted for eight years established their independence and founded the government of the United States - the first government on earth to derive its powers direct from the people. The War of 1812, between the United States and Great Britain, was brought on by the impressment of American seamen and other arrogant acts on the part of the British authorities. It was concluded by the treaty of Ghent in December, 1814,

98

which recognized practically every claim of the American government. The War with Mexico resulted from the annexation of Texas by the United States in 1845, and in this conflict the United States were again victorious. For nearly half a century before the beginning of the Civil war, the slavery question had been a "bone of contention" between the North and South. Compromise after compromise was tried, but when Abraham Lincoln was elected president of the United States in 1860 the slaveholders of the South immediately began taking steps to withdraw from the Union and establish a government of their own, in which the institution of slavery should be recognized without question or dispute. The national administration, supported by the people of the North and West, denied the right of the states to secede and the Civil war followed. It lasted for four years and was one of the most sanguinary and destructive wars in the history of the world. For many years Cuba was a dependency of Spain, and for the greater part of that time the people of the island were treated like slaves by the Spanish government and its agents. They finally revolted, and about 1895 the citizens of this country began to demand that Congress recognize the belligerent rights of the Cubans. After three years of agitation and diplomatic efforts at reconciliation, war against Spain was declared in the spring of 1898. The war lasted but a few weeks, but in that short time the superiority of the American arms was fully demonstrated on both land and sea.

At the time of the Revolution no white man had established a residence in what is now Porter county. In fact, it was nearly forty years after the close of that great contest before Joseph Bailly built his lonely cabin upon the bank of the Calumet river, and fifty-three years before the organization of the county. Hence, the county had no part in the War for Independence, though two men who served in the Continental army came to pass their declining years in Porter county, and the widow of a Revolutionary soldier also lived here for several years prior to her death. Henry Battan settled in Westchester township about the time or soon after the county was organized. In May, 1910, Mark L. Dickover, of the Valparaiso State Bank, wrote to the United States

99

Bureau of Pensions to learn something of Mr. Battan's military record. Through this medium it is learned that he was born in Chester county, Pennsylvania in 1750; that he enlisted in August or September, 1776, in Fayette county, Pennsylvania, as a member of Captain William Harrod's company, Colonel Thomas Gaddis' regiment of the Pennsylvania line, and served with that command until the following February. In April, 1777, he enlisted in Captain Cross' company and served for four months, when he became a member of Captain Theophilus Phillips' company, under Colonel Minor and served eight months. He was then for two months in the company commanded by Lieutenant McKinnley, after which he returned to Captain Phillips' company and served until in September, 1778, when he left the army. On March 11, 1833, he applied for a pension, being at that time a resident of Fountain county, Indiana. On July 3, 1840, he united with the Presbyterian church of Valparaiso by letter from a congregation in Virginia, and the records of the church show that his death occurred on February 1, 1845. His place of interment cannot be ascertained. A daughter accompanied him to Porter county.

Joseph Jones, the other Revolutionary veteran, came to Porter county from Holmes county, Ohio, in the spring of 1841, and located at Boone Grove. Little has been learned of his military service, but it is believed that he was one of those who came into the Northwest Territory with a Revolutionary land grant, and finally found his way with the tide of emigration into Porter county. He died at an advanced age a few years after settling at Boone Grove and his remains rest in an unmarked grave in the old Cornell cemetery.

Susannah Fifield, the Revolutionary widow, came to Indiana from Enfield, New Hampshire, and located in Porter county at a comparatively early date. The records of the Valparaiso Presbyterian church show that she was received into that congregation by letter on August 22, 1852. She drew a pension, out of which she gave annually ten dollars for foreign missions. She died in 1856.

The War of 1812 closed more than twenty years before the organiza-

100

tion of Porter county, but several veterans of that war afterward became citizens of the county. Among these were Isaac Cornell, Robert Folsom, John and Eliphalet D. Curtis and Myron Powell. Of the first two little is known, further than they are buried in the Cornell graveyard, both having died within a few years after settling in the county. John Curtis enlisted in New Pork, came to Porter county in 1836, settled near Wheeler, and died there in 1865. E. D. Curtis also joined the army while living in New York. He came to the county in 1838, and settled near Porter Cross-roads, where he died in the spring of 1865. Myron Powell enlisted in Vermont, came to the Western Reserve in Ohio shortly after the war and from there to Porter county where he lived until his death, which occurred in 1865. Ruel Starr and James M. Buell served in the Black Hawk war and later settled in Porter county.

About ten years after the organization of Porter county came the Mexican war. The population of the county was still rather sparse, and it does not appear that any attempt was made to organize a company of volunteers within the county. Joseph P. Smith, at that time clerk of Lake county, resigned his office and in 1846 recruited a company, an old muster roll of which shows that when it was mustered into service in the spring of 1847, the following Porter county men were among the members: Jacob Alyea, Daniel Brown, Oliver Conklin, Hudson S. Farwell, M. Hopkins, Clinton Jackson, David Musselman, Simeon P. Patterson, Newell Pulsifer, Cyrus H. Risden, John Sparks, Lewis P. Streeter and Gilbert Wariner. Daniel Brown and Newell Pulsifer were sergeants. Oliver Conklin, Cyrus H. Risden and John Sparks died while in service. The company was not assigned to either of the three volunteer regiments raised in Indiana, but became Company H, Sixteenth United States infantry, which regiment was commanded by Col. John W. Tibbetts. While in the service the principal duty of the company was to guard wagon trains. Although not in any great battles, the company lost heavily through sickness, due to the climate, as only thirty-six men returned out of the 119 who went out. There were also a few Porter county

101

men in other commands, but in the absence of the muster roll it is impossible to tell who they were or in what companies they served.

The political campaign of 1860 was one of the most bitterly contested in the history of the country up to that time. The Democratic party, which for several successive administrations had controlled the affairs of the nation, was rent in twain by the nomination of Stephen A. Douglas and John C. Breckenridge by two contending factions, and as a result Mr. Lincoln, the Republican candidate, was elected to the presidency. "No extension of slave territory," had been the slogan of the Republicans during the campaign, though the leaders of that party had declared they had neither desire nor intention to interfere with slavery where it already existed. It seems the slaveholders doubted the sincerity of this declaration, for no sooner was the result of the election known than they began preparations for seceding from the Union. This action had been threatened for years, in case the "Abolitionists" succeeded in gaining control of the national government, but the people of the North did not believe they would carry out the threat. There was therefore a rude awakening when, on the 20th of December, 1860, the telegraph flashed the message over the country that the State of South Carolina has just passed an ordinance of secession. Mississippi followed on January 9, 1861; Florida, Alabama, Georgia, Louisiana and Texas passed ordinances of secession during the next thirty days; a provisional Confederate government was established by the convention at Montgomery, Alabama, on February 4, 1861; the forts and arsenals in the South were seized by the secessionists; a large number of officers in the regular army resigned their commissions to join the movement for the establishment of the Southern Confederacy; so that when President Lincoln was inaugurated on March 4, 1861, he found the Union menaced with disruption.

War develops or brings out the latent patriotism in the individual as no other influence can. Many good men, in times of peace, may talk of war as unnecessary, barbarous and inhuman, and advocate international arbitration as a remedy for disputes; but let some hostile

102

power assail their country or its institutions and these men will be among the first to leave their peaceful pursuits and take up arms in defense of their government and its laws. So it was in 1861. At twenty minutes past four o'clock on the morning of April 12th the first shot of the Civil war went crashing against the solid walls of Fort Sumter. It was fired by Edmund Ruffin, a native of Virginia and a personal and political friend of John C. Calhoun. That shot was "heard around the world." President Lincoln was prompt to accept the challenge, and on the fifteenth called for 75,000 volunteers "to suppress the rebellion." That day the publishers of the Valparaiso Republican issued an extra edition containing the following call for a meeting at the court house in the evening:

"Americans! Union Men! Rally. The war has begun. Fort Sumter has fallen! Our flag has been insulted, fired upon and struck to traitors! A Pelican and a Rattlesnake banner floats in its stead! Let it be torn down and the Stars and Stripes float in its place, or let us perish in the attempt. Davis, the traitor, says that next the Secession flag shall wave over the Capitol at Washington Shall it be so? A thousand times NO! Then to-night let us rally at the court house, burying all party names, and come to the rescue of the Republic against its mortal enemies. We are beaten at Sumter, but not conquered, and must rally to preserve the inheritance left us by our fathers. Come one, come all who love their country! To-night let us pledge our lives, our fortunes and our sacred honor to the defense of the proudest flag that ever waved over a free people."

Porter county was aroused and the court-house was packed to its utmost capacity within a few minutes after the doors were opened. Dr. E. Jones was elected to preside over the meeting, and J. F. McCarthy and A. J. Berry were chosen as secretaries. On motion of Dr. R. A. Cameron, a committee of five was appointed to draft resolutions indicative of the feeling that pervaded the entire North. The committee consisted of Dr. Cameron, Jacob Brewer, S. S. and J. N. Skinner, and Mark L. De Motte. It is quite probable that the resolutions had been prepared

103

in advance as the committee retired but a short time when it returned and submitted the following:

"Whereas, A band of traitors have combined together to break up and destroy our glorious Union, and have confederated themselves for that purpose; and whereas, they have attacked the American flag and bombarded Fort Sumter, causing the gallant Anderson and his little band, exhausted by fatigue and hunger, to surrender; and whereas, they are now threatening to march upon the Nation Capitol if their independence is not acknowledged and their treason submitted to; therefore,

"Resolved, That we are unconditionally for the Union, now and hereafter, without regard to any sacrifice that we may be called upon to make.

"Resolved, That now our country is in peril, we will know no North, no South, no party names or times, but stand by the Union men both South and North, and never be satisfied until treason and treachery are crushed.

"Resolved, That yet we believe in Republican institutions, and the right of free men to be heard at the ballot box, and that we do not despair of the Republic; but in the name of our Heavenly Father, appealing to Him as the God of nations, we promise and swear never to desert the flag which was in His name unfurled at Ticonderoga, and carried through the storms of '76, and under which, for many years, civilization and Christianity have flourished.

"Resolved. That we hereby pledge to the Government our lives, our fortunes, and our sacred honor for the maintenance of the Constitution and the supremacy of the laws."

The unanimous adoption of these resolutions showed that the people of Porter county were fully aroused. During the campaign of the preceding year they had differed in their political views, and in some instances bad felling was engendered by bitter personal argument. But now, when the government was menaced, when the Union was threatened with dissolution, all these personal animosities were laid aside, party affiliations were forgotten, and the spirit of loyalty was universal. At

104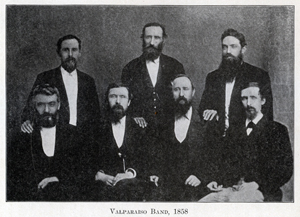 105

this meeting several patriotic speeches were made, the old Union Band played patriot airs, and at the close of the proceedings an opportunity was offered to those who might desire to answer the president's call for volunteers, to enroll their names upon the roll of a company which it was proposed to organize. The response was so general that within a few days a company numbering 130 men was ready for organization. At a meeting held at the court-house on the afternoon of the 18th, the men selected the officers of the company, several addresses were made by distinguished speakers, and the following resolutions were adopted:

"Whereas, the United States are now engaged in a civil war; and whereas that war has been forced upon the Union by a band of traitors; and whereas we do not recognize the right of any state to secede, and whereas we are loyal to the Union and pledged to its maintenance, therefore,

"Resolved. That to encourage Secession, furnish stores, provisions, arm or ammunition to the enemy, is TREASON.

"Resolved, That as we believe the citizens of Porter county, without regard to party, are loyal to the Union, that they are requested to procure and wear Union badges.

"Resolved. That if it is found that there are Secessionists in our midst, that we will not encourage violence and bloodshed at home, but we will withdraw from them our social relations, and, if business men, that we will not favor them with our patronage."

On Sunday, April, 21, a sermon was preached to the members of the company by Rev. Mr. Gurney, and that evening they left for Indianapolis, where they arrived early the following morning. A temporary camp was formed on the state house grounds at six o'clock, where at nine o'clock they were sworn in by Judge Perkins of the supreme court, Governor Morton being present. The company was then ordered to Camp Morton, and having more men upon its muster rolls than the army regulations permitted, it was reduced to seventy-seven enlisted men. The surplus members were organized into a new company which took the name of the "Valparaiso Guards." On the 23d the original company

106

was mustered into the United States service as Company H, Ninth Indiana Infantry, Col. Robert H. Milroy commanding, with the following officers: Robert A. Cameron, captain; Isaac C. B. Suman, first lieutenant; Gilbert A. Pierce, second lieutenant. At that time the prevalent opinion was that the war was not a serious affair and would soon be ended, hence the first troops were mustered in for a term of only three months.

After a few days spent in drilling and perfecting the regimental organization, the Ninth was ordered to western Virginia, where it was assigned to General Morris' command, which was stationed at Belington with instructions to prevent the Confederate General Garnett from reinforcing General Pegram at Rich mountain. Hardly had the camp been pitched when the Confederate sharpshooters began their work of firing upon the Union troops from the shelter of a piece of woods near by. Colonel Milroy asked for permission to drive them out of the timber, but was informed that the orders were not to bring on an action. On Sunday morning Sergeant Copp, the "fighting parson" of the Ninth, was preaching a sermon to "the boys," when the Confederates renewed their deadly work. Quickly putting his Bible in his pocket, the parson grabbed a gun and started for the woods. The congregation immediately followed his example. General Morris sent an officer to call back the men. A few returned to the camp, but the majority accepted the leadership of Sergeant Copp and continued their way into the woods, driving the sharpshooters before them as they went. Colonel Barnett fired two percussion shells which exploded in front of the enemy's works, while a third shell went over the hill and exploded in the midst of a cavalry troop that was preparing to attack the Federal camp, causing consternation in the ranks. This affair is known as "the privates' battle of Belington." It was fought without orders, by men of the Ninth Indiana and Fourteenth Ohio under command of a sergeant, but it showed the Confederates that the northern men would fight.

During the three months' service the regiment was in several minor skirmishes in western Virginia, the most important one being the battle

107

of Laurel Hill, July 8, 1861, in which John Mathews, of Company H, was wounded. Although in no heavy engagements, the willingness of the men to perform a soldier's duty in any action that might be brought on gave the regiment the name of the "Bloody Ninth." At the expiration of the three months' term, the Ninth was ordered to Indianapolis, where it arrived on July 24, and was mustered out on the 29th. On August 27, 1861, it was reorganized at Laporte for the three years' service, and was there mustered in on September 9th, with Colonel Milroy again in command. Company H was officered by Isaac C. B. Suman as captain; DeWitt C. Hodsden as first lieutenant; William H. Benney, second lieutenant. Again the regiment was ordered to western Virginia, where it took part in the engagements at Green Brier and Alleghany, as well as a number of slight skirmishes. In February, 1862, it was ordered to join General Buell's army at Nashville, Tennessee, where it was assigned to General Nelson's division. It participated in the second day's battle at Shiloh, the campaign against Corinth, the pursuit of Bragg's army through Kentucky, fighting at Perryville, Danville and Wild Cat mountain. It then returned to Tennessee, where it took part in the battle of Stone's river, and later was in the battle of Chickamauga, and the military operations about Chattanooga. In the spring of 1864 it joined General Sherman in the Atlanta campaign. After the fall of Atlanta it returned to Tennessee with General Thomas and was in the battle of Nashville on December 15, 1864, pursuing Hood's retreating army as far as Huntsville, Alabama. Its next service was in Louisiana and Texas as part of General Sheridan's command, and was finally mustered out on September 28, 1865. Throughout the entire service of the Ninth, the Porter county company was on the firing line whenever the regiment was called into action.

The Valparaiso Guards - the surplus members of the original company - were assigned to Company C, Fifteenth Indiana Infantry, which was commanded by Col. George Wagner. This was one of six regiments of state troops which were mustered into the United States service in the summer of 1861. Company C was commanded by Capt. John M.

108

Comparet, of Fort Wayne. O. H. Ray and John F. McCarthy, of Porter county, were the first and second lieutenants, respectively. The first service of the Fifteenth was in western Virginia, where it was engaged at Rich mountain and Green Brier, after which it joined Buell's army in Tennessee. It participated in the battles at Shiloh, Corinth, Perryville, Stone's river, the Tullahoma campaign, the operations around Chattanooga, and then marched to the relief of General Burnside, who was besieged at Knoxville, Tennessee. The main body of the regiment was mustered out in June, 1864, the veterans and recruits continuing in the service until August 8, 1865.

Company I, Twentieth Indiana Infantry, was composed almost entirely of Porter county men. The officers of the regiment were: W. L. Brown, colonel; Charles D. Murray, lieutenant-colonel; Benjamin H. Smith, major. When the regiment was mustered in on July 22, 1861, the officers of Company I were as follows: Captain, William W. Macey; first lieutenant, Richard T. Henderson; second lieutenant, Jesse N. Potts. The regiment was mustered in at Indianapolis and left that city on August 2, for Maryland. It was then sent to Hatteras inlet and from there to Fortress Monroe, where it formed part of the land forces at the time the Merrimac made the attack on the Union fleet, March 9, 1862, and it was this regiment which prevented the capture of the gunboat Congress by the enemy. On June 8, 1862, it was assigned to Jamieson's brigade, Kearney's division, Heintzelman's corps, Army of the Potomac, with which it took part in the battles of Fair Oaks, the Orchards, the Seven Days' Battles, especially at Glendale, and was then ordered back to Alexandria, Virginia. Its next engagement was at Manassas Plains, where Colonel Brown was killed, and it was also in the battle of Chantilly. It was with Franklin's corps at the battle of Fredericksburg, December 13, 1862; was with General Hooker in the battle of Chancellorsville in May, 1863; participated in the pursuit of General Lee's army from Gettysburg, where Col. John Wheeler was killed and 152 men of the regiment were either killed or wounded, and soon afterward was sent to New York to assist in quelling the drafts riots in that city.

109

It rejoined the Army of the Potomac in time for the Mine Run campaign in the fall of 1863, and was with General Grant in the final campaign against Richmond, taking part in the battles of the Wilderness, Spottsylvania, Cold Harbor, the siege of Petersburg, and was present at the surrender of General Lee at Appomattox, April 9, 1865. It was then ordered to Louisville, Kentucky, where it was mustered out on July 22, 1865, with 23 officers and 390 enlisted men.

A few Porter county men served in the Twenty-ninth Indiana infantry, which was commanded by Col. John F. Miller at the time of the muster in. J. F. Heaton was assistant surgeon of the regiment; Samuel E. Wetzel was first lieutenant of Company F; Anson Goodwin was second lieutenant of Company I, and S. G. Gilmore was a sergeant in Company G. ln the Thirty-fourth infantry Stephen L. Bartholomew, a Porter county man, was quartermaster, and S. C. Logan was chaplain. Rev. James C. Brown was chaplain of the Forty-eighth infantry until his death at Paducah, Kentucky, in 1862, and Theophilus Matott served as second and first lieutenant of Company D until he resigned from the service on September 18, 1863. In Company B, Sixty-third Indiana infantry there were a number of Porter county men. Henry O. Skinner was mustered in as a sergeant and was promoted to the captaincy; Lawrence Tompkins, John Teeter, Thomas H. Lewis and Allen W. McConnell served as corporals, and the original muster roll bears the names of twenty-two privates who enlisted from the county. John S. Williams was colonel of the regiment at the time it was mustered into service on August 29, 1862. The regiment was on duty at Indianapolis until Christmas, when it was ordered to Kentucky to guard the line of the Louisville & Nashville railroad. On February 25, 1863, it was sent to Knoxville, Tennessee, where it was assigned to the Second brigade, Third division, Twenty-third army corps. It took part in the Atlanta campaign in 1864; then returned to Tennessee with General Thomas; was in the battles of Franklin and Nashville and the pursuit of Hood's army, after which it was ordered to Fort Fisher, North Carolina, and assisted in the reduction

110

of that Confederate stronghold. It was mustered out at Indianapolis on May 20, 1865.

The Seventy-third Indiana infantry was mustered in on August 16, 1862, with Gilbert Hathaway as colonel; Robert W. Graham, of Valparaiso, as lieutenant-colonel, and Hiram S. Green, of Porter county, assistant surgeon. Company E of this regiment contained a number of Porter county men, and Company I was recruited in the county. Of the latter company Rollin M. Pratt was the first captain; Robert W. Graham, first lieutenant; Emanuel M. Williamson, second lieutenant. Lieutenant Graham became captain on October 20, 1862, and was promoted to lieutenant-colonel on February 13, 1863. Lieutenants Emanuel M. Williamson and William C. Eaton also served as captains of the company. The regiment was raised in northern Indiana and was mustered in at South Bend. On October 1st it was ordered to Kentucky, where it was attached to Harker's brigade, Wood's division, of Buell's army, and immediately started in pursuit of General Bragg. Subsequently it fought at Stone's river; was captured while on the celebrated raid under General Streight, and after being exchanged served in Tennessee and Alabama until mustered out on July 1, 1865.

Nicholas E. Manville served for a time as chaplain of the Eighty-sixth Indiana infantry, and in the Eighty-seventh Indiana infantry John W. Elam was captain of Company D. This regiment served under General Burbridge, and later formed part of the Third brigade, Third division, Fourteenth army corps, which was with Buell at Ferryville and with Sherman on the Atlanta campaign and the march to Savannah. It was mustered out at Louisville, Kentucky, July 21, 1865.

Porter county was well represented in the Ninety-ninth Indiana infantry, which was mustered into the United States service in October, 1862, with Alexander Fowler as colonel. About three-fourths of the men in Company C came from Porter county. Jacob Brewer was captain of this company; Fred W. Drawans, first lieutenant; William Harmon, Charles R. Loux and Daniel R. Lucas served as second lieutenants at different times. During the year 1863 the regiment was in a number of

111

engagements in Tennessee and Mississippi. In the fall of that year it took part in the operations about Chattanooga, and in the spring of 1864 joined Sherman's army for the advance upon Atlanta. After the fall of that city it was with Sherman in the march to the sea and the campaign through the Carolinas. It was mustered out in June, 1865.

Then next infantry regiment in which Porter county was represented was the One Hundred and Twenty-eighth, which was mustered in on January 12,1864, with Richard P. DeHart as colonel. Of this regiment William H. Calkins, of Valparaiso, was quartermaster, and Max F. A. Hoffman, surgeon. Company E was made up almost entirely of Porter county boys and was officered by Benjamin Sheffield, captain; John E. Cass, first lieutenant; John Fitzwilliams, second lieutenant. This regiment served in the Atlanta campaign and later with General Thomas in Tennessee, taking part in the engagements at Franklin and Nashville. It was mustered out on June 8, 1865.

In the spring of 1864 several regiments were raised and mustered into service for a term of 100 days. One of these was the One Hundred and Thirty-eighth Indiana infantry, which was commanded by Col. James H. Shannon. Thomas G. Lytle of Porter county was captain of Company D; Horace A. Goodwin was first lieutenant, and there were several enlisted men in the company who came from Porter county. The regiment was employed during its entire service in guard duty, but there is no doubt the men would have given a good account of themselves had they been given an opportunity to meet the enemy. There were several Porter county men in Company K, One Hundred and Forty-second Indiana infantry, of which John M. Comparet was colonel. In the company mentioned George H. Pierson was first sergeant; William Christie and James Johnson, corporals, and some eight or ten privates were credited to this county.

Two companies - B and E - of the One Hundred and Fifty-first Indiana infantry, Col. Joshua Healy commanding, were composed largely of Porter county men. Anson H. Goodwin, who had served as second lieutenant of Company I, Twenty-ninth infantry, was commissioned captain

112

of Company B; John E. Moon was first lieutenant, and John B. Marshall was second lieutenant. Aaron W. Lytle was captain of Company E; Charles E. Youngs was first lieutenant, and Orlando R. Beebe, second lieutenant. All were from Porter county.

In the earlier infantry regiments there were numerous changes in the commissioned officers on account of deaths, resignations and promotions. Dr. R. A. Cameron, who served as captain of Company H, Ninth regiment, in the three months' service, reentered the army as lieutenant-colonel of the Nineteenth, but was transferred to the Thirty-fourth, of which regiment he became colonel on June 15, 1862, and on August 11, 1863, was made brigadier-general, United States volunteers. On March 13, 1865, he received the rank of major-general by brevet "for gallant and meritorious services." Captain Suman, who was mustered m as captain of Company H, Ninth regiment, for the three years service, was promoted to lieutenant-colonel, August 20, 1862, became colonel on April 17, 1863, and was appointed brigadier-general by brevet on March 13, 1865. After his promotion to the lieutenant-colonelcy, DeWitt C. Hodsden and Stephen P. Hodsden served as captains of the company, and there was also changes in the first and second lieutenants at various times. In the Twentieth infantry the captains of Company I - the Porter county company - were William W. Macey, Richard T. Henderson, James M. Lytle, Lorenzo D. Corey and Erasmus C. Galbreath. In Company I, Seventy-third infantry, the captains in the order of succession were Rollin M. Pratt, Robert W. Graham, Emanuel M. Williamson and William C. Eaton. As a rule, each promotion raised the commissioned officers of the company each one grade higher, and in a very few instances were the original officers mustered out with the company at the conclusion of its service.

Besides the companies mentioned in the foregoing accounts of the infantry regiments, Porter county was represented in the cavalry and artillery of the volunteer army. In the Fifth cavalry, commanded by Col. Robert R. Stewart at the time of the muster in on August 2, 1862, Arthur M. Buell was first lieutenant of Company I; James M. McGill was first

113

sergeant of the company until transferred to the Sixteenth Tennessee and commissioned first lieutenant; Levi H. Mutchler was sergeant, and James Bell was a corporal. Most of the service of this regiment was in Kentucky and Tennessee. It took part in twenty-two battles and skirmishes and was mustered out on September 15, 1865.

The Seventh cavalry, commanded by Col. John P. C. Shanks, was mustered in by companies from June to September, 1863. In this regiment Aaron L. Jones, of Porter county, was quartermaster. Company A was made up largely of Porter county enlistments and was officered as follows: John C. Febles, captain; John R. Parmalee, first lieutenant; Henry S. Stoddard, second lieutenant. Captain Febles was promoted to major and lieutenant Parmalee became captain on October 27, 1863. Henry S. Stoddard then was made first lieutenant and John Dauch (or Douch, the name is spelled both ways in the Adjutant-General's reports) became second lieutenant. The last named was transferred to Company A, and John C. Hanson took his place as second lieutenant. He resigned on August 13, 1864, and Charles H. Gleason served as second lieutenant until the regiment was mustered out. The Seventh Indiana cavalry was one of the regiments whose members "lived in the saddle." On December 6, 1863, it was ordered to Louisville, Kentucky, and from there to Tennessee. It formed part of Gen. A. J. Smith's expedition into Mississippi, and was with General Grierson's famous raid into the enemy's country. Company C of this regiment also contained a number of men from Porter county.

The Twelfth cavalry was organized in the early spring of 1864. It was under the command of Col. Edward Anderson. James H. Claypool, of Valparaiso, was chaplain of the regiment, and William H. Calkins, who had served as quartermaster of the One Hundred and Twenty- eighth infantry, was promoted to major while it was in the service. A majority of the members of Company M came from Porter county. Of this company Lewis Stoddard was captain; William Bissell, first lieutenant, and James M. Buell, second lieutenant. The first service of the regiment was in guarding the lines of railroad and fighting Forrest in

114

Tennessee and Alabama. It was then sent to New Orleans and in the spring of 1865 was ordered to Mobile, where it participated in the movements that resulted in the fall of Spanish Fort and Fort Blakely and the surrender of the city. It was then on duty in various places until ordered to Indianapolis, where it was mustered out on November 22, 1865.

In the Fourth Indiana battery of light artillery, which was organized in the summer and early fall of 1861, Mark L. De Motte served as first lieutenant until commissioned assistant quartermaster by President Lincoln, April 14, 1862. Augustus A. Starr, who went out second lieutenant, resigned on July 1, 1863, and Henry J. Willets then served as second lieutenant until the battery was mustered out. This battery was with Buell's army at Shiloh and Corinth; was then at Stone's river and on the Tullahoma campaign; was next at Lookout mountain and in other engagements about Chattanooga. It was mustered out on August 1, 1865.

Henry Rankin, who was for many years the surveyor of Porter county, was a first lieutenant in the Fifth light battery, and in the Twentieth battery. Warren C. Gilbreath served as second lieutenant from the time the battery was mustered in on September 19, 1862, until it was mustered out on June 28, 1865. The Twentieth was at first stationed in the fortifications at Nashville, Tennessee. It was engaged almost daily in the Atlanta campaign, after which it returned to Tennessee with General Thomas and took part in the battle of Nashville, December 15, 1864. Like all Indiana troops, it was always ready.

Just how many volunteers from Porter county served in the Union army in the Civil war will probably never be known. The official records of the adjutant-general's office - although compiled with great care - are imperfect, especially in not giving to Indiana credit for men who really belonged to the state, but who served in regiments from other states. The same is true of the several counties. Men frequently enlisted in a company which was being organized in another county and were credited to that county instead of their own. In addition to the organizations mentioned above, it is known that there were in other regiments a num-

115

ber of men who should be credited to Porter county. Then there were some in the regular army and the navy. Names of Porter county soldiers are found on the rolls of twenty-nine regiments of infantry, four regiments of cavalry and three batteries of artillery which went from this state, and there were Porter county men in Illinois, Kentucky and Tennessee regiments.

According to the adjutant-general's reports, the casualties suffered by Porter county troops were 110 who died of disease; 24 killed in action; 13 died of wounds; 1drowned in the Mississippi river, and 1 accidently shot, making a total of 149 deaths among those who enlisted. The names of these men constitute the county's roll of honor, and it is deemed perfectly proper to include their names in this work, that future generations may learn from their example a lesson of unselfish patriotism. In the hour of the nation's peril they did not hesitate to sacrifice their lives upon the altar of their country in order to preserve and perpetuate the institutions our forefathers established. Those who died of disease, with the place and date of death, where the same can be ascertained from the records, were as follows:

Seventh infantry - Jesse Kindig, Nashville, Tennessee, December 4, 1862. Ninth infantry - David Arvin, Marietta, Georgia, January, 1864; George Beebe, July 19, 1865; Ham Gibbs, January 24, 1863; Charles Gould, July 5, 1864; John W. Lyons, Indianapolis, June 8, 1861; Henry Pratt, February 2, 1862; Abner Sanders, Cheat Mountain, Virginia, January 3, 1862; Levi O. Spafford, Evansville, Indiana, April 28, 1862. Twentieth infantry - Duane Ellis, Andersonville, Georgia, September 5, 1864; John Shaffer, Washington, December 2, 1862; Thomas Vanness, Washington, June 6, 1864. Twenty-ninth infantry - Warren Babbitt, Andersonville, Georgia, September 15, 1864; Fred Kocher, Andersonville, August 10, 1864; Charles F. Skinner, Nashville, Tennessee. Thirty-fifth infantry - Charles C. Gaylord, Bull's Gap; Henry Granger, Nashville; Moses Spangle, Indianapolis. Seventy-third infantry - Andrew Black, Gallatin, Tennessee, February 9, 1863; N. B. Blachley, Silver Springs Tennessee, November 16, 1863; George J. Bradley, Nashville,

116

December 5, 1862; Samuel Comer, Summersville, Kentucky, March 11, 1863; William Crisman, Nashville, December 9, 1863; Curtis Dorsey, Nashville, November 28, 1862; Nels A. Erickson, Scottsville, Kentucky, November 11, 1862; Josiah B. Fox, Bowling Green, Kentucky, February 27, 1863; Asa Glazor, Louisville, Kentucky, December 8, 1862; George N. Gunter, Nashville, March 28, 1864; Lester Hitchcock, Danville, Kentucky, December 8, 1862; John Hineline, Scottsville, Kentucky, November 17, 1862; Theodore R. Hall, Camp Chase, Ohio, June 8, 1863; John Hawkins, Camp Lebanon, Kentucky, October 29, 1862; Andrew Johnson, Indianapolis, October 23, 1863; Charles Munson, Silver Springs, Tennessee, November 18, 1862; David G. Maine, Nashville, November 30, 1862; Harlow Marsh, Danville, Kentucky, May 15, 1865; James E. Piper, Louisville, Kentucky, March 17, 1863; Charles S. Spear, Stevenson, Alabama, December 7, 1864; Alexander Smith, Murfreesboro, Tennessee, July 23, 1863; Edward S. Squires, Danville, Kentucky, October 20,1862; John A. Tidball, Louisville, November 9, 1862; Stephen Thornton, January 24, 1865; William H. Underwood, Nashville, February 19, 1863; Hiram W. Walton, Nashville, February 19, 1863; Wesley Watson, Danville, Kentucky, October 19,1862; Elias Wheeler, Gallatin, Tennessee, January 28, 1863. Seventy-fourth infantry - Chancy R. Coulson, Jeffersonville, Indiana, February 1, 1865. Ninety-ninth infantry - Justice Bartholomew, Andersonville, Georgia, August 22, 1864; George W. Biggs, La Grange, Tennessee, January 19, 1863; Benjamin Biggs, La Grange, Tennessee, March 16, 1863; George W. Birch, Scottsboro, Alabama, April 21, 1864; Hiram A. Case, La Grange, Tennessee, March 10, 1863; Wallace L. Depance, Black River, Mississippi, August 27, 1863; Ira Doolittle, Snyder's Bluff, Mississippi, July 9, 1863; John L. Kesler, La Grange, Tennessee, February 25, 1863; George W. Livingood, La Grange, Tennessee, February 25, 1863; Charles Sleeper, La Grange, Tennessee, March 7, 1863; John W. Taylor, November 17, 1862; Harvey White, La Grange, Tennessee, March 11, 1863; William Wooster, Camp Towler, Tennessee, February 4, 1863. One Hundred and Twenty-eighth infantry - Giles A. Cole, St. Louis, Missouri, December 12, 1864; Amos

117

Coleman, Knoxville, Tennessee, April 1, 1864; William Coleman, Marietta, Georgia, August, 1864; Thomas Dolan, Michigan City, Indiana, March 22, 1864; Samuel Furgeson, New Berne, North Carolina, March 14, 1865; Frederick Keene, Nashville, Tennessee, April, 1864; John B. Millard, Nashville, January 5, 1865; Oliver P. Quinn, Alexandria, Virginia, June 12, 1865; Myron S. Robinson, Cleveland, Tennessee, August 1, 1864; Chris. S. Sholer, Kennesaw, Georgia, June 23, 1864. One Hundred and Thirty-eighth infantry - Edward J. Garwood, Tullahoma, Tennessee, September 16, 1864; Frank Johnson, Tullahoma, September 15, 1864. One Hundred and Fifty-first infantry - Elbridge Clark, Louisville, August 11, 1865; Reuben Clark, at home, March 5, 1865; Edgar Field, Tullahoma, Tennessee, May 18, 1865; John P. Jones, Nashville, June 30, 1865; George Lansing, Jeffersonville, Indiana, April 7, 1865; Luther Smith, Deep River, Indiana; Ambrose S. White, Nashville, July 19, 1865. Fifth cavalry - John R. Alyea, Florence, South Carolina; John Billings, Indianapolis; Daniel C. Bagley, Cleveland, Ohio, May 22, 1864; Homer O. Cadwell, Florence, South Carolina, January, 1865; Isaac L. Downes, Andersonville, Georgia, September 29, 1864; Edwin W. Shumaker, Andersonville, August 12, 1864; William Terrica, Knoxville, Tennessee, September 23, 1862; Philip Walters, Kingston, Tennessee; Jacob Walters; Andersonville, Georgia, October 28, 1864. Seventh cavalry - Stephen Adams, Memphis, Tennessee, March 13, 1864; John L. Babcock, May 24, 1864; John Johnson, Andersonville, Georgia, January 28, 1864; Henry Miller, Memphis, Tennessee, May 4, 1864; Isaac Margeston, Andersonville, August 14, 1864; Cornelius O'Neil, Cahawba, Alabama, March 16, 1864; Clark S. Williams, Indianapolis, December 31, 1863; Alvin Welsh, August 15, 1864. Twelfth cavalry - Isaac Beam, Huntsville, Alabama, July 3, 1864; John H. N. Beck, Edgefield, June 13, 1865; W. B. Dorrance, New York, April 19, 1865; Charles Friend, Nashville, February 13, 1865; James Garrison, at home; Ira Green, Huntsville, Alabama, July 24, 1864; John S. Gillman, Huntsville, Alabama, July 22, 1864; William H. Huntley, Indianapolis, August 5, 1864; Benjamin O. Jones, New Orleans; Erasmus J. Jones, Vicksburg, March

118

22, 1865; Seth P. Sherman, Valparaiso, July 9, 1864; Arza B. Spencer, Jeffersonville, Indiana, August 27, 1864; Thomas Welch, Stark's Landing, Alabama, April 10, 1865.

The thirteen men who died of wounds were: Eighth infantry - Henry Powers, wounded at Stone's river, died at Paducah, Kentucky, January 4, 1863. Ninth infantry - John Ablet, Paducah, Kentucky, April, 1862, wounded at Shiloh; Elias J. Axe, September 24,1863, wounded at Missionary Ridge; W. H. H. Howard, July 25, 1864, wounded at Kennesaw Mountain; Lewis Keller, wounded at Shiloh, date of death not given. Eighteenth infantry - Charles Allen, Bellaire, Ohio, February 13, 1862, action not stated. Sixty-third infantry - Preston Bauhm, June 18, 1864; Jacob Jones, June 2, 1864. Seventy-third infantry - Daniel Kouts, January 18, 1863, place of death and action in which wounds were received not given. One Hundred and Twenty-eighth infantry - George W. Hunt, wounded and lost from the command, supposed to be dead; William Marshall, Calumet, Indiana, January, 1864. Fifth cavalry - James Southward, Knoxville, Tennessee, October 13, 1863, action not given. Thomas Buchanan, credited to Porter county but not assigned to any regular command, was wounded at Shiloh and died on June 13, 1862.

Those killed in action were: Ninth infantry - David Armitage, Shiloh, April 7, 1862; William D. Brown and James Bullis, Chickamauga, September 19, 1863; Benjamin F. Huntington, Buffalo Mountain, December 31, 1861; Thomas R. Mackey, also killed at Buffalo Mountain; David Thatcher, Shiloh, April 7, 1862; Manford Thatcher, Resaca, Georgia, May 14, 1864; Joseph Turner, Chickamauga, September 20, 1864. Seventeenth infantry - Asahel G. Carmen and Thomas W. Maxwell, Selma, Alabama, April 2, 1865. Twentieth infantry - John H. Cook and John Torpy, Gettysburg, Pennsylvania; Anton Fuller, Chickahominy, Virginia. Twenty-ninth infantry - John Oliver, Corinth, Mississippi, May 9, 1862. Thirty-fifth infantry - George Miller, Stone's river, January 2, 1863. Seventy-third infantry - Robert Fluellan, Decatur, Alabama, October 27, 1864; William H. Hendee, Stone's River, Tennes-

119

see, December 31, 1862; James McNally and Charles Stinchcomb, also killed at Stone's River; Robert Jackson, Day's Gap, Alabama, April 30, 1863. Ninety-ninth infantry - James Foster, Atlanta, Georgia, date not given. Fifth cavalry - Leander Lightfoot, Marrowbone, May 26, 1868; Lewis Walters, Resaca, Georgia, May 15, 1864. Seventh cavalry - John Marsh, Guntown, Mississippi, June 10, 1864.

While the "Boys in Blue" were battling for the nation upon the field, those who remained at home were not idle. On May 1, 1862, a meeting was held at the residence of Rev. S. C. Logan, in Valparaiso, to decide upon some means of sending relief to the sick and wounded in the various hospitals that marked the army's line of march. At a meeting held at the court-house a little later a sanitary commission was appointed. This commission consisted of Elias Axe, A. J. Buel, Joseph Pierce, S. W. Smith, M. A. Salisbury, R. Bell, Jr., and E. J. Jones. An address to the people of northwestern Indiana was issued by the commission, and the work of relief was kept up until the close of the war. Altogether, the county paid for the work of the sanitary and Christian commissions and for the support of soldiers' families nearly $55,000. Even more than this was paid for bounties. When the order of August 4, 1862, was issued, calling for a draft of 300,000 men to serve for nine months, there was also a call issued for 300,000 volunteers. The issue was promptly met by the people of Porter county. On August 10, a meeting was held at the court-house for the purpose of raising money to pay bounties to those who would enlist. At that meeting Dr. L. A. Cass presided and Thomas Jewell acted as secretary. It was decided to pay a bounty of at least twenty-five dollars to each and every man enlisting from the county, and the subscriptions were both numerous and liberal, some men giving as much as $100. During the war the county paid for bounties the sum of $65,227.50. Referring again to the number of troops furnished by the county, Battey's History of Porter county, published in 1882, says: "The total credits by enrollment and draft to July 18, 1864, were 686. Total to be furnished by the second draft, sixty-nine. Under the draft ordered for December 19, 1864, there were 145 recruits;

120

drafted men, seventy; total, 215. The revised enrollment, according to the Adjutant General's report, showed a total enrollment of 1,136 from Porter county."

But, as stated in a preceding paragraph, this enrollment does not show the enlistments in companies credited to other counties, or even other states, and it is doubtful if the exact number of volunteers from Porter county will ever be learned.

When the Civil war began the South was much better prepared for the conflict than was the North. In the early history of Indiana, as in most of the Northern states, considerable attention was paid to the organization and maintenance of the militia. This was necessary, as Indian outbreaks were liable to come at any time, and an organized and well drilled militia was a safeguard for the settler along the frontier. But with the treaties of cession and the removal of the Indian tribes to reservations west of the Mississippi river, the people no longer felt the need of organized military companies, and about 1835 the militia system was practically abandoned. In 1852, when the new constitution of Indiana was adopted, the system was revived by an act of the legislature, and each Congressional district was required to organize its militia. Northern Indiana was required to organize the Ninth brigade, the Second regiment of which was apportioned to Porter county. Of this regiment L.A. Cass was colonel; H. E. Woodruff, lieutenant-colonel, and a man named Freeman was major. About half the townships formed companies and for a few years meetings for drill and instruction were held regularly. Then the interest began to wane, and by 1859 the militia had again sunk into a state of inactivity. The same condition prevailed in nearly every Northern state. Not so with the South. In the states which seceded the militia was kept up to a high standard of perfection in drill and military tactics, and in addition to this the national administration for several years prior to the war had favored the South by storing large quantities of arms and ammunition in the arsenals in that section of the country. These supplies and munitions of war were promptly seized by the state governments as soon as ordinances of seces-

121

sion had been passed by the state conventions called for that purpose. In the North volunteers were called from the ranks of citizenship. The lessons learned while members of the old militia companies proved of great advantage to some, but the majority of the volunteers were literally "raw" recruits. Notwithstanding these drawbacks, the people of the North proved themselves equal to the emergency. Quick to learn and willing to submit to army regulations and discipline, they soon formed one of the greatest armies of citizen soldiery known to the history of the world. If they lacked in technical military skill, they were not deficient in courage, and after a four years struggle they returned to their shops, fields and firesides to resume their peaceful occupations, conscious in the fact that they had done their whole duty and bequeathed to their posterity a reunited country.

About 1880 there was a revival of interest in the state militia, which took the name of the Indiana National Guard. In the fall of 1881 a company was organized in Porter county, with A. W. Lytle as captain; William E. Brown, first lieutenant; William C. Wells, second lieutenant, and sixty non-commissioned officers and enlisted men. The company was assigned to the Third regiment, Col. E. I. Kirk commanding. In 1882 George S. Haste was elected captain; William C. Wells, first lieutenant, and L. T. White, second lieutenant, these officers receiving their commissions from Governor Porter. The company attended the camp of instruction at Peru in 1884, and not long after that Captain Haste was promoted to battalion major and commissioned as such by Governor Gray. Subsequently he was promoted to major, and still later to colonel, in which capacity he served until 1892, when he resigned from the service. The last record that can be found of the company was on January 19, 1887, when an election for officers was held at the armory. At that time S. L. Finney was chosen captain; L. T. White, first lieutenant; and E. C. Wood, second lieutenant. The company disbanded about 1889 or 1890.

At the time President McKinley was inaugurated in March, 1897, there was a strong sentiment in the United States in favor of recognizing

122

the belligerent rights of Cuba, and several state legislatures had passed resolutions to that effect, some of them even going farther and demanding that this government take steps to secure the independence of the people of that island. The press of the country was practically a unit in denunciation of the methods used by Spain's agents and officers in dealing with the Cubans, but it was not until the United States battleship Maine was blown up on the evening of February 15, 1898, while lying peacefully in the harbor of Havana, that sufficient pressure was brought to bear to induce Congress to take definite action. On March 29 a resolution was introduced in the United States senate recommending the recognition of Cuba's independence. The president sent a special message to Congress on April 11, asking for authority to intervene in behalf of the Cubans. Nine days later he signed the resolutions declaring Cuba free and independent, and directing the president "to use the land and naval forces of the United States to carry these resolutions into effect." An immediate withdrawal of diplomatic relations between the United States and Spain followed this action, and on Apri1 22 Congress passed an act "to provide for temporarily increasing the military establishment of the United States." On the 23rd the president called for 125,000 men from the National Guard of the several states. Under that call the State of Indiana was required to furnish four regiments of infantry and two light batteries. A formal declaration of war was made on April 25.

Soon after the call for 125,000 men was made, Capt. Charles F. Griffin, who was in command of a company at Hammond, Indiana, wrote to Capt. Stephen L. Finney, of Valparaiso, suggesting the reorganization of the Porter county company and outlining a plan for the organization of a regiment in Northern Indiana, to be ready in case a second call for volunteers came. On April 27, 1898, a meeting was held at the armory on Franklin street to organize a company. Col. George S. Haste presided, communications from Adjutant-general Gore were read, and after some discussion it was decided to form a volunteer company. So many men responded that two companies were formed. One known as

123

the "Hill Company" was commanded by Capt. Wallace L. Wright, and the "Down Town Company," was commanded by Capt. Stephen L. Finney. The former was not completed until May 30, when an organization was effected with the following company officers: Captain, Wallace L. Wright; first lieutenant, C. H. Merritt, of Elkhart; second lieutenant, P. W. Mitchell, of Greenville, Illinois. The muster roll of this company bore about fifty names, most of whom were students in the Northern Indiana Normal School. The "Down Town Company" effected its organization of April 29, with S. L. Finney, captain; R. C. Jones, first lieutenant; E. E. Small, second lieutenant, and a muster roll of forty-five members.

The second call for volunteers - 75,000 men - was made by President McKinley on May 25, 1898, and on June 6 Mayor Suman, of Valparaiso, went to Indianapolis for a conference with Governor Mount. Colonel Suman formally tendered the services of the company to the governor and filed the completed roster of the company - 105 names - with the adjutant-general. In furnishing the full quota of men required by both calls, the State of Indiana sent five regiments of infantry, two companies of colored infantry, two light batteries, and there were about 400 men from the state in the regular army. As there were but sixty-two companies of infantry enrolled from the ninety-two counties of the state, it was impossible that every county could be represented by an organized company, and Porter county was one of the thirty which failed to secure such recognition. The young men of the county had shown their willingness, however, to answer their country's call, and had the war lasted long enough to make another call for troops necessary, there is little doubt that Porter county would have made as enviable a record in the Spanish-American war as she did in the War of 1861-65.

On Tuesday evening, July, 1898, there was a meeting at the mayor's office in Valparaiso for the purpose of organizing a local United States sanitary commission to look after the welfare of the sick and wounded. I. C. B. Suman was chosen president of the commission; E. E. Small, secretary; Claus Specht, treasurer, and the other members

124

were: William Freeman, W. L. Wright, Mrs. N. L. Agnew, Mrs. H. B. Brown, Mrs. J. E. Hall, Mrs. E. Ball, Mrs. H. M. Beer, Mrs. H. M. Buel, Mrs. J. S. Louderback, Mrs. J. W. Elam, Mrs. Aaron Parks and Mrs. David Turner. The newspapers of the city urged the people to make liberal donations to aid the commission in its work, but not long after it was organized peace negotiations were commenced and it never had an opportunity to do much active work.

Some years after the Civil war, the Indiana legislature passed an act giving boards of county commissioners in the several counties of the state authority to appropriate money for the erection of soldiers' monuments. About 1891 the Grand Army posts in various sections of the state petitioned the legislature to change the law so as to permit of the erection of memorial halls as well as monuments. In this work Chaplain Brown Post, of Valparaiso, was a pioneer, some of the members going to Indianapolis and devoting some time to securing the change. The law was amended, and in February, 1893, the members of Chaplain Brown Post started a subscription list to secure money with which to erect a memorial hall in Valparaiso. The county commissioners had purchased the lot fronting on Indiana avenue, immediately south of the county jail, in November, 1881, for $1,750. The board now offered it to the Grand Army post for a site for the hall. An association was organized and a charter obtained from the state giving it authority to raise money and build a hall. Of this association E. M. Burns was president; John W. Elam, secretary, and Aaron Parks, treasurer. Several thousand dollars were subscribed and the association employed an architect to make plans for the building. When these plans were submitted to the commissioners they decided in favor of a larger and more pretentious building, and new plans were accordingly made in conformity with their views on the subject. Upon the adoption of the plans, the board of commissioners appropriated about $2,000, which, added to the fund raised by the old soldiers, was thought to be sufficient for the completion of the hall. Some indebtedness was incurred, however, and in 1901 this indebtedness was assumed by the county, the commissioners issuing bonds for its liquidation. The

125

building was then turned over to the county, the Grand Army post reserving one room on the ground floor for the use of the Woman's Relief Corps, a room on the second floor for a post hall, and the privilege of using the main hall once a year for memorial services. By this means the old veterans of the great Civil war are assured of a home for their meetings, and after they have answered the last roll call the building will remain as a monument to their valiant deeds during the dark days when the Union was threatened with disruption.

Porter county is an agricultural county, and as a rule the military spirit is never so manifest, in times of peace, in agricultural communities as in the larger towns and cities, where most of the militia companies have their existence. But the farmer boys are not lacking in any of the qualifications that go to make good soldiers - courage, a ready submission to discipline, hardihood and patriotism - and when the occasion requires they are ready to cease their labors upon their farms and take their places among the country's defenders. This was demonstrated in 1861, when Porter county was one of the first in the state to raise a company for the preservation of the Union, and the record her gallant sons made during that great internecine conflict forms one of the brightest pages in the county's history.
NAVIGATION OF
1912 HISTORY OF PORTER COUNTY
PREFACE
CONTENTS
CHAPTER I - General Features
CHAPTER II - Aboriginal Inhabitants
CHAPTER III - Settlement and Organization
CHAPTER IV - Internal Improvements
CHAPTER V - Educational Developments
CHAPTER VI - Military History
CHAPTER VII - Township History
CHAPTER VIII - Township History (continued)
CHAPTER IX - The City of Valparaiso
CHAPTER X - Financial and Industrial
CHAPTER XI - The Professions
CHAPTER XII - Societies and Fraternities
CHAPTER XIII - Religious History
CHAPTER XIV - Miscellaneous History
CHAPTER XV - Statistical Review
Transcribed by Steven R. Shook, November 2011