Porter County Resident Credit Ratings, 1916
Credit ratings of Porter County (and adjacent county) residents . . . .
Surnames Beginning with S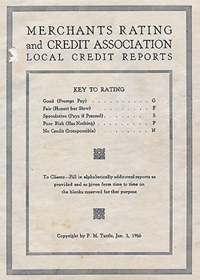 In 1916, P. M. Tuttle published a book titled Merchants Rating and Credit Association Local Credit Reports. This book provided the credit ratings of thousands of individuals residing in Porter County and Lake County. The book also published the credit ratings of some residents of adjacent counties conducting business in these two counties. No national credit rating service bureaus existed as this time, so area merchants would often form associations to inform one another of their patrons' credit worthiness. In a few instances, the merchants would publish credit reports to be used exclusively by association members. This book was published by the members of the Merchant Credit Association of Lake and Porter Counties, Indiana. Corrections and comments related to these credit ratings should be directed to the Porter County GenWeb Coordinator.

Key to Credit Ratings
Good (Prompt Pay) . . . . . . . . G
Fair (Honest But Slow) . . . . . . . F
Speculative (Pays if Pressed) . . . . . S
Poor Risk (Has Nothing) . . . . . . . P
No Credit (Irresponsible) . . . . . . N

Here are two examples of the use of the rating system: An individual with a credit rating of 3-G received "Good" ratings from three member merchants of the Credit Association. An individual with a credit rating of F.N. received ratings of "Fair" and "No Credit" from two member merchants of the Credit Association.
Surname
Given Name
Residence
Credit Rating
Source Page
Sabine
Marry
Valparaiso
P.
227
Sabinski
Geo.
Miller
G.
227
Sabinski
Richard
Chesterton
G.
227
Sader
Wm.
Merrillville
S.P.
227
Sager
A. L.
Valparaiso
P.
227
Sager
C. A.
Valparaiso, Axel Avenue [Axe? Avenue?]
G.P.
227
Sager
Herman
Crown Point
3-F.2-G.
227
Sager
Mrs. Geo.
Crown Point, RR
2-G.
227
Sager
Mrs. Mary
Valparaiso, Axel Avenue [Axe? Avenue?]
G.
227
Salamander
Gust
Chesterton
G.
227
Salate
Andrew
Otis [LaPorte County]
G.
227
Salate
St.
Otis [LaPorte County]
G.
227
Sales
Henry
Valparaiso
S.
227
Salisburg
Dr. A. L.
Crown Point
4-G.F.
227
Salisburg
E. J.
Valparaiso
G.
227
Salisburg
Harry
Valparaiso
G.
227
Salisburg
J. M.
Valparaiso
G.
227
Salisburg
Miss Ruth
Valparaiso
G.
227
Sallwasser
H. W.
LaPorte [LaPorte County]
G.
227
Salyer
Miss Fedilia
Valparaiso, 106 Lafayette
4-G.
227
Salyer
Miss Grace
Valparaiso, Lafayette Street
G.
227
Sams
John
Hebron
G.
227
Samuels
Nate
LaCrosse [LaPorte County]
N.
227
Samuelson
Chas.
Chesterton
G.
227
Samuelson
Gust
Chesterton, RFD
G.
227
Samuelson
J. A.
Chesterton
G.
227
Samuelson
J. F.
Chesterton
G.
227
Samuelson
J. V.
Chesterton
G.
227
Samuelson
N. A.
Chesterton, RFD
2-G.
227
Samuelson
Peter
Chesterton
G.
227
Samuelson
Victor
Chesterton, RFD
G.
227
Sandberg
John
Hebron
2-S.
227
Sanders
Abner
Chesterton
F.
227
Sanders
Claude
Crown Point
2-P.
227
Sanders
Edwin
Lowell
F.G.
228
Sanders
Jode
Schneider
2-F.S.P.
227
Sanders
L.
Crown Point
3-F.2-G.
227
Sanders
Peter
Hobart
F.
227
Sanders
Trint
Lowell, RFD
S.
228
Sanders
W. W.
Lowell
G.F.
227
Sanders
W. W.
Lowell
2-S.
227
Sanders
Wm.
Valparaiso
N.
227
Sanderson
Lewis
Valparaiso
G.
228
Sanderson
Porter
2-G.
228
Sandy
R. H. H.
Valparaiso, Mead Flats
F.
228
Sanford
C. D.
Valparaiso, 255 Locust
G.
228
Sanford
Mrs. C. E.
Crown Point
2-G.
228
Sanger
Berdette
Lowell
N.
228
Sanger
Chas.
Lowell
S.F.G.
228
Sanger
Harry
Lowell
2-F.S.P.
228
Sanger
Joseph
Shelby
F.G.
228
Sansom
Chas.
Barrington, Illinois
N.
228
Sansom
Wm.
Chicago, Illinois
G.
228
Sarenson
Lillian
Valparaiso, Elmhurst Avenue
F.
228
Sargeant
A. B.
Lowell
G.
228
Sargeant
Chas.
Valparaiso
N.G.P.
228
Sargeant
E. D.
Lowell
G.
228
Sargeant
Frank
Lowell
F.
228
Sargeant
Milan
Valparaiso, 203 Michigan Avenue
F.
228
Sargerberg
Chas.
Hebron
G.
227
Sark
Clyde
Lowell
2-S.F.
228
Sassel
H. E.
Crown Point
G.
228
Satkowski
Andro
Otis [LaPorte County]
G.
228
Sauer Brothers
Hanover Center
G.
228
Sauerberg
Chris
Valparaiso, 815 Main Street
2-G.
228
Sauerman
Andrew
Crown Point
G.
228
Sauerman
Val.
Crown Point
2-G.
228
Sauerman Brothers
Crown Point
G.
228
Saunders
Mrs. W. M.
Chesterton
G.
228
Sauter
Ed.
Hobart
F.
228
Sauter
Ed.
Miller
G.
228
Sauter
G. H.
Valparaiso, 11 Spring Street
S.
228
Sauter
Geo.
Hobart
G.
228
Savas
Nick
Valparaiso
G.
228
Sawyer
Freemont
Boone Grove
G.
228
Sawyer
Freemont
Valparaiso, RR7
3-G.
228
Saxton
A.
Crown Point
F.
228
Saxton
Alvin
Crown Point
G.
228
Saxton
Bert
Hobart
G.
228
Saxton
H. A.
Hobart
G.
228
Saxton
Hurbert
Crown Point
G.
228
Saxton
Robert
Crown Point
G.
228
Say
Chester
Hobart
G.
228
Sbretiski
Porter
G.
227
Sbruss
Louis
Valparaiso
S.
229
Schaeffer
Edward
Crown Point
G.
229
Schaeffer
Geo. E.
Dyer
2-G.
229
Schaeffer
Geo. N.
Dyer
G.
229
Schaeffer
Jack
Hobart
G.
229
Schaeffer
John
St. John
4-G.
229
Schaeffer
Nick
Schererville
G.
229
Schaeffer
Nick Jr.
Schererville
G.
229
Schael
Mrs. Henry
Valparaiso, R1
G.
229
Schaffer
Al.
Hobart
F.G.
229
Schalesta
A.
Crown Point
G.
229
Schaller
Henry
Valparaiso
2-G.
229
Schaller
Jos. M.
Chicago Heights, Illinois
G.
229
Schaller
Joseph
Dyer
G.
229
Schaller
Mary
Dyer
G.
229
Schaller
Mike
Chicago Heights, Illinois
N.
229
Scharbach
Barney
Hobart
2-F.N.
229
Scharbach
Ben
Hobart
F.
229
Scharbach
Emil
Hobart
G.
229
Scharbach
Fred
Hobart
3-F.S.
229
Scharbach
Wm.
Hobart
3-G.
229
Scharbach
Wm. Sr.
Hobart
G.
229
Scharbach Lumber Company
Hobart
G.
229
Scharf
Geo.
Crown Point
6-G.
229
Scharf
Raymond
Crown Point
2-G.
229
Schau
J. P.
Valparaiso, R3
G.
229
Schavey
Frank
Hobart
G.
229
Schavey
Fred
Hobart
2-G.
229
Schavey
Fred Jr.
Hobart
F.
229
Schavey
Henry
Hobart
2-S.F.
229
Schavey
Jno.
Hobart
N.
229
Schavey
Julius
Hobart, RFD
S.F.G.
229
Schavey
Wm.
Hobart
S.
229
Schearer
Art.
Hobart
F.
229
Schearer
Emma
Hobart
N.
229
Scheddell
Frank
Crown Point
G.
229
Scheddell
W. A.
Crown Point
G.
229
Scheerenga
H.
Griffith
F.
229
Scheerenga
J.
Griffith
G.
229
Schefio
Frank
Dyer
2-N.
229
Schefio
Joseph
Dyer
S.N.
229
Scheidt
Barbara
Crown Point
G.
230
Scheidt
Ed.
Hobart
G.
230
Scheidt
Frank
Dyer
G.
229
Scheidt
Jacob
Crown Point
G.
229
Scheidt
Joseph
Dyer
G.N.
230
Scheidt
Keilman
Hobart
G.
230
Schellberg
Wm.
Chesterton
G.
230
Schelling
J. A.
Valpraiso
F.
230
Schellinger
D. E.
Valparaiso
S.
230
Schemick
Frank
Dyer
G.
230
Schenck
B. H.
Valparaiso, 605 Morgan Street
G.
230
Schenck
Harold
Valparaiso, Lincoln Avenue
P.
230
Schenck
Harry
Valparaiso, 802 Glenwood Avenue
S.
230
Scherda
Rev. Z.
Highland
G.
230
Scheringa
H. S.
Griffith
F.
230
Scheringa
J.
Griffith
G.
230
Scherman
Chas.
Highland, RFD 3
F.
230
Schever
Adolph M.
Merrillville
P.
230
Schichler
Mrs. Jacob
Cedar Lake
F.
230
Schieser
Adam
Crown Point
3-G.
230
Schieser
Bart
Crown Point
2-G.F.
230
Schillen
C.
Miller
N.
230
Schilling
Chas.
Crown Point
G.
230
Schilling Brothers
Crown Point
F.
230
Schilling Brothers
Crown Point
G.
230
Schillinger
D. C.
Valparaiso
F.G.
230
Schillo
Chas.
Crown Point
G.
231
Schillo
Frank
Merrillville, RFD 3
F.
230
Schillo
Joe
Merrillville, RFD 3
F.
230
Schillo
Joseph
Crown Point
G.
231
Schillo
Mike
Hanover Center
G.
230
Schillo Brothers
Crown Point
G.
230
Schinkink
Fred
Valparaiso
G.
230
Schinmaak
Frank
Dyer
F.
230
Schisser
Adam
Crown Point
G.
230
Schisser
Bartle
Crown Point, RR
2-G.
230
Schlank
Chas.
Crown Point
G.
231
Schlank
Jeff
Crown Point
G.
231
Schlegelm
Conrad
Crown Point, RR
2-G.
230
Schlem
August
Otis [LaPorte County]
G.
230
Schlem
Frank
Otis [LaPorte County]
G.
230
Schlem
Henry
Otis [LaPorte County]
G.
230
Schlem
Wm.
Otis [LaPorte County]
G.
230
Schleman
Wm.
Valparaiso, Lafayette Street
G.F.
230
Schlemmer
Frank
Crown Point
G.
230
Schlemmer
Geo.
Crown Point
G.
230
Schlemmer
Wm.
Crown Point
G.
230
Schlemmer Brothers
Crown Point
G.
230
Schlobohm
Geo.
Hobart, R#3
G.
231
Schlobohm
Henry
Hobart
G.
231
Schlobohm
Wm.
Wheeler
2-G.
231
Schluester
Fred
Crown Point, RR
3-G.
231
Schlundt
C.
Chesterton
G.
231
Schlundt
John
Valparaiso, Lincoln Avenue
2-G.
231
Schlundt
Walter
Valparaiso, 257 Michigan Street
G.
231
Schmal
Jacob
St. John
G.
231
Schmall
Alfred
Brunswick
G.
231
Schmall
Geo.
Crown Point
2-G.
231
Schmall
Grace
Crown Point
G.
231
Schmall
Harry
Wheeler
G.
231
Schmall
Jacob
Crown Point
G.
231
Schmall
John
Crown Point
F.G.
231
Schmall
Peter
Crown Point
2-F.3-G.
231
Schmall
W. M.
Valparaiso
F.
231
Schmeltz Chemical Company
Hobart
N.
231
Schmidt
Anton
Crown Point
G.
231
Schmidt
Anton
Porter
2-S.
231
Schmidt
August
Chesterton
G.
231
Schmidt
Chas.
Crown Point
4-G.
231
Schmidt
Conrad
Crown Point
G.
231
Schmidt
Ernest
Crown Point
F.
231
Schmidt
F. E.
Kouts
G.
231
Schmidt
Fred
Crown Point
2-G.F.
231
Schmidt
Fred
Hobart
N.F.
231
Schmidt
Geo.
Dyer
G.
231
Schmidt
Henry J.
Crown Point
2-G.
231
Schmidt
Jacob
Dyer
F.
231
Schmidt
John
Crown Point
G.
231
Schmidt
Miss Emma
Crown Point
G.
231
Schmidt
Mrs.
Hobart
F.
231
Schmidt
Otto
Highland
F.
231
Schmidt
Peter M.
Dyer
2-G.
231
Schmoltz Piano Tuner
Crown Point
G.F.
231
Schnabel
Edward
St. John
G.
232
Schnabel
Fred
Hobart
G.
231
Schnabel
Geo.
Hobart
G.
232
Schnabel
John
Hobart
G.
232
Schnabel
Joseph
St. John
F.
232
Schnabel
Mrs. C.
Hobart
G.G.
231
Schneider
Andrew Jr.
Valparaiso, RR1
G.
232
Schneider
Arthur
Valparaiso, 252 West Erie Street
F.
232
Schneider
August
Crown Point
2-F.
232
Schneider
Carroll
Valparaiso, 301 North Napoleon
G.
232
Schneider
Chas.
Crown Point
F.
232
Schneider
E. G.
Chesterton
G.
232
Schneider
Harry
Valparaiso, 301 North Napoleon
G.
232
Schneider
Henry
Valparaiso, 301 North Napoleon
2-G.
232
Schneider
John
Crown Point
N.
232
Schneider
John
Valparaiso, 4 Wayne Street
G.
232
Schneider
Mrs. Carrie
Valparaiso, 252 College Avenue
N.P.
232
Schneider
Mrs. J. B.
Valparaiso, 703 Franklin
G.
232
Schneider
Mrs. Wm.
Valparaiso, 252 West Erie Street
F.G.
232
Schneider
Phillip
Hobart, RFD 1
G.F.
232
Schneider
Val
Valparaiso, RFD #7
F.G.
232
Schniber
N. M. Sr.
Cedar Lake
S.
232
Schnick
Matilda
Otis [LaPorte County]
G.
232
Schnick
Paul
Otis [LaPorte County]
F.
232
Schnider
Abe
Hobart
S.
232
Schnider
Peter
Merrillville
G.
232
Schnider
Val
Ainsworth
G.
232
Schnurlein
Fred
Crown Point, RR
G.
232
Schnurlein
Geo.
Crown Point, RR
G.
232
Schnurlein
Wm.
Crown Point, RR
3-G.
232
Schnurr
A. W.
LaCrosse [LaPorte County]
3-G.
232
Schnurr
Albert
LaCrosse [LaPorte County]
2-G.
232
Schnurr
C. H.
LaCrosse [LaPorte County]
G.
232
Schnurr
Chas.
LaCrosse [LaPorte County]
2-G.
232
Schnurr
R. P.
LaCrosse [LaPorte County]
2-G.
232
Schnurr
Roy
LaCrosse [LaPorte County]
2-G.
232
Schoenrock
Julius
Valparaiso, RFD 1
G.
232
Schofield
Miss
Valparaiso, 357 College Avenue
S.
232
Scholkie
Mr. Sr.
Wanatah [LaPorte County]
2-G.
232
Scholl
Frank
Schererville
G.
235
Scholl
Geo.
Schererville
G.
235
Scholtz
Frank
Crown Point
G.
232
Schoon
C. J.
Griffith
G.
232
Schoon
C. J.
Griffith
G.
235
Schoon
C. N.
Griffith, RFD
G.
232
Schoon
C. N.
Highland
G.
235
Schoon
C. P.
Hammond
G.
235
Schoon
D. J.
Griffith
G.
233
Schoon
Dick
Griffith
2-G.
233
Schoon
Ed.
Griffith
F.
232
Schoon
Ed.
Griffith
G.
235
Schoon
J. A.
Griffith
G.
235
Schoon
J. J.
Griffith
G.
233
Schoon
J. J.
Griffith
G.
235
Schoon
Jake A.
Griffith
G.
233
Schoon
Nick
Griffith, RFD
G.
232
Schoon
Nick
Highland
2-G.
233
Schoon
Peter
Munster
G.
233
Schoon
Peter D.
Hammond
F.
233
Schraw
Mrs. Chas.
Wilders [LaPorte County]
G.
233
Schreffler
Harry
Hobart
G.S.
233
Schreiber
Chas.
Crown Point, RR
G.
233
Schreiber
Philip
Crown Point, RR
3-F.
233
Schreve
Mrs.
Valparaiso, 309 College Avenue
P.
233
Schreve
T. M.
Valparaiso, 105 Lincoln
G.
233
Schriver
Frank
Crown Point
N.
233
Schrock
Aug.
McCool
G.
233
Schrodder
Emil
Crown Point
3-G.
233
Schrodder
Fred
Hebron
G.
233
Schrodder
Herman
Crown Point
G.
233
Schrodder
Herman Jr.
Dyer
G.
233
Schrodder
J. L. F.
Crown Point
4-G.
233
Schrodder
John
Crown Point
2-G.
233
Schrodder
John
Kouts
G.
233
Schrodder
Otto
Tefft, RFD [Jasper County]
G.
233
Schroder
Christina
Valparaiso, RFD 8
G.
233
Schroder
Edith
Valparaiso
G.
233
Schroder
Emil
Crown Point
G.
233
Schroder
Fred
Valparaiso, RFD 6
S.N.
233
Schroder
John
Kouts
G.
233
Schroder
P. T.
Crown Point, RR
3-G.F.
233
Schroder
Ted
Hobart
G.
233
Schroeder
C. L.
Dyer
S.
248
Schroll
D. E.
Crown Point
P.
233
Schubert
Edward
Schererville
G.
233
Schubert
John
Schererville
G.
233
Schubert
Lillian
Crown Point
G.
233
Schubert
Mrs. Adam
Schererville
G.
233
Schueber
E. C.
Hammond
G.
233
Schueknecht
Geo.
Hobart
G.
233
Schuelke
Rev.
Hobart
G.
233
Schuesten
Aug.
Crown Point
G.
233
Schuesten
Victoria
Crown Point
G.
233
Schuldt
Mable
Valparaiso, Jefferson Street
G.
233
Schulren
Mathew
Crown Point, RR
4-G.
233
Schulte
Ben Jr.
Schererville
G.
234
Schulte
Geo.
Schererville
G.
234
Schulte
M. J.
Dyer
G.
234
Schultz
August F. Jr.
Valparaiso, R5
F.P.N.
234
Schultz
August F. Sr.
Valparaiso
N.S.
234
Schultz
Chas.
Crown Point, RFD 2
G.
234
Schultz
Frank
Crown Point
P.G.
234
Schultz
Fred
Crown Point
G.
234
Schultz
Fred
Crown Point, RFD 6
F.
234
Schultz
H. Ward
Valparaiso
G.
234
Schultz
Henry
Grant Park, Illinois
S.
234
Schultz
James
Crown Point
2-P.G.F.N.
234
Schultz
John
Hobart
G.
234
Schultz
John E.
Crown Point
N.
234
Schultz
John J.
Lowell
G.
234
Schultz
M.
Crown Point, RFD 2
F.
234
Schultz
Mathew S.
Griffith
G.
234
Schultz
Milton
LaCrosse [LaPorte County]
G.
234
Schultz
Mrs. Herman
Valparaiso, 811 Union Street
G.
234
Schultz
Mrs. Mathew
Schererville
G.
234
Schultz
Otto
Valparaiso, R4
3-N.
234
Schultz
Paul
Leroy
P.
234
Schultz
Theo.
Chesterton
G.
234
Schultz
Wm.
Ainsworth
F.
234
Schultz
Wm.
Hobart
G.
234
Schultz Brothers
Crocker
G.
234
Schulun
Joseph
Crown Point, RR
F.G.
234
Schumaches
John
Valparaiso
G.
234
Schumaches
Mat.
St. John
F.
234
Schumaches
Peter
St. John
G.
234
Schumaker
Frank
Hobart, RFD
2-G.
234
Schumdt
Mrs. Wm.
Westville [LaPorte County]
G.
231
Schurbounn
R. R.
Palmer
N.
234
Schurer
Theo.
Chesterton
G.
235
Schurte
Wm.
Lowell
2-S.
234
Schussler
Andrew
Kouts
P.
234
Schussler
Mrs. A.
Valparaiso, R7
N.G.
234
Schuster
A.
Valparaiso, R7
S.
234
Schuster
Mike
Crown Point
2-G.
234
Schutski
Felix
Tefft, RFD [Jasper County]
G.
234
Schutski
John
Tefft, RFD [Jasper County]
G.
234
Schutski
Joseph
Tefft, RFD [Jasper County]
G.
234
Schutski
Leo.
Tefft, RFD [Jasper County]
G.
234
Schutski
Michael
Tefft, RFD [Jasper County]
G.
234
Schutz
Alvin
Crown Point, RR
4-N.2-P.F.
235
Schutz
James
Crown Point
N.
235
Schutz
John
Crown Point
N.
235
Schutz
John
Schererville
2-P.G.F.N.
235
Schutz
Mat
Dyer
G.
235
Schwab
Fred
Lowell
G.
235
Schwalbe
Bernhard
Hobart
F.
235
Schwalbe
Wm.
Hobart
F.
235
Schwartz
Frank
Valparaiso, 822 LaPorte Avenue
F.
235
Schwartz
Hubert
Valparaiso, Court Hotel
S.
235
Schweir
Theo.
Chesterton
G.
235
Schwenson
Peter
Persia, Iowa
G.
235
Schwinkendorf
F. W.
Valparaiso
G.
235
Schwinkendorf
Fred
Valparaiso, RFD
G.
235
Schwuchow
Geo.
Crown Point, RR
G.
235
Schwuchow
John
Crown Point, RR
G.
235
Schwuchow
Wm.
Crown Point
2-G.
235
Scofield
Miss Ruth
Valparaiso, 357 College Avenue
G.
235
Scott
Alex.
Kouts
N.
235
Scott
Geo.
Kouts
N.
235
Scott
Ira
Wilders [LaPorte County]
N.
235
Scott
J. L. F.
Valparaiso, 702 Lafayette Street
G.
235
Scott
J. T.
Valparaiso, Lafayette Street
S.
235
Scott
Jodie
Lowell
N.
235
Scott
M. J.
Valparaiso, RR4
N.
235
Scott
Mike
Valparaiso
G.
235
Scott
Miss Anna
Valparaiso, 358 College Avenue
G.
235
Scott
Miss Kittie
Valparaiso
G.
235
Scott
Mrs.
Crown Point
F.
235
Scott
Mrs. Elma
Valparaiso, 601 Erie Street
G.
235
Scott
Thomas
Hebron
G.
235
Scritchfield
Cass.
Lowell
G.
235
Scritchfield
Dick
Lowell
S.
236
Scritchfield
Logan
Lowell
G.
236
Scritchfield
Richard
Lowell
[?]
235
Scritchfield
Richard
Lowell
F.
236
Scritchfield
Robert
Lowell
G.
235
Scroeder
C. D.
Dyer
S.
236
Scull
Dr. W. F.
Crown Point
G.
236
Scull
Fred
Crown Point
S.G.
236
Seager
C. A.
Crown Point, RR6
G.
236
Seager
Henry
Crown Point, RR6
G.
236
Seaman
Henry
Griffith, RFD
F.
236
Searmour
Jake
Lowell
S.
236
Searmour
Peter
Lowell
N.
236
Sebastian
Sam
Schneider
G.
236
Seberger
I.
Miller
F.
236
Sebre
J. M.
Crown Point
G.
236
Sebre
J. M.
Crown Point, RFD 2
F.
236
Sebre
L. R.
Crown Point, RFD 2
F.
236
Sederberg
Chas.
Chesterton
G.
236
Sederberg
Gust
Chesterton
2-G.
236
Sederburg
Miss Leah
Valparaiso, 65 Franklin
P.
236
Seebe
John
Crown Point, RR
G.
236
Seeberger
Jacob
Schererville
G.
236
Seeberger
Michael
Schererville
G.
236
Seeberger
Mrs. F.
Crown Point
G.
236
Seeberger Seed Company
Crown Point
G.
236
Seegers
Conrad
Crown Point
2-G.
236
Seeley
Mrs. C. W.
Valparaiso, 305 East Jefferson
G.
236
Seeley
T.
LaCrosse [LaPorte County]
N.
236
Seeman
H.
Griffith
F.
236
Seems
Fred
Hebron
G.
236
Seese
A.
Crown Point, RR
F.
236
Seibenthal
C. C.
LaCrosse, RFD 1 [LaPorte County]
G.
236
Seibenthal
David
LaCrosse [LaPorte County]
G.
236
Seifer
Frank
Dyer
F.G.
236
Seitz
C. W.
Highland
2-G.
236
Seivert
Frank
Valparaiso, RFD
F.
236
Seivert
John
Ainsworth
F.
236
Seiverts
Carl
Ainsworth
G.
236
Selig
M.
Crown Point
G.
236
Sellamn
Frank
Valparaiso
N.
236
Sellers
Garfield
Miller
F.
236
Selman
Buzz
Valparaiso
G.
237
Selman
E. C.
Valparaiso
P.
236
Selman
John
Valparaiso, 701 Calumet Avenue
N.F.P.
236
Selman
Roy
Valparaiso
G.F.
237
Selman
Steve
Valparaiso
G.
237
Selrinski
Richard
Chesterton
N.
237
Seramour
Jacob
Lowell, RR
F.
237
Seramour
John
Crown Point, RR
5-N.
237
Seramour
Mathew
Crown Point
G.F.
237
Seramour
Peter
Cedar Lake
N.
237
Seramour
Peter
Lowell
P.
237
Sergeant
B.
LaCrosse [LaPorte County]
G.
237
Sergeant
M. C.
Valparaiso, 203 Michigan Street
G.
237
Serois
Emil
Lowell
N.
237
Sevens
Geo.
Merrillville
2-G.
237
Severn
Fred
Dyer
G.
237
Severn
Wm.
Dyer
G.
237
Severt
Amil
Wheeler
P.
242
Severt
Aug.
Wheeler
F.
242
Severt
Frank
Valparaiso
F.
242
Sexton
Ted.
Hebron
F.
237
Seydell
C. C.
Hobart, RFD 1
F.
237
Seymore
W. E.
Valparaiso, 808 LaPorte Avenue
G.
237
Seymore
Wm.
Valparaiso
S.
237
Shafer
Henry
Creston
G.
237
Shaffer
John
LaCrosse [LaPorte County]
2-G.
237
Shaffer
L.
Kouts
G.
237
Shanahan
John
Valparaiso, 705 Calumet Avenue
G.
237
Shane
Frank
Chesterton
G.
237
Shane
Fred
Porter
G.
237
Sharey
Henry
Wheeler, RFD
G.
237
Sharp
Almina
Valparaiso, 754 Cyrus Street
P.
237
Sharp
Aron
Valparaiso
N.
237
Sharp
Chas.
Creston
G.
237
Sharp
Mrs. Alice
Valparaiso, 754 Cyrus Street
P.
237
Sharty
Wm.
LaCrosse [LaPorte County]
G.
237
Shatz
Jacob
Valparaiso
G.
237
Shavey
Henry
Hobart
F.
237
Shavey
Hoy
Hobart
F.
237
Shavey
John
Hobart, RFD
N.
237
Shaw
E. M.
Valparaiso, Eiss Hall
F.
237
Shaw
Geo.
Valparaiso, 351 Chestnut
G.F.
237
shaw
Harvey C.
LaCrosse [LaPorte County]
F.G.N.
237
Shay
C. M.
Hessville
G.
237
Shea
Mrs. M.
Chesterton
N.G.
237
Sheaerer
A. E.
East Gary
G.
238
Sheaerer
Adolph
Crown Point
S.
238
Sheaerer
Alger
Valparaiso
S.F.N.P.
238
Sheaerer
C. C.
Hobart
4-G.F.
238
Sheaerer
Dan
Hobart
F.
238
Sheaerer
Fred
Hobart
F.
238
Sheaerer
Fred
Wheeler
F.
238
Sheaerer
Geo.
Wheeler
2-G.F.P.
238
Sheaerer
Harrison
Hobart
2-G.
238
Sheaerer
Howard
Hobart
F.
238
Sheaerer
Jas.
Hobart
F.G.
237
Sheaerer
John
Crown Point
F.G.
238
Sheaerer
Richard
Wheeler
3-P.
238
Shear
Guy
Hobart
S.
237
Sheats
Cliffton
Crown Point
F.
238
Sheats
Gust
Crown Point
G.
238
Sheedd
E. E.
Valparaiso, 835 LaPorte
G.F.N.
238
Sheedd
Roscoe
Valparaiso, Wayne Street
G.
238
Sheehan
J. J.
Valparaiso, R1
N.
238
Sheeley
Frank
Porter
G.
238
Sheeley
John
Porter
G.
238
Sheets
Art.
Valparaiso, Napoleon Street
G.
238
Sheets
Clifford
Valparaiso, Franklin Street
G.
238
Sheets
Frank
Valparaiso, 701 Lafayette
2-N.
238
Sheets
Gust
Valparaiso, 107 Elm Street
G.
238
Sheets
Mrs. Arthur
Valparaiso, 107 Lincoln Avenue
G.
238
Sheffield
Bertin F.
Valparaiso, 353 Greenwich Street
S.
238
Sheffield
Chas.
Valparaiso, R 3
G.
238
Sheffield
Hazza
Valparaiso
F.
238
Sheffield
Mrs. Eliza
Valparaiso, 406 North Washington
G.
238
Sheldon
James
Valparaiso, Main Street
N.
238
Sheldon
James
Valparaiso, Spindler H2
F.G.P.
238
Shellburgh
Martin
Chesterton, RFD
G.
238
Sheller
Henry
Valparaiso
G.
238
Shelley
Frank
Porter
G.
238
Shelley
John
Porter
G.
238
Shepherd
A. M.
Valparaiso, 751 Greenwich Street
G.
238
Shepherd
E. C.
Valparaiso
S.
238
Sheppard
M.
Crown Point
G.
238
Sheptren
Bill
LaCrosse [LaPorte County]
G.
238
Sherad
Chas.
Lowell
G.
238
Sherad
W. L.
Crown Point
2-F.
238
Sherbahn
H.
Valparaiso, 1053 Franklin Street
G.
238
Sherburne
Joseph
Leroy
2-G.
238
Sherburne
R.
Crown Point
P.S.
239
Sherburne
R. R.
Crown Point
3-G.
239
Sherda
Zacharia
Highland
G.
239
Sherer
Adolph
Crown Point
F.
239
Sherick
Cliff
Valparaiso, RFD 7
2-G.
239
Sherman
A.
Crown Point
G.
239
Sherman
D. A.
Crown Point
G.
239
Sherman
Geo. V.
Crown Point
9-G.
239
Sherman
John
Crown Point
2-N.P.
239
Sherman
Miss W.
Valparaiso, R3
G.
239
Sherman
Mrs. D.
Crown Point, RR
G.
239
Sherman
Raymond
Crown Point
F.
239
Sherwood
E. J.
Hobart
G.F.
239
Sherwood
Geo.
Valparaiso, 404 Chicago Street
P.
239
Sherwood
R. A.
Miller
F.
239
Sheviak
Miss Mary
Wanatah [LaPorte County]
G.
239
Shideler
S. H.
Valparaiso, 151 Garfield
G.
239
Shields
Jos.
Crown Point
G.
239
Shieve
E. E.
Valparaiso, College Avenue
N.
239
Shifkorosksi
Frank
Otis [LaPorte County]
F.
239
Shifkorosksi
Joe
Otis [LaPorte County]
N.
239
Shifkorosksi
John
Otis [LaPorte County]
G.
239
Shillm
Casper
Miller
N.
239
Shillo Brothers
Crown Point RR3
2-G.
239
Shinebarger
A.
Wheeler
S.
239
Shinebarger
Fred
Hobart, RFD
P.
239
Shinebarger
Fred
Valparaiso
F.G.
239
Shinebarger
Fred
Valparaiso, RR5
G.
239
Shinebarger
Fred
Wheeler
G.
239
Shinebarger
G. P.
Valparaiso, 852 Cyrus Street
F.
239
Shinebarger
Mrs. A. W.
Valparaiso, 256 Chestnut Street
G.
239
Shinebarger
Mrs. Allen
Valparaiso, RR5
2-G.
239
Shinebarger
R. W.
Valparaiso, 106 Wayne Street
G.
239
Shinebarger
Walter
Valparaiso
2-N.
239
Shinebarger
Valparaiso
F.
239
Shirley
John
Crown Point
G.
239
Shirt
Harrison
Valparaiso, RFD 1
F.
239
Shitcher
Henry
Crown Point
G.G.
283
Shleman
Wm.
Valparaiso
G.
239
Shoemaker
Edward
Valparaiso, RR5
S.
239
Shoemaker
Frank
Hobart
G.
240
Shoemaker
J. J.
Hobart
F.
240
Shoemaker
John
Valparaiso, 356 Campbell
3-G.
239
Shoemaker
Mrs. Fred
Indiana Harbor
G.
240
Shoemaker
P.
Valparaiso, 63 Main Street
N.
240
Shoemaker
Wm.
Valparaiso
F.S.N.
239
Shoeniuker
John
Hobart
F.
240
Sholes
L. A.
South Chicago, Illinois, 9030 Hustove
A.N.
240
Sholes
Venie
Valparaiso
F.
240
Sholl
F. E.
Hobart
F.
240
Sholl
Thos.
Hobart
N.P.
240
Sholts
Theo.
Chesterton
G.
240
Shook
Arthur
Chesterton
F.
240
Shook
C. D.
St. John
N.
240
Shooster
Mrs.
St. John
S.
240
Shore
Oscar