History of Porter County, 1956
A brief county history written by John Drury . . . .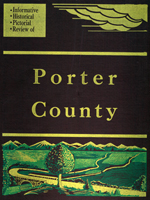 This following history of Porter County, Indiana, was written by John Drury and published in 1956. This book is very unique in that it contains hundreds of aerial photographs of Porter County farms and homesteads, sorted by township. A similar book was published for Lake County as well.
Source Citation:
Drury, John. 1956. This is Porter County. Chicago, Illinois: Inland Photo Company. 352 p.
STORY OF PORTER COUNTY, INDIANA
By John Drury
Located in the northwest portion of Indiana, with the Illinois metropolis of Chicago not more than fifty miles away, Porter County is widely known throughout the Midwest for its Indiana Dunes State Park, greatest lakeside sand hill region in America. The county is also renowned for its historic Valparaiso University, largest co-educational university of the Lutheran church in this country.

A summer playground for several generations of Chicagoans and vacationers from other parts of America's interior, the Duneland region of Porter County, fronting on Lake Michigan, was early heralded by writers, artists, scientists, poets and nature-lovers as a unique and strangely beautiful area of wind-carved yellow sand hills, rolling white surf, somber green pines and blue Mediterranean-like skies.

Among those who hiked through this singular locality in their younger years are two of America's foremost nature writers of today, Donald Culross Peattie and Edwin Way Teale. At a later period Peattie wrote, among other books, The Flora of the Indiana Dunes and Teale wrote Dune Boy, two publications which added immeasurably to the fame of this natural Great Lakes wonderland.

But the pioneer chronicler of the region was the late Earl H. Reed, noted author and artist. In his The Dune Country, Sketches in Dune Land and other books, all illustrated with his own remarkable etchings, Reed long ago made known the wild beauty of this Hoosier sand hill country, an area that now brings thousands of visitors annually to Porter County. Reed's pathfinding work was subsequently expanded by the late George A. Brennan, whose The Wonders of the Dunes turned up the rich historical background of the region as well as unfolded more of its natural phenomena.

Aside from its lakeside attractions, however, Porter County is one of the fastest-growing counties in Indiana. In 1950, when the last government census was taken, it had a total population of 40,076 -- an increase of 44 per cent over its 1940 population. An unofficial business survey places its 1955 population at 48,000. Its neighboring county to the west, Lake, which contains Gary and other cities of the great Calumet Industrial Region, had a population increase of but 25.6 per cent during the 1940-1950 period. Today, Porter County is 675th in population rank among the 3,103 counties of the United States.

Although just outside the Chicago metropolitan zone (as defined by the Census Bureau), the county has become something of a residential suburb of America's second largest city. Such comparatively new communities of the county as Ogden Dunes, Dune Acres, Beverly Shores, Tremont and Pines, all located in the Duneland region and all served by the Chicago, South Shore & South Bend electric railway, are largely composed of successful Chicago business and professional men and their families.

Another unusual aspect of Porter County is that it and its neighboring county, Lake, form a kind of "gateway" to Chicago. Because of their location at the south end of Lake Michigan, these two counties are traversed by more railroads, highways and air lanes than perhaps any other two counties in the nation. At almost regular intervals all day long and all night long, the city dwellers, suburbanites and farmers of Porter and Lake counties can hear the sounds of America on the move -- the low tone of Diesel engines, the shrill whistle of steam locomotives, the far-off hum of transcontinental airliners and the soft purr of automobiles, busses, and motor vans.

With the exception of its narrow Lake Michigan sand hill area, Porter County is mainly devoted to grain and livestock farming. But despite this, the county derives slightly more wealth from its manufactured goods and materials than it does from its agricultural products. In 1950 the value of all farm products sold in the county -- crops, livestock, poultry, dairy products -- amounted to $8,400,000, whereas, about the same time, the value of its manufactured goods, articles and materials amounted to $10,438,000. At the same period 10.8 per cent of its total employed were engaged in agriculture while 33.6 per cent were engaged in manufacturing. Practically all of the county's manufacturing plants are located in Valparaiso, county seat and principal city of Porter.

As a result of pleasant social contacts between new homeowners and native residents of the county, both of which groups share a common interest in their unique natural environment, there has grown up in Porter County a community spirit of unusual proportions. Such spirit is reflected in organizations like the Duneland Historical Society, Duneland Weavers' Guild, Newcomers' Club, Porter County Historical Society and the North Porter County Conservation Club.

Another demonstration of this community spirit occurs when the many painters, sculptors, potters, weavers and miscellaneous handicraftsmen of the region exhibit their work at the annual Outdoor Arts and Crafts Show in Chesterton, widely known as "The Gateway Town of the Dunes." An offshoot of the show is the Turtle Derby, first originated in Chesterton many years ago and now an event of almost national interest. In Chesterton, too, is located the famed "Big Inch," a one-inch-square piece of unimproved real estate owned jointly by several prominent local and national personages, among them President Eisenhower and Adlai E. Stevenson.

VALPARAISO MORAINE

As most residents of Porter County know, Valparaiso, seat of justice and principal city of the county, is centrally located on a portion of the highest land in their locality. In driving northward from Valparaiso on State 49, they observe that the land gradually slopes down to the sand dunes of Lake Michigan. Actually, Valparaiso city stands on the crest of a geologically ancient shoreline, dating back more than 20,000 years, which formed the southern boundary of a much larger lake than Lake Michigan.

As this vast body of water, which geologists have named "Lake Chicago," was some sixty feet higher than the present surface of Lake Michigan, it engulfed all of the land area north and west of the ancient Valparaiso shoreline -- an area that includes the present sites of Chesterton, Gary, Chicago and other lake shore cities and that extends as far north as Kenosha, Wisconsin.

It was in earlier ages that Lake Chicago was formed by the slow melting of a huge glacier, or ice sheet, that once covered most of the upper-Midwest. As the climate became warmer, the glacier slowly receded northward and, among other things, left a great deposit of sand, boulders and clay in what is now the central portion of Porter County (as well as Lake County). Thus was built up a ridge that, for many ages, formed the southern shoreline of Lake Chicago.

In succeeding ages, of course, Lake Chicago gradually receded, too, until it came within the present basin of Lake Michigan. Today, the old southern shoreline of Lake Chicago is known to geologists as the Valparaiso Moraine, so-called because of the ridge left here by the receding glacier. The complete story of this glacier, and of Lake Chicago, is told in The Indiana Sand Dunes and Shore Lines of the Lake Michigan Basin, by George B. Cressey (1928).

PREHISTORIC MOUNDS

In addition to such remotely-made natural formations as the Valparaiso Moraine and the Lake Michigan sand dunes, Porter County contains a number of equally remotely-made formations shaped by the hand of man. These are the several earthworks in the southwestern portion of the county constructed by that dim, far-off, mysterious race of humans known only as the Mound Builders.

At first thought to have been a "lost race" that was wiped out by the Indians of historic times" the Mound Builders are now believed to have been remote ancestors of the North American Indians. All that is known of them is that they were skillful workers, in stone, shell and beaten-metal and that they built earth mounds for either burial places or places of sacrifice.

One such mound, about a hundred feet in diameter and ten feet high, is located on the Wark farm near the village of Boone Grove, in southwestern Porter County. Another large one is on the Richard Vergin farm in the same locality. As described in The Archeology of Porter County by J. Gilbert McAllister (Indiana Historical Society, 1932), both of these mounds were investigated and found to contain numerous stone and metal relics of the strange people who built them.

EARLY FRENCH EXPLORERS

Was the great French explorer-priest, Father Marquette, the first white man to visit what is now Porter County? Although there is not much evidence to support their claims, many regional historians hold that Father Jacques Marquette actually camped in the Duneland, region of the county as long ago as 1675, thus becoming the first white man to visit these parts. At that time Father Marquette was a dying man; he came to the end of his days near present Ludington, Michigan, only a month or so later.

When Father Marquette, together with several canoemen and Indian guides, camped in the Duneland region, it was his second visit to the interior of America. On his first visit, two years earlier, Father Marquette and Louis Joliet discovered the upper Mississippi River and claimed it, and all the vast country it drained, for the King of France. The explorer-priest then made plans to return to the region and set up missions among the Indian villages on the Illinois River.

Although the thirty-eight year old Jesuit priest did come back to the Illinois country in the winter of 1674-1675, he soon became ill and forced to return to Quebec. On the journey homeward, we are told, Father Marquette and his companions took a "short cut" by way of the Illinois and Calumet rivers to a point at the foot of Lake Michigan where now stands the great industrial city of Gary.

In The Wonders of the Dunes, by the late George A. Brennan, we find these words: "It is most probable that on this journey, with Marquette dying, they took him by the easiest route. This was via the Sag and the Calumet rivers, a route no more difficult than the one by the Chicago River. Besides, it saved over 40 miles of lake travel, which in the missionary's condition meant a great deal."

Brennan continues: "As he journeyed, Father Marquette stopped frequently and took shelter in the different creeks arid rivers that pierced the dunes country, camping there overnight and also in bad weather. He preached often to the Indians, and camped on the shores of the Calumet River, Fort Creek (Tremont), Trail Creek (Michigan City), and St. Joseph (in Michigan." . . . . As we have seen, the ailing Father Marquette got no farther than the site of today's Ludington, Michigan, where he died on May 18, 1675.

LA SALLE ON THE KANKAKEE

Four years after Father Marquette visited the northern boundary of present-day Porter County, there came to its southern boundary the great French empire-builder in America, Sieur de La Salle. It was during the month of December, 1679, that La Salle, at the head of an official expedition, journeyed down the Kankakee River -- Porter County's southern boundary -- on his first visit to the interior of America. On this visit La Salle built forts at the present-day sites of St. Joseph (Michigan) and Peoria (Illinois). Three years later, La Salle again journeyed down the Kankakee River, this time to consolidate French positions in the vast upper Mississippi Valley.

PETITE FORT

While the region now composing Porter County -- and all of the upper Mississippi Valley -- was still under French rule, there was built in the Duneland area of the county a small French military outpost known as Petite Fort. Work on the construction of the fort, a log stockade which also served as an Indian trading post, was started in 1750. It was used by the French for about five or ten years afterwards and then abandoned.

This fort, long since gone, stood on the top of a high sand dune (perhaps Mount Tom) overlooking what is now the main swimming area of the Indiana Dunes State Park. A meandering creek, originally known as Little Fort Creek and later as Dunes Creek, emptied into Lake Michigan at this point; it is now channelized under the large automobile parking area of the state park.

GREAT SAUK TRAIL

After the close of the French and Indian War in 1763, a conflict in which France lost its vast inland American domain to Great Britain, there came into more prominence than before the Great Sauk Trail an ancient Indian trail that passed through the present site of Valparaiso city and central Porter County. Today's US 30 (Lincoln Highway) follows for the most part, the old Sauk Trail through the county. During the British regime in America (or up until the American Revolution), the Great Sauk Trail was much used by "western" Indians on their way to British headquarters at Detroit, where they received annuities for helping the English.

BATTLE OF THE DUNES

Not too well known among today's Porter County citizens is the fact that a minor battle was fought in their favorite Duneland area during the American Revolution. Now known as the Battle of the Dunes, this encounter took place on December 5, 1780, when a detachment of some sixteen French irregulars, sympathetic to the American cause, was overtaken by a pursuing band of fur traders and Indians in the employ of the British.

After looting the British outpost of Fort St. Joseph near present Niles, Michigan, the French irregulars were hurrying towards Petite Fort (then in American hands) in the Duneland country when the pursuing force met them. In the battle that followed, four of the American sympathizers were killed, two wounded and seven taken prisoners. It is believed that the battle was fought near Petite Fort, about in the center of today's Indiana Dunes State Park.

JOSEPH BAILLY, FIRST SETTLER

The first permanent white settler of Porter County was a noted French-Canadian fur trader named Joseph Bailly. He arrived in 1822 -- six years after Indiana was added to statehood-and built a home and trading post on the Calumet River just northwest of the present site of Chesterton. This trading post is still (1956) in existence and, although privately owned, has become the principal historic landmark not only of Porter County but of northwestern Indiana.

At the time Joseph Bailly first arrived with his family, there was no Porter County, or even a La Porte County or Lake County. It was simply a prairie, forest, swamp and sandhill region occupied by some villages of the Pottawatomie tribe of Indians. Soon enough, however, Bailly's trading post, on the edge of the sand hill country, became a social center and stopping-place for travelers passing through the northern Porter County area.

In her manuscript study, Crossroads County: A Brief History and Guide of Porter County. Indiana (1938), Marion Neville tells us: "When the fur trade declined in the 1830's, Bailly sought to augment his fortunes in real estate. There arose in his mind grandiose plans for an immense highway and harbor development as well as a town in the Calumet region, and although he platted the town of Bailly and sold several lots, his hopes were never realized. There is today, however, a small village near the Bailly homesite called Baillytown."

The Neville account continues: "Some years after Bailly's death (in 1835) his daughter Rose remodeled the dwelling house of the estate and made, it into a chapel. Bishop Luers furnished .an altar and the Sisters of Providence contributed the bell of St. Mary's Academy. Later, the place was owned by Frances Howe, granddaughter of the fur trader, who further remodeled it and wrote a book concerning life there in the early days called The Story of An Old French Homestead in the Northwest. In the museum of the Porter County Historical Society at Valparaiso may be seen numerous relics and heirlooms from the old Bailly home and trading post. . . . The small cemetery in which Bailly is buried is located on a hilltop overlooking US 12 and present Baillytown. A tall wooden cross here has become a familiar land mark of the countryside."

OLD INDIAN BOUNDARY LINE

If, on a map of Indiana, you draw a line eastward from the southernmost tip of Lake Michigan (which would be at Gary) to the state of Ohio, it would correspond to the Old Indian Boundary Line of the Hoosier State's early days. As may be seen, this line passes through what is now northern Porter County and through the towns of Porter and Chesterton.

Had it not been for some far-seeing members of Indiana's first state constitutional convention, this line might have become fixed as the new state's north boundary, which would have meant, of course, the cutting off of Indiana from any frontage on Lake Michigan. Quick to see this, the constitutional framers in question set the new state's boundary line ten miles north of a line drawn eastward from the .lowest tip of Lake Michigan. And thus it came about that Gary, Chesterton, Michigan City, South Bend and Elkhart grew up in Indiana instead of Michigan.

Although this ten mile strip was set up by Indiana when it was organized into statehood in 1816, yet the land itself properly belonged to the Pottawatomie tribe of Indians who then lived on it. And so it remained until the Treaty of Mississinewa, signed in 1826, when the Pottawatomies sold it to the government. Thereafter it became known as the Ten Mile Purchase. A few years later it was thrown open for sale to settlers. The south line of this strip has since then become popularly known as the Old Indian Boundary Line.

BUTTERNUT SPRING

In the fertile, level farming area northwest of Valparaiso city may be found an ancient Indian watering place known as Butternut Spring. When the earliest settlers arrived in Porter County, they heard tales from the Pottawatomies of the wonderful curative waters to be found at Butternut Spring. It was a favorite gathering-place of Indians, the settlers were told, from remotest times. A huge butternut tree once stood here and it was from this that the Indian "spa" obtained its name. Only the stump of this tree remains.

ARRIVAL OF THE MORGAN AND THOMAS FAMILIES

It was just after the close of the Black Hawk War of 1832, a conflict which resulted in the permanent removal of all Indians from Indiana and Illinois, that the Morgan and Thomas families arrived and became the most prominent of Porter County's earliest settlers. They staked out claims here in the spring of 1833, just a year after La Porte County was organized -- a much larger county than now and which originally embraced all of the territory included in present Porter and Lake counties.

The Morgans consisted of three brothers, Jesse, William and Isaac. Settling on land just east of the present site of Chesterton, Jesse Morgan built a commodious log house here and, as it was on the original Detroit-Chicago mail and stagecoach road, soon converted it into a wayside inn he called the Stage House. Here, too, Jesse Morgan became first postmaster of what is now Porter County. His place was called Coffee Creek Post Office after a nearby creek of the same name. It is said the creek acquired this name after an early teamster lost some bags of coffee in it while attempting a crossing at high water.

In the meantime, Jesse's two-brothers, Isaac and William, established claims on the rolling prairie just east of present-day Valparaiso and this area became known as Morgan Prairie. When all of the land in Porter County was opened for sale by the government in 1835, the Morgans, the Thomases and other early settlers paid $1.25 an acre for it.

Two grandsons of Jesse Morgan are at present (1956) among the leading citizens of Chesterton. They are Edward L. Morgan, president of the Chesterton State Bank, and Bennett B. Morgan, head of the Morgan Hardware Company of Chesterton. When the Duneland Historical Society was organized several years ago, Edward L. Morgan was elected its first president. A Morgan family heirloom is the pigeon-holed desk used by Jesse Morgan when he served as Porter County's first postmaster in 1833.

When Jesse Morgan and his two brothers arrived in 1833, there came that same year William Thomas and his family. One of the Thomas sons, William, Jr., later married Ann Morgan, daughter of Jesse. It was William Thomas, Jr., and his two brothers, John and Vincent, who platted the town of Chesterton in 1852. A granddaughter of William Thomas, Jr., is Mrs. Charles H. Smith, who at present (1956) is one of the most prominent of Chesterton's business women.

EARLY SETTLERS

After the Morgans and Thomases came to the region of future Porter County early in the spring of 1833, they shared it with only one other white man (and his family) -- Joseph Bailly, the fur trader. But none of them long remained the sole white settlers. Now that the Black Hawk War was over and northwestern Indiana was being opened to settlement, an inrush of Easterners occurred and new log cabins began to appear at almost weekly intervals on the prairies and along the creeks of the area that was to become, in a few years, Porter County.

We are told that within a month or two after the Morgans and Thomases arrived there came Henry S. Adams, who brought with him his mother, wife and three daughters and who soon had a farm under cultivation in what is now Morgan Township. Later in the spring of 1833 came George Cline, Adam S. Campbell and Reason Bell, all of whom built log cabins in the locality. Then, a short while afterwards, arrived Jacob Fleming, the Colemans and Ruel Starr, and, about the same time, Thomas A. E. Campbell (nephew of Adam S. Campbell). The last-named staked out a claim on Salt Creek.

In 1834 others arrived -- Jacob Wolf and his three sons, John, Jacob and Josephus; Barrett Door, William Thomas, Jesse Johnson, John Hagerman, A. K. Paine, Thomas and William Gossett, Theophilus Crumpacker, Jerry ,and Joseph Bartholomew, Jacob and David Hurlburt, William Frame, R. and W. Parrott and Abraham Stoner. The first house on the site of Valparaiso, seat of justice and largest city of Porter County, was built early in 1834 by C. A. Ballard.

In 1835 there came S. P. Robbins, G. W. Patton, the Baum brothers, Allen B. James, Peter Ritter, E. P. Cole, David Hughart, Hazard Sheffield and Nelson Barnes. Many of these men, with their families, settled on "Twenty Mile Prairie," so-called because it was twenty miles away from the nearest big city, Michigan City.

"THE HOOSIER'S NEST"

If the now nationally-known word "Hoosier" did not originate in Porter County, it at least was first given wide currency in this part of Indiana. For it was from a pioneer wayside inn, called The Hoosier's Nest, located just west of Valparaiso, that the term first gained popularity among early travelers and in time became another name for residents of Indiana.

It. is possible the word "Hoosier" might have eventually disappeared from the language had it not been for this Porter County caravansary. What actually happened was that this tavern. was the inspirational source of a famous poem of the time called "The Hoosier's Nest," and it was this widely-read poem that helped to fix the term "Hoosier" in the daily speech of Americans.

In The Calumet Region Historical Guide (1939) we read these words: "About three miles east of Deep River, off US 30, an unpaved road leads to the site of The Hoosier's Nest, an inn built in 1834 by Thomas Snow. This inn was listed in the Ohio Gazetter (1835) as 'The Hoosier's Nest.' It was from this inn and its activities that John Finley received inspiration for his poem 'The Hoosier's Nest.'

ORGANIZATION OF PORTER COUNTY

By the year 1835 there were enough settlers in the region between the Lake Michigan sand dunes and the Kankakee River to form a new county. A movement for this purpose was soon started, meetings were held at Morgan Prairie, Twenty Mile Prairie, Coffee Creek and other early settlements and in time a petition calling for a new county was presented to the Indiana state legislature at Indianapolis.


Apparently no objections were raised by the citizens of La Porte County, which then embraced the region in question, and so it came about that the Indiana legislature passed an act ordering that the new county be formed on February 1, 1836, and that it be named after Commodore David Porter of the United States Navy. The act was signed by Governor Noah Noble and by David Wallace, who then was president of the state senate (he was the. father of General Lew Wallace, author of Ben Hur and other famous novels; in 1837 David Wallace was elected governor of Indiana).

When Porter County came into existence, it included what is now Lake County, which today contains Gary and other populous cities of the great Calumet Industrial Region. But when Lake County was organized in 1837, Porter was reduced to its present size. At Porter's first election, held on February 23, 1836, the following early settlers were chosen for public office: John Sefford, Benjamin N. Spencer and Noah Fowts, county commissioners; Benjamin Saylor, sheriff; William Walker, treasurer; George W. Turner, clerk; and Cyrus Spurlock, recorder.

"THE FATHERS OF OUR COUNTY"

In the Illustrated Historical Atlas of Porter County, Indiana, by A. G. Hardesty (1876), we find the following words: "These first Commissioners and Officers were, in one sense, the fathers of our county, for it was their duty to bring order out of chaos, as it were; to man the ship of state and start her on her voyage down the sea of time, freighted with their first legal enactments, and all their good will . . . The first act of these Commissioners was to divide the county into ten civil Townships, which, from time to time, have been subdivided into two more; making in all twelve (12) Townships."

COMMODORE DAVID PORTER

As we have seen, the new county was named after Commodore David Porter of the United States Navy. His greatest exploit was as commander of the naval vessel Essex in the War of 1812. After rounding Cape Horn and entering the South Pacific, Commodore Porter captured seven British ships and took possession of the Marquesas Islands. Eventually, however, the Essex was blockaded by British ships in the harbor at Valparaiso, Chili, and Porter was taken prisoner. He was released later. When Porter County was named after him in 1836, he was serving as American charge' d'affaires at Constantinople. Commodore Porter died in 1843.

PORTERSVILLE BECOMES VALPARAISO

Had it not been for a party of wayfaring sailors, who dropped into its first hotel, Valparaiso might still, in this mid-twentieth century period, be known by its original name of Portersville. It was these sailors who, while visiting the American Eagle House in the winter of 1837-1838, suggested that the new county seat town be named after Valparaiso (from the Spanish, meaning "Vale of Paradise"), Chili, where Commodore Porter battled with a large squadron of British ships. The American Eagle House stood at Franklin and Main streets and was first opened by Abraham Hall, pioneer settler.

When Portersville was selected as the new county's seat of justice in 1836, it was hardly more than a "paper town." It had been platted that same year by a group called the Portersville Land Company, believed to have been organized by Benjamin McCarty, then owner of the land on which the town was laid out. Other members of the company were Enoch McCarty, John Walker, William Walker, James Laughlin, John Saylor, Abraham Hall and a downstate resident, James F. D. Lanier. The last-named afterwards became an influential New York capitalist who, among other things, rendered great financial aid to the state government of Indiana during the Civil War and whose beautiful Greek Revival mansion at Madison, Indiana, is now a state historic shrine.

After the Portersville Land Company publicly offered to donate an entire block to the county for a courthouse square, as well as an immediate cash payment of $1,200 for the erection of public buildings, the special commissioners chosen to select a suitable county seat accepted the offer and thus it was that Portersville became the seat of justice of Porter County. Thereafter, Portersville quickly emerged from a "paper town" to a real one, and several years later its name was changed to Valparaiso. The first session of the Board of County Commissioners, lasting five days, was held in the Portersville home of C. A. Ballard, who was paid $2.50 for this public use of his dwelling.

"GHOST TOWNS" OF THE DUNES

At the time Porter County and Valparaiso were founded, this part of the country was in the midst of a flourishing "townsite" boom. It was about this period, as we have seen, that Joseph Bailly, first settler of the county, planned a great town in the Duneland region -- a project that failed to materialize. At the present time a small village called Baillytown is located near the old Bailly trading post, but this is of recent origin.

Another Duneland town was platted in 1835 on land owned by William Gossett. He named it Waverly. It is said that $10,000 was spent to layout the streets of Waverly and build a few houses. When a forest fire destroyed Waverly in 1838, it was never rebuilt. Waverly was described as being about two miles northwest of the future site of Chesterton.

Still another town of the Duneland area which had a brief, but lively, existence, was City West. It was platted in 1836 at the mouth of Fort Creek, where now stands the Pavilion of the Indiana Dunes State Park. At one time City West had forty houses, a sawmill, a lake pier and three hotels. It even once entertained such a personage as Daniel Webster, the great statesman and orator.

But City West soon declined and passed out of existence. Later a New City West was built on the Chicago-Detroit road through the dunes area, but this, too, declined after the railroads came through Porter County in the early 1850's. New City West stood in the vicinity of present-day Tremont, on US 12.

FIRST RAILROADS

One of the most important factors in the development of Porter County was the building of railroads through it in the early 1850's. First "steam road" to be constructed in the area was the Michigan Central -- now part of the New York Central System. It was under construction as early as 1851 for in that year Hubbard Hunt, a Valparaiso merchant, received the first shipment of goods by rail in Porter County. It was sent on a construction train from Michigan City and unloaded on the prairie where, a year later, the village of Porter (now called Old Porter) was laid out. The Michigan Central Railroad was finally completed through the county in 1852 and, not more than a few weeks later, there came the completion of the Lake Shore & Michigan Southern (which also is now part of the New York Central System).

CHESTERTON FOUNDED

Now the second largest community in Porter County and widely know as "The Gateway Town of the Dunes," Chesterton is one of the earliest "railroad towns" of the county. It was platted in 1852 on the right-of-way of the then new Lake Shore & Michigan Southern Railroad (now part of the New York Central System). At first it was called Coffee Creek, then Calumet, and finally Chesterton. The founders of the town were the Thomas brothers, William, John and Vincent, sons of a pioneer settler of the county.

From Louis A. Menke's The Story of Chesterton (centennial booklet, 1952), we obtain this information: "Railroad park, in downtown Chesterton, was originally a wood yard of the Lake Shore & Michigan Southern Railroad. Farmers brought in the fuel to be used on the old wood-burning locomotives of the road. The piles of four-foot firewood extended over a larger area than the present park."

The Menke account continues: "The Thomas family gave the land for the wood yard and depot as an inducement for the railroad to build a station here. In 1879 the tract ceased to be used as a storage place for wood. For many years the town of Chesterton has leased it as a park, and it is now the scene of major community events."

Another "railroad town" came into being almost at the same time as Chesterton. This was Porter (now known as Old Porter). It was platted just west of Chesterton. Then, in 1872, Henry Hagerman, an early settler, laid out the town of Hagerman a little beyond Porter and this soon became a busy shipping point for brickyards in its vicinity. Since then, however, Hagerman has been absorbed by the town of Porter.

VALPARAISO UNIVERSITY ESTABLISHED

It was in 1859 that Valparaiso University, once nationally famed as the "Poor Man's Harvard," was established under the name of Valparaiso Male and Female College. After the outbreak of the Civil War two years later, enrollment at the college declined until finally its doors were closed in 1869. But in 1873 it was taken over by Professor Henry Baker Brown and re-opened as the Northern Indiana Normal School and Business Institute.

After Professor Oliver Perry Kinsey came to the institution in the early 1880's, it grew in popularity and, during the first decades of the present century, became renowned as the "Poor Man's Harvard" so-called because of its then unique work-and-study program. Among one-time students here were Len Small and Flem D. Sampson, governors, respectively, of Illinois and Kentucky; George W. Norris, celebrated United States senator; and Lowell Thomas, dean of radio commentators.

In 1925 the institution, located on a forty-three acre campus in Valparaiso city and containing seven buildings, was acquired by the Lutheran University Association. Now the largest co-educational university maintained by the Lutheran church in this country, Valparaiso University has a present enrollment of almost 2,000 students from all parts of the Midwest.

Another pioneer educational institution in Valparaiso is the Valparaiso Technical Institute. It is an outgrowth of Dodge's Telegraph and Radio Institute, founded in 1874 by G. A. Dodge, one of the first telegraphers at Valparaiso.

THE "WIZARD OF LIGHT" AT VALPARAISO

According to the centennial edition of the Valparaiso Vidette-Messenger, it was none other than Thomas A. Edison himself who gave Porter County citizens their first glimpse of his then new invention, the electric light. We are told that Edison, the "Wizard of Light," came to Valparaiso about 1880 and, on the night of his visit, demonstrated the new invention, by "lighting up" the Fisk building, which stood on the site of the present Elks' Club edifice. It was about ten years later that Elliott F. Van Ness founded the Van Ness Electric Company at Valparaiso and built the city's first electric lighting plant.

INDIANA'S LONGEST PRIZEFIGHT

An unusual event in the history of Porter County occurred one night in 1891 when a bare-knuckled prizefight, lasting eighty-five rounds, took place in the town of Kouts near the Kankakee River. The fight was between two champions of the time, Ike Weir and Frank Murphy. They battled from 11 o'clock at night until dawn the next day. The slugging match ended abruptly when word came that the Porter County sheriff was on his way down from Valparaiso. Although a long-drawn-out and bloody affair, the fight was declared a draw. It was one of the last of the bare-fisted fights in this country.

KANKAKEE RECLAMATION PROJECT

With the organization in 1902 of the Kankakee Reclamation Company, formed for the purpose of deepening, widening and straightening the historic Kankakee River, thousands of acres of rich, black, bottom land soil were opened up for cultivation in the southern part of the county. But the reclamation project virtually brought to an end a "hunters' paradise" that existed along the river from earliest Indian times. An outstanding account of adventures among the swamps, marshes and flooded lowlands of the Kankakee in the old days is Tales of a Vanishing River, by the late Earl H. Reed, who also wrote notable books on the Duneland country.

SOUTH SHORE ELECTRIC LINE

When the Chicago, Lake Shore & South Bend Railroad -- predecessor of the present South Shore electric line -- was built through north Porter County in 1907, it greatly stimulated travel to the Duneland region and brought in its wake a number of villages and towns, among them Ogden Dunes, Dune Acres, Baillytown, Tremont and Beverly Shores. After the advent of automobiles and good roads, however, the electric line went into receivership and would have ceased operation had it not been bought in 1925 by the Chicago, South Shore & South Bend Railroad, newly-organized by the Chicago capitalist, Samuel Insull. Today, the South Shore Line, as it is familiarly known, is one of the few interurban electric railways still operating in America.

NOTABLE CITIZENS

In addition to Joseph Bailly, first settler of northwestern Indiana, Porter County in the past was the home of an unusual number of citizens who attained renown outside the boundaries of the county. Among these were Edgar Dean Crumpacker, former judge and long-time member of Congress; Professors Henry Baker Brown and Oliver Perry Kinsey, educators and founders of modern Valparaiso University; Chauncey Watson Boucher, another educator and one-time president of the Indiana State Teachers' Association; George A. Dodge, founder of Dodge's Telegraph and Radio Institute; Ross Woodhull, president of the Chicago Sanitary District; John H. Gillette, a justice of the Indiana State Supreme Court; and William E. Pinney, banker and founder of the Pinney-Purdue University Experimental Farm in Porter County.

GREAT PORTER TRAIN WRECK

At about 6:30 o'clock on Sunday evening, February 27, 1921, two fast passenger trains collided at the railroad crossing at the town of Porter, just west of Chesterton, and caused one of the worst railroad wrecks in the county's -- and the nation's -- history. A total of thirty-seven persons were killed almost instantly. The accident occurred when the Interstate Limited of the New York Central System, west bound, crashed into a wooden day coach of the Canadian Flyer on the Michigan Central Railroad, east bound. Blame for the wreck was placed by Michi-Central officials, and public authorities, on the engineer and fireman of the Canadian Flyer because they failed to observe and properly obey signal indications. An earlier train wreck in the county occurred at Woodville on November 12, 1906, when two Baltimore & Ohio trains collided and caused many deaths.

INDIANA DUNES STATE PARK

Although the Lake Michigan sand hill country that forms Porter County's north boundary was for more than half-a-century a recreation area of Chicagoans and residents of other cities and towns of inland America, it was not until 1923 that the Indiana state legislature formally established the Indiana Dunes State Park. One who long ago proclaimed the wild beauties of this region was the late Earl H. Reed, author of The Dune Country and other books of the area. It remained, however, for a Gary high school teacher and Duneland devotee, Mrs. Frank J. Sheehan, to start the movement which resulted in the creation here of a state park. Today, the Indiana Dunes State Park stretches for three miles along the Lake Michigan beach and occupies an area of 2,210 acres. An official resident of the park is Frank V. Dudley, widely known as "The Artist of the Dunes."

SHRINE OF THE SEVEN DOLORES

In the farm country northwest of Valparaiso may be found an unusual religious shrine visited annually by hundreds of pilgrims. This is the Shrine of the Seven Dolores (Shrine of Our Lady of the Seven Sorrows). Occupying an area of 100 acres, composed of rock formations, gardens, small canals, a large grotto, the Stations of the Cross and a three-story monastery, this shrine was established in 1931 by an American-Czechoslovakian branch of the Order of Friars Minor, a Roman Catholic monastic order founded in the thirteenth century by St. Francis of Assisi.

PINNEY-PURDUE EXPERIMENTAL FARM

Of widespread interest both inside and outside of Porter County is the Pinney-Purdue University Experimental Farm. It is located east of Valparaiso near the La Porte County line and consists of nearly 500 acres of rich farming land used for experimental work in animal husbandry, crop control and scientific farming. The farm was originally owned by William F. Pinney, a leading Valparaiso banker. He and his daughter, Mrs. F. R. Clark, donated the farm to Purdue University in 1919.

SPECTACULAR COURTHOUSE FIRE

Most spectacular fire in the history of Porter County occurred on December 27, 1934, when flames almost completely destroyed the dignified old Porter County Courthouse at Valparaiso. This edifice, surmounted by an ornate tower, had been completed in 1885 at a cost of $167,000. Both the tower and much of the interior of the building had been destroyed by the great blaze of 1934, which required not only Valparaiso but Gary and La Porte fire equipment to fight it. The present Porter County Courthouse, three stories high and without a tower, is considered an architectural masterpiece, blending as it does a traditional architectural style with modern design. It was the work of Walter Scholer, a La Fayette, Indiana, architect.

CAMP FARR

An average of 400 youngsters from Chicago are welcomed each summer at Camp Farr, an eighty-acre farm just southeast of Chesterton. This work-and-play camp was established here in 1930 by the University of Chicago Settlement House, an institution founded by the late Mary MacDowell, famed social worker. The Chicago children are brought to Camp Farr in groups, each group remaining for a period of two weeks. During that time the youngsters live in summer cottages on the farm and help with the farm work. They also indulge in sports, play games and have the use of a large swimming pool. At the present time (1956) the camp is directed Eddy Edwards, who is both an expert farmer and a trained social worker. He is assisted by his wife, as well as by older members of the groups from Chicago.

STATE POLICE BARRACKS

A familiar sight in Porter County is Post No. 1 of, the Indiana State Police, which occupies a new modern building at the intersection of US 20 and State 49, just south of the main entrance of the Indiana Dunes State Park. The building is set in the midst of an attractively landscaped "cloverleaf" intersection, and above it rises a 300-foot radio tower. The post was established here in 1937 after being first located at Tremont. A few miles south of the barracks is situated Chesterton, known as "The Gateway Town of the Dunes."

DUNELAND HISTORICAL SOCIETY

One of the most flourishing organizations of northwestern Indiana is the Duneland Historical Society, with headquarters at Chesterton, in Porter County. It was founded in 1948 by Louis A. Menke, of the Chesterton Tribune, at the suggestion of several county residents. In addition to Edward L. Morgan and Louis A. Menke, other past presidents of the society have been Roy Sherwood, Harry R. Smith, Warren Canright, Sr., Arthur Peterson, ,Norris Coambs and C. Will Nelson. Among members of the society and others who have written articles on the past of Porter County are C. Will Nelson, W. A. Briggs, Louis A. Menke, Norris Coambs, Olga Mae Schiemann, Earl Reed, Jr., Roy Sherwood, Colonel Edward N. Wentworth, Marion Neville Drury, Roy E. Hawkinson, Mrs. Naomi Phillips and Mrs. Florence Busse Smith. Another active group in the county is the Porter County Historical Society, with headquarters in Valparaiso.

GREAT NATIONAL TOLL ROAD

A "crossroads county" from earliest times, due to its location at the southern end of Lake Michigan, Porter County once again is the scene, in part, of a great new highway that, when completed, will connect New York with Chicago. In 1955 construction work was started in the county on a motor toll road which will be Indiana's portion of the modern expressway connecting the Illinois state line with the Iowa state line. The four-lane toll road passes through the northern portion of Porter County. A "clover leaf" intersection at the point where it crosses State 49, just south of Chesterton, will serve toll road motorists seeking Indiana Dunes State Park.

RICE LAKE AND ANIMAL PRESERVE

An unusual sight of Porter County, but one little publicized, is the privately owned Rice Lake and Animal Preserve. It is located a few miles east of Chesterton near the tiny village of Burdick. Occupying several hundred rolling acres, this park-like area contains an artificial lake, a large mink farm and numerous enclosed runways or corrals in which buffalo, deer, elk and other types of animals roam. The preserve was created a few years ago by Major William S. Rice, head of Coe Dental Laboratories, Inc., of Chicago. The home of Major and Mrs. Rice here is a railroad coach whi.ch once was the private car of President Woodrow Wilson. The Rice preserve is not open to the public.

PORTER COUNTY AIRPORT

In the level open country just east of Valparaiso city may be found the smooth green acres, runways and hangars of the Porter County Airport, largest landing field of the county. This is the home base of dozens of privately-owned planes, many of them in the possession of "Flying Farmers" of the county. Here, also, is the headquarters of the Valparaiso Civil Defense Air Patrol. Another airport, Urschel Field, is located just north of Valparaiso near the Porter County Fairgrounds.

BURNS HARBOR PROJECT

At the present time (1956) a strong movement is being fostered by numerous Indiana industrial and commercial interests for the construction of a great industrial harbor at the mouth of Burns Ditch, a drainage waterway which empties into Lake Michigan in the northwest corner of Porter County. If this project is realized, it would not only provide the vast Calumet Industrial Region nearby with another lake port but would result in the building up of a huge manufacturing district in the Duneland region of north Porter County. This project, however, is being strongly opposed by the Save the Dunes Council, organized in 1952 and composed of some 500 residents and others of the area in and about the Duneland country. The council's aim is to preserve the dunes for the people and create a larger state park than the present one.

"WHO'S WHO" IN PORTER COUNTY

In the latest (1955) edition of that standard reference work, Who's Who in America, we find biographies-in-brief of more than a dozen residents of Porter County. Most of them are. either Chicago business and professional leaders who live in the county or educators associated with Valparaiso University at the county's seat of justice.

In the latter group are the Reverend Otto P. Kretzmann, president of the university and author of The Road Back to God and other books; Herbert W. Knopp, coordinator of university relations; Professor Alfred H. Meyer, head of the university's department of geology and president of the Valparaiso City Plan Commission; Herman C. Hesse, dean of the university's college of engineering; the Reverend Walter E. Bauer, dean of the college of arts and sciences; Professor John W. Morland, dean of the law school; and Dr. Henry G. Poncher, professor of human biology and director of the university's student health department.

Other Porter County residents in Who's Who are Earl H. Reed, noted Chicago architect and chairman of the American Institute of Architects' committee for the preservation of historic buildings (his father was the late Earl H. Reed, pioneer Duneland author and etcher); Colonel Edward N. Wentworth, a leading livestock authority and former director of the Armour Livestock Bureau; Dr. A. L. Rand, curator of birds at the Chicago Natural History Museum; Henry B. Snyder, publisher of the Gary (Indiana) Post-Tribune; Professor Avery O. Craven, distinguished University of Chicago historian; Colonel Clifford C. Gregg, director of the Chicago Natural History Museum; and Herman G. Pope, city planner and authority on public administration.

PORTER COUNTY TODAY

On the basis of latest United States census figures, a statistical profile may be drawn of Porter County as it was in 1950, or in mid-twentieth century. From this census, we find that Porter County is one of the fastest-growing counties in Indiana, being eclipsed in this respect only by Tippecanoe and Clark counties.

When the 1950 census was completed, it was found that Porter County had a total population of 40,076 -- an increase of 44 per cent over its 1940 population. An unofficial business survey places its 1955 population at 48,000. In the census reports, the county is rated 675th in population rank among the 3,103 counties of the United States.

Most of the county's increase in population occurred at its county seat, Valparaiso, which in 1950 had a population of 12,028 (an increase of 37.7 per cent over its 1940 population), and at the town of Chesterton, which at the same time had a population of 3,175 (an increase of 28.5 per cent over its 1940 population).

Area and Density. With a land area of 425 square miles, the county's density of population was found to be 94 inhabitants per square mile.

Urban-Rural Residence. Although nearly all of the land area of Porter County is devoted to grain and livestock farming, most of its citizens are classified as urban and rural non-farm residents, these being dwellers principally of Valparaiso city and Chesterton and other towns and villages. The figures showed that 16,084 were classified as urban residents (mainly of Valparaiso), 16,503 as rural non-farm residents, and 7,489 as rural farm residents.

Age Groups. In 1950 there were 4,446 infants under five years of age in the county, 2,986 persons sixty-five years old and over, and the median age was given as 28.3 years.

Migration. In the same year, there were 3,605 residents of the county (persons one year old and over) who were either living in a different county of the United States or in some foreign country.

Potential Voters. There, were 24,428 potential voters (citizens twenty-one years old and over) in the county in 1950.

Vital Statistics. At the same period, there were 726 live births in the county, 334 deaths (including 18 infant deaths), and 947 marriages.

Number and Income of Families. The total number of families (two or more persons related by marriage or blood) amounted to 9,535. The median income of all of these families in 1949 was given as $3,574. The figures showed further that 17.1 per cent of these families had incomes of less than $2,000, while 22 per cent had incomes of $5,000 or more.

Education. Under the heading of education, Porter County in 1950 had a total of 6,850 young persons between the ages of seven and seventeen years (school age). Within this total there were 4,650 between the ages of seven and thirteen years (primary school age), and 96.8 per cent of these were enrolled in primary schools. Also, there were 1,880 between the ages of fourteen and seventeen years (high school age), and 91.9 per cent of these were enrolled in high schools. Of all persons in the county twenty-five years old and over, it was found that the median number of school years they completed was 10.8 years. More than 4 per cent of these completed less than five grades, while 42.4 per cent completed high school or higher education. The institutional population of the county in 1950 (inmates of homes for dependent or delinquent children, mental hospitals, jails; etc.) was given as 110.

Labor Force. With reference to labor, it was found that the county had a potential labor force (persons fourteen years old and over) of 29,226. Actually employed, however, were 15,145, of which 77.4 per cent were males and 25.5 percent females. There were 4,985 engaged in manufacturing (principally at the great Calumet Industrial Region in adjoining Lake County and at Valparaiso city), 2,467 in wholesale and retail trade, 1,603 in agriculture, 1,395 in professional and related services, 1,272 in transportation, communication and other public utilities, 1,124 in construction, 712 in business and personal services, 315 in finance, insurance and real estate and 13 in mining. The labor figures were summed up by showing that 33.6 per cent of the county's total employed were engaged in manufacturing, while 10.8 per cent were engaged in agriculture.

Housing. There were 12,837 dwelling units in Porter County in 1950, as compared to 8,449 in 1940. The median number of rooms per unit was given as 4.7. More than 84 per cent were one-dwelling unit detached structures (including occupied trailers), 27 per cent were built in 1940 or later, and 64.8 per cent had hot running water with private toilet and bath. The median number of persons per unit was given as 3.1. The housing figures showed further that 71.1 per cent were owner-occupied, 0.1 per cent were occupied by non-white households, 66.4 per cent had central heating, 89.8 had mechanical refrigerators, and 98 per cent had radios. There were a total of 11,506 units classified as non-farm dwelling houses. The median value of practically all of these was given as $7,365. The median gross monthly rental of renter-occupied houses was given as $48.53.

Retail Trade. Under the heading of retail trade, Porter County in 1948 (when the last federal business census was taken) had a total of 442 retail stores. These employed 1,500 persons and grossed $30,513,000 in sales. The largest group were food stores, which totaled 114 and which grossed $7,569,000 in sales. The next largest group were eating and drinking places, which totaled 89 and which grossed $2,286,000 in sales.

Wholesale Trade. There were 37 wholesale establishments in the county in 1948 and these employed 171 persons and grossed $14,424,000 in sales.

Personal, Business and Repair Services. In this category, which included barber and beauty shops, credit bureaus, automotive repair shops, etc., there were 99 such establishments which employed 136 persons and which had receipts totaling $1,099,000.

Manufacturing. As we have seen, most of the county's manufacturing plants are located in Valparaiso. A federal manufacturing census taken in 1947 showed that the county then had 43 factories which employed 2,077 persons and which produced goods, materials and articles in the amount of $10,438,000. About half of the county's factories did not employ more than twenty persons per plant; only two had 250 employees or more per plant.

Agriculture. With reference to agriculture, Porter County in 1950 had a total of 1,709 farms, of which 1,165 were classified as commercial farms. The figures showed further that 18.7 per cent of all farms were operated by tenants. It was also ascertained that the average value of land and buildings per farm for all farms was $20,046. The value of all farm products -- crops, livestock, poultry, dairy products -- sold in the county in 1949 was $8,400,000. In that same year, farm expenditures amounted to $1,035,000 for livestock and poultry feed and $457,000 for hired labor.

Bank Deposits. As of December 30, 1950, Porter County had bank deposits totaling $16,550,000. On the same date, the county's two savings and loan associations had savings capital totaling $10,168,000, with $10,190,000 in first mortgage loans outstanding.
Transcribed by Steven R. Shook, January 2009