Pioneer Life and Impressions
Recollections of early Porter County by ISabel (Stewart) McKnight . . . .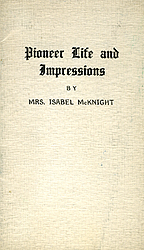 Pioneer Life and Impressions was a small, fourteen page booklet written by Isabel (Stewart) McKnight. Isabel was born in Ireland in November 1841, and was one of four children born to William and Nancy (Wilson) Stewart. The Stewart family emigrated from Ireland and became pioneer settlers near Hickory Point (near Hebron in Lake County) in 1845. William died in Crown Point in 1883, while his wife Nancy died in the same city in 1902. Isabel married James McKnight in 1865 and they settled near Hebron. James was a veteran of the Civil War and was born in Pennsylvania in November of 1839. It is believed that Isabel wrote this small booklet of recollections sometime around 1916 or 1917, as she died on December 10, 1917, in Leroy, Lake County, Indiana. Many of of McKnight's recollections refer to people and places in Porter County.

Source Citation:
McKnight. Isabel Stewart. Circa 1917. Pioneer Life and Impressions. Publication location not provided: Mrs. R. E. Morris. 14 p.

Pioneer Life and
Impressions
BY
MRS. ISABEL McKNIGHT
AMONG my earliest recollections is our trip from Ohio to Indiana. We left Waynesburg, Stark Co., Ohio about the middle of October 1851 and traveled from there to Cleveland in a canal boat. The canal boat was used principally for transporting grain from one point to another and had a little cabin at one end which was fitted up for the women and children. The men must have had another apartment for the mules were kept in the other end and the center of the boat was used for the grain. The boat was drawn by mules. They walked on the bank of the canal and were attached to the boat by a large rope. Not a very swift way to travel. From Cleveland we went across Lake Erie to Detroit in a steam boat and from there across Michigan to Michigan City. There we put up at a hotel kept by a Mr. Shrieve who had moved from near the old Hazzard Sheffield farm. It rained continuously that night and the next day it was a problem how we were to get from there to Horseprairie or Hickory Point. Mr. Shrieve had to send a man to the farm he had left to get a load of corn so it was decided that we should go with him. The family of father, mother and four children together with our belongings were packed in the wagon, we started for our destination with the rain the day and night before and so much corduroy road it was not a very pleasant trip. At one place father was pitched off into the water. We stopped at a little town called Doorville for lunch and to feed the horses, went through Westville and arrived at Valparaiso at night. Put up at the Freemont House which stood where the Specht and Finney Store is now located. The next day, October 31, we arrived at Hickory Point. Stayed at Joseph McFarlands, a home for strangers until a log cabin 12 x 14 was vacated. We moved in and lived there for two years. If it was small we entertained strangers. At one time Mr. McIntyre, wife and two children stayed with us two weeks. I don't know how it ever was done, there was the trundle-bed of course.

My first school teacher was Miss Mary Cleveland. She taught in the M. E. Church at Hickory Point, the church that was built by Mr. Wm. Nichols sometime in the 40's. At this time the teacher boarded around. She stayed with us two weeks and seemed to enjoy it. Mother had the knack of making the best of a situation and had draped the bed so it was almost as good as having a room of her own. Miss Cleveland married a Mr. Winslow and was the mother of A. A. Winslow now Consul General of New Zealand.

Everything was very different at that time from what it is now. I never saw a cook-stove until we came to Indiana. We had always cooked in the open fire with the long crane to hang pots and kettles on and the fire dogs to lay the wood so there would be draft enough for fire to burn. The greater part of the farm work was done with oxen. The driver had no lines but guided them by "Gee Haw" and "Whoa." When they undertook to run, they just went. If the driver could get ahead of them with a good stick he might stop them, if not they run until tired or run into something that would stop them. In breaking the sod they used as many as six yoke of oxen on a large breaking plow and could break up several acres in a day. In early days the people usually settled near the timber and a spring of water if possible, then they were sure of water, plenty of fuel, and some shelter for their cattle. We moved across into Lake County on what is now the Gidley and Luce farm and lived in a log house a little larger than the first. Uncle Ross and Aunt Margaret Wilson stayed with us there through the winter of 55 and in February of the same year Mr. McKay's family came (7 of them) and stayed several days in an extremely cold winter. We got along fine and that fall we moved into the woods on a farm of our own in Porter County. Father had put up a shell of a farm house, no plaster just thin siding but we thought we were well fixed for a house. We did have plenty of room if it was cold. That was an extremely cold winter. We had to walk two miles to school. My brothers would walk ahead and break the path and I would follow after. My sister could not stand it. I had frozen feet and legs, that is when we saw hard times. We did not have much of a school either. Mostly young men and women went in the winter. We did not have much of a school system at that time. During the summer the patrons would select some young woman for teacher, go around with a paper and get signers. Sometimes there would not be enough public money to pay the teacher and then the signers had to make it up and it was very hard to get it. There were no teacher's examinations in those days. The applicant would go to some college graduate and pass some kind of an examination, probably oral.

Game was very plentiful then, I can remember of father getting two fine deer in one day. Wild ducks and geese, prairie chickens, quail and pheasants all such game in its season in abundance. My first recollections of Salem Church. The building was just enclosed, no seats, but boards laid on blocks of wood instead. The Rev. Brown from Valparaiso was the minister. Before that building was erected he held services at the Humphry home.

Early in 1862 Mr. Brown was elected chaplain of the 48th Indiana and died July 14th, 1862 from over work. His wife was sent for and started immediately but he was dead before she got there. The Salem Cemetery was located at the same time that the church was started. There were perhaps ten graves here when I first saw it. The first persons buried there were two daughters of Ezra Reeves, who died very close to each other of what they then called black tongue, now known as Diphtheria. In those days there was only one railroad in Porter County; that was the Michigan Central. It run through Lake Station, now East Gary. The farmers and merchants in Hebron had to haul their grain and goods either there or to Calumet Station, now Chesterton.

We did not then have the threshing outfits they have now. The machine used in our neighborhood was a small machine run by two horses on a tread mill, when they were put on they had to work. There was some kind of cylinder that threshed the grain, the straw had to be brushed off it and the chaff and grain was all left together. That was the time that the Fanning Mills were used. Father used to start to Lake Station long before day light, get to Deep River by sunrise. He ahd some very deep sand to go through between Hobart and Lake Station and would try to get back with the empty sacks so we could help to clean up his load for the next day. It was hard to get a little money and we had to do a great deal of trading. Knitting socks and selling them was one way we had of getting some things, we needed. If we girls had a nice calico dress we thought we were all dressed up. A great many people kept a few sheep. The first Merino sheep were brought in Porter County by Joseph McFarland in 1846. He drove them across the country from Ohio and located on the County Line a little south of Hickory Point. Two of his daughters still own part of the old farm. there were carding mills where we took the wool after it was cleaned and picked over and brought home the nice long rolls, that were spun and woven into different kinds of cloth. Sometimes some of the cloth was sent to the fulling mills where it was colored and pressed, the boys clothes were sometimes made from this cloth. Boots and shoes were another problem. We had to wear the home made shoes and they would not compare very favorably with the shoes of the present time, but they were as good as others and we were all right. We had two shoe makers in our neighborhood. One, Uncle Phil Swick, at Hickory Point and James Cooper near Winfield. Mr. Cooper was a little the finer workmen of the two and the father of Mr. Frank Cooper. The leather was mostly tanned at home. Uncle John Russell run a tannery at Lake Eliza and people said he made good leather. It took so much leather to make boots for he boys, that we girls did not get much for shoes. My earlier recollections are mostly of Porter County. The greater part of our trading business was done at Valparaiso, after the Fort Wayne rail road was made through there. The prominent business men there were the Bartholomaes, Calkins Brothers, H. Dillingham, Rodgers, Talcott, Ruel Starr, R. C. Cameron, Col. Suman. The old Gould House was kept by Mr. Gould and in our own neighborhood was Dr. Cass. Mr. J. I. Benjamin arrived at Hickory Point in 1861 and was an active useful man during his life. At that time our own South East Grove was quite a center of education. There were the Browns, Crawfords, Stars, Doaks, Kingsburgs, McCann and many others gathered for school, literary and debates. Sabbath School and Preaching Services were all held there in the log school house with the seats in tiers along the sides of the room. It was my privilege to be there at preaching the day that Mr. George Doak and wife made their appearance as bride and groom. It would have been hard to find a handsomer little couple than they were. What impressed me most was Mrs. Doak's pretty bonnet with such beautiful white strings tied in a bow. I thought then, if ever I get married I will have a bonnet like that, I did have the white strings but not just like Mrs. Doak's. I was married in 1865 and came to live in Lake County April 24, 1866. There were no houses very near. Mr. Brey lived on what is now called the Boyd place and Mr. Chas. Stewart on the arm now owned by S. A. Love. That same year, Mr. Benjamin built his little house at Cassville. It was the first building put up at what is now Leroy. That fall we moved the house onto their present farm. We have had good neighbors ever since. To the northwest was quite a little settlement. The Dublin school house was built about that time. A little later Summers and Foster put up an elevator which burned later. Mr. Edgerton came here, lived in the elevator while building his house. Later he put up the building used by the Edgerton's for a store, postoffice and dwelling house. Mr. Edgerton was the first post-master in Leroy. At one time we had a milliner shop and a doctor here. In 1853 the valuation of Winfield Township was $28,000.
MEMOIR
(Written for Mrs. Clark Dilley by Mrs. R. E. Morris, in memory of her mother, Mrs. James McKnight, who died Dec. 10. She had visited in Roswell a few years ago and had won a host of friends by her sweet personality. To know her was to love her.)

One day in December, there was laid
in a hallowed place,
God's acre we called it, an angel dressed
in lavender and lace.
Resting so peacefully on a beautiful
couch fast asleep
Dreaming of dear ones, where they
sow what they reap.
And a soft fleecy robe thrown o'er
that tufted bed
White for purity, typical of that
spiritual life she led;
The beautiful flowers, none more
beautiful than thy sweet face
Lying there so peacefully, oh you dear
in lavender and lace.
I couldn't be with you, God knows
why dear heart,
He and his angels, they alone know
why we should part.
Dear angel mother, do you know the
memories you have left behind?
Dear angel heart, do you know they
shall always be in my mind?
Your beautiful life, God keep this pat-
tern before me forever,
Let your star shine, and guide me 'till
this life he shall severe,
Then he and his angels shall say as
they look on my face ----
"You have lived up to your patter,
you are like her of the lavender
and lace."
Transcribed by Steven R. Shook, August 2009