Walter J. Woycik, World War II Casualty
Porter County Data on World War II Casualties . . . .
Walter J. Woycik
Lieutenant, Group Q, Squad 247, US Army Air Force
Date of Birth: 1924
Date of Death: December 27, 1944
Burial: St. Paul Catholic Cemetery, Valparaiso, Porter County, Indiana
Cause of Death: Airplane Crash (while training at Midland, Texas)
Hometown: Valparaiso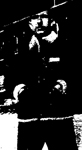 Newspaper Notices:

Pilot Killed On His Final Course Trip

Almost on the eve of receiving his commission and wings as a member of the U. S. Army Air Corps, Walter Woycik, 20, son of Mrs. Mary Woycik, 201 Monroe street, was killed at 6:30 o'clock Wednesday evening in a plane crash at Midland, Tex.

Woycik, who was to have graduated with his class at the Texas field on Friday, and then was to have come to Valparaiso to spend New Year's with his mother and other relatives, was killed on the last flight of his course.

Details of the tragic mishap were not revealed in the message received here.

Young Woycik had been in training for the last year and a half. He was graduated from Valparaiso high school in 1942, and later attended Valparaiso university on a scholarship awarded by the Valparaiso Junior Chamber of Commerce.

While attending high school he was a member of the football team and also was a star softball pitcher, and was a part-time employe of The Vidette-Messenger.

Surviving besides his mother is a brother, Barney Woycik, senior in Valparaiso high school and also a prominent football and softball player, and a sister Miss Jeanette Woycik, of this city.

Also surviving are four step-sisters, Mrs. Vernon Bross of Valparaiso, Mrs. Edward Kazmarck of Chicago, Mrs. Elmer Butts of Michigan City, and Mrs. Leo Schultz of Frankfort, Ind.

Members of the family said the body will be brought to Valparaiso for formal services and burial.

The war department today announced that two Porter county men were recently wounded in the European area. They are Pfc. Raymond B. Falls, Valparaiso, and Pfc. Porter P. Baugher, of Chesterton.

Pfc. Baugher has a sister, Miss Marvel Baugher, living on Chesterton RFD 1. Pfc. Falls' wife, Mrs. Evelyn Falls, resides at 307 Valparaiso street.
__________________________________________________________________
Source: The Vidette-Messenger, Valparaiso, Porter County, Indiana; December 28, 1944; Volume 18, Page 1, Column 3


Body of Flyer Arrives; Rites On Wednesday

The body of Walter Woycik, of the U. S. Amry Air Corps, who was killed in a plane crash at Midland Army Airfield, Midland, Tex., last Wednesday, arrived in Valparaiso Sunday night, and was taken to the Woycik home, 201 Monroe street, where friends may call.

Memorial services for the youth, who was to have graduated with his class at the Texas field on Friday, will be held Wednesday at 9 a. m. in St. Paul's Catholic church with burial in St. Paul's cemetery.
__________________________________________________________________
Source: The Vidette-Messenger, Valparaiso, Porter County, Indiana; January 2, 1945; Volume 18, Page 2, Column 3


Woycik Services Held At St. Paul's

Memorial services for Cadet Walter Woycik, of the U. S. Army Air Corps, killed in a plane crash Dec. 27, two days before he was to receive his wings and commission at Midland Army Airfield, Midland, Texas, were held Wednesday morning at 9 o'clock at St. Paul's Catholic church, Rev. F. X. Guerre officiating.

Pallbearers were Bill Nielsen, Bob Bartholomew, Malcolm Varner, Bob Soliday, William Fraser, and Lieut. LeMoine, air corps instructor at Midland Field. Burial was in St. Paul's cemetery.
__________________________________________________________________
Source: The Vidette-Messenger, Valparaiso, Porter County, Indiana; January 4, 1945; Volume 18, Page 2, Column 4


Return to List of Porter County World War II Casualties

Information abstracted and transcribed by Steven R. Shook