Steven Noble, World War II Casualty
Porter County Data on World War II Casualties . . . .
Steven Noble
Pilot Officer, Royal Canadian Air Force
Date of Death: August 13, 1943
Cause of Death: Airplane Crash (Germany)
Monument: Runnymede Memorial, Surrey, United Kingdom
Hometown: Valparaiso
Service Note: Steven Noble was one of thousands of Americans enlisted in the Royal Canadian Air Force prior to the United States' entrance into World War II on December 8, 1941.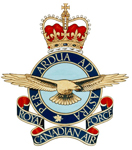 Newspaper Notices:

IN MEMORIAM

In loving memory of Steven Noble, R.C.A.F., lost in action August 13, 1943.

How very high these fliers fly,
So brave, so young,
Too young to die.

Mr. and Mrs. C. E. Noble
and family.
__________________________________________________________________
Source: The Vidette-Messenger, Valparaiso, Porter County, Indiana; August 13, 1946; Volume 20, Number 34, Page 2, Column 7


Return to List of Porter County World War II Casualties

Information abstracted and transcribed by Steven R. Shook