Elmer Charles Bigelow, World War II Casualty
Porter County Data on World War II Casualties . . . .
Elmer Charles Bigelow
Water Tender Second Class, US Navy
Date of Birth: July 12, 1920
Date of Death: February 15, 1945
Burial: Linn-Hebron Cemetery, Hebron, McHenry County, Illinois
Cause of Death: Wounds
Date of Enlistment: September 1942
Awards: Congressional Medal of Honor
Hometown: Chesterton (graduate of Chesterton High School)
Service Note: The destroyer USS Bigelow (DD-942), which operated from 1957 to 1990, was named in honor of Water Tender Second Class, Elmer Charles Bigelow.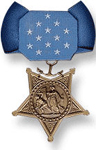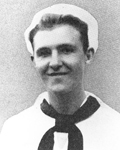 Newspaper Notices:

Hold Burial Rites For Chesterton War Casualty

CHESTERTON, No. 12 -- The body of Elmer Charles Bigelow, USN water tender, second class, one of Chesterton's World War II heroes and winner of the Congressional Medal of Honor, has been given final burial rites at Hebron, Ill., the home of his mother, Mrs. William Perry.

The decedent was born and reared in Hebron, Ill., and enlisted in the U. S. Navy in 1942. He took up duties aboard the USS Fletcher on June 12, 1943. He died of wounds in action in the South Pacific, and was awarded the Congressional Medal of Honor posthumously.
________________________________________________________________
Source: The Vidette-Messenger, Valparaiso, Porter County, Indiana; November 12, 1948; Volume 21, Number 111, Page 6, Column 5


Congressional Medal of Honor Citation


For conspicuous gallantry and intrepidity at the risk of his life above and beyond the call of duty while serving on board the U.S.S. Fletcher during action against enemy Japanese forces off Corregidor Island in the Philippines, 14 February 1945. Standing topside when an enemy shell struck the Fletcher, Bigelow, acting instantly as the deadly projectile exploded into fragments which penetrated the No. 1 gun magazine and set fire to several powder cases, picked up a pair of fire extinguishers and rushed below in a resolute attempt to quell the raging flames. Refusing to waste the precious time required to don rescue-breathing apparatus, he plunged through the blinding smoke billowing out of the magazine hatch and dropped into the blazing compartment. Despite the acrid, burning powder smoke which seared his lungs with every agonizing breath, he worked rapidly and with instinctive sureness and succeeded in quickly extinguishing the fires and in cooling the cases and bulkheads, thereby preventing further damage to the stricken ship. Although he succumbed to his injuries on the following day, Bigelow, by his dauntless valor, unfaltering skill and prompt action in the critical emergency, had averted a magazine explosion which undoubtedly would have left his ship wallowing at the mercy of the furiously pounding Japanese guns on Corregidor, and his heroic spirit of self-sacrifice in the face of almost certain death enhanced and sustained the highest traditions of the U.S. Naval Service. He gallantly gave his life in the service of his country.




Return to List of Porter County World War II Casualties

Information abstracted and transcribed by Steven R. Shook