Donald Ray Rice, Korean War Casualty
Porter County Data on Korean War Casualties . . . .
Donald Ray Rice
Sergeant, Company L, 3rd Battalion, 23rd Infantry Regiment, 2nd Infantry Division
Date of Birth: 1931
Date of Death: October 31, 1951
Cause of Death: Died While Captured Prisoner of War (Chaun-ni)
Monument: Tablets of The Missing, Honolulu, Hawaii
Hometown: Porter County
Service Note: Sergeant Donald Ray Rice was seriously wounded by the enemy in South Korea on September 27, 1950, and returned to duty on October 8, 1950. He was taken as a prisoner of war while fighting the enemy in South Korea on May 18, 1951, and died while a prisoner on October 31, 1951. His remains were not recovered.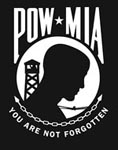 Return to List of Porter County Korean War Casualties

Information abstracted and transcribed by Steven R. Shook