Melvin James Michaels, Korean War Casualty
Porter County Data on Korean War Casualties . . . .
Melvin James Michaels
Private First Class, Company L, 3rd Battalion, 35th Infantry Regiment, 25th Infantry Division
Date of Birth: 1932
Date of Death: September 7, 1951
Cause of Death: Killed in Action (North Korea Sector)
Date of Enlistment:
Monument: Honolulu, Hawaii
Awards: Purple Heart
Hometown: Chesterton
Service Note: Pfc. Melvin James Michaels was seriously wounded by an enemy missile in South Korea on May 22, 1951, and returned to duty on June 9, 1951. He was killed in action while engaging the enemy in North Korea on September 7, 1951. His remains were not recovered.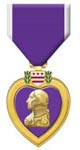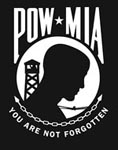 Newspaper Notices:

Melvin Michaels Is Reported As Killed In Action

CHESTERTON, Oct. 26 -- Word has been received here that Pvt. Melvin J. Michaels, 18, formerly of Chesterton, has been killed in action in Korea while fighting with the American forces.

The dead soldier is a son of George H. Michaels, of Gary, and a brother of George Michaels, of Chesterton, of whom he had lived.

According to a telegram received by Michael's brother, the soldier was killed Oct. 18. He had been wounded twice before in the fighting, and returned to the front lines each time after recuperation.

He enlisted in August, 1950, and went overseas in December. He attended the Porter grade school.

Also surviving are a brother, William C. Hood, of Crisman, and a sister, Loretta Warble, or Porter.
[Note: Contrary to this newspaper notice, official government records indicate that Private Melvin James Michaels was killed in action on September 7, 1951.]
__________________________________________________________________
Source: The Vidette-Messenger, Valparaiso, Porter County, Indiana; October 26, 1951; Volume 25, Number 97, Page 6, Column 2


Return to List of Porter County Korean War Casualties

Information abstracted and transcribed by Steven R. Shook