William Edward Harrigan, Korean War Casualty
Porter County Data on Korean War Casualties . . . .
William Edward Harrigan
Corporal, Company K, 31st Infantry Regiment, 7th Infantry Division
Date of Birth: August 24, 1930
Date of Death: March 23, 1953
Burial: St. Patrick Cemetery (Chesterton)
Cause of Death: Killed in Action (Old Baldy/Pork Chop Hill area)
Awards: Purple Heart, Combat Infantryman's Badge, Korean Service Medal, United Nations Service Medal, National Defense Service Medal, Korean War Service Medal
Hometown: Chesterton
Burial Note: Corporal William Edward Harrigan is buried in St. Patrick Cemetery in Chesterton, just three tombstones away from another Korean War soldier killed in action, Sergeant First Class Norbert A. Brzycki.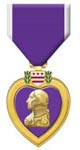 Newspaper Notices:

2 Area GI's Bodies In US

Bodies of two 22-year-old Porter county servicemen, killed within 48 hours in action on Old Baldy mountain in Korea, have been returned to the United States.

They are Cpl. William E. Harrigan, 22, husband of Mrs. Audrey Harrigan and son of Mr. and Mrs. Michael Harrigan, Chesterton, and Pfc. Gene Leeper, 22, son of Mr. and Mrs. Charles Leeper, Garyton.

Harrigan was killed March 23, and Leeper on March 24. Bodies of the victims are being sent to the Brooklyn Army base and later will be brought her for burial.
________________________________________________________________
Source: The Vidette-Messenger, Valparaiso, Porter County, Indiana; May 12, 1953; Volume 26, Number 263, Page 6, Column 3
Funeral Rites For Bill Harrigan Next Monday

Funeral services for Cpl. William E. Harrigan, 22, who was killed in action, March 23, 1953, in Korea will be held at 10:00 a. m. Monday, May 25, at St. Patrick's church with Fr. Ralph G. Hoffman officiating. The remains will arrive here at 6:10 a. m. Friday, May 22, and friends may call at the Edmonds Funeral Home, after 6 p. m. Saturday, May 23. Rosary will be recited 2:30 p. m. Sunday, May 24, at Edmonds Funeral Home. The American Legion Post No. 170, will perform the traditional military honors at the burial in St. Patrick's cemetery. Cpl. Harrigan was a member of St. Patrick's Holy Name society.

Cpl. Harrigan is survived by his wife, Audrey Sundwall Harrigan, and son, David, seven months of age, and parents, Michael and Mary Harrigan of RFD 1, a sister, Mrs. Barbara Jones, of Porter, a brother, Michael Harrigan, Chesterton; Mr. and Mrs. Andrew Harrigan, Crown Point, paternal grandparents; Mrs. Mary Botwar, East Chicago, material grandparent.

William E. Harrigan was born in Indiana Harbor, August 29, 1930, and lived in Chesterton about 20 years. He graduated from Chesterton high school in 1949 and married Audrey Sundwall, daughter of Mr. and Mrs. Allen Sundwall, 214 S. 8th st., October, 1951. He was employed as a pipefitter at Youngstown Sheet and Tube and on June 13, 1951, entered the army as an infantryman. He was sent to Japan, July 30, 1952, and then to Korea. Here on Pork Chop hill with Company K of the 31st Regiment he was killed in action March 23, 1953.
________________________________________________________________
Source: Chesterton Tribune, Chesterton, Porter County, Indiana; May 21, 1953


Return to List of Porter County Korean War Casualties

Information abstracted and transcribed by Steven R. Shook