Historical Images of Porter County
Draining One of the Fertile Valley Near Woodville, Ind.
Woodville, Indiana

Date: July 4, 1910
Source Type: Postcard
Publisher, Printer, Photographer: Unknown (possibly August F. Haase)
Postmark: None
Collection: Steven R. Shook
Remark: It is believed that this postcard image of a dredge operating near Woodville, Indiana, located in Liberty Township in Porter County, shows the excavation of the Swanson-Lamporte Ditch. The excavation of this ditch was initiated during the summer of 1910. The following mention of the ditch appeared in the technical journal Engineering and Contracting on February 2, 1910 [Volume 33, Number 5, Page 35, Column 1]: "The contract for the construction of the Swanson-Lamporte ditch will be let Mar. 1 at the office of Mr. Stinchfield [County Surveyor]. This ditch is to be 8 miles in length with a base width from 2 ft. to 10 ft., side slopes 1 to 1, and depth from 3 ft. to 8 ft. The total excavation is 68,584 cu. yds., and the estimated cost at 15 cts. per cubic yard is $10,210. The ditch can be constructed by using orange-peel, drag-line, revolving steam shovel or floating dredge for different parts at option of contractor." The postcard was sent to Miss Emma Olson, residing at 5947 Peoria Street in Chicago, Illinois. The message on the postcard states: "Had a dandy auto ride with John and say it certainly was fine. Am going to stay with Mary tonight. Anna."

The following appear in the March 3, 1910, issue of The Chesterton Tribune [Chesterton, Porter County, Indiana; Volume 26, Number 49, Page 4, Column 4]: "John E. Lunnerberg, ditch commissioner, Tuesday afternoon let the contract for the building of the Swanson-Lamport ditch in Liberty township. The ditch is eight miles long and there were nine bidders. The contract was awarded to Harry E. Deneen, of Imlay, Mich., his bid being $6,859.40, or ten cents per cubic yard. The tile contract was let to Wm. Gustafson, of Chesterton, for $693.20. The man who secured the ditch contract is a cousin of Governor Deneen of Illinois."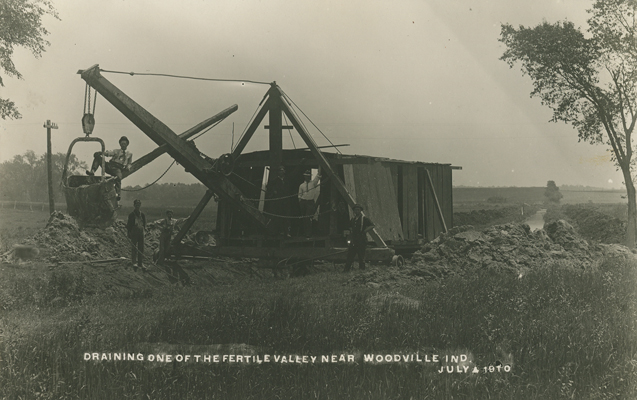 Return to Woodville Images Index
Return to Porter County Photographs & Historical Images

Please contact the Porter County GenWeb Coordinator if
you can provide any additional information concerning this image.