Historical Images of Porter County
Automobile at Northeast Corner of 2nd and North Streets
Wheeler, Indiana

Date: Circa 1910
Source Type: Postcard
Publisher, Printer, Photographer: White
Postmark: None
Collection: Steven R. Shook
Remark: This photograph was taken in the yard of the home that is still standing [2016] at the northeast corner of 2nd Street and North Street in Wheeler, Indiana.

Written on the reverse of this postcard is the following message: "Dear Maggie and all, -- By looking on the other side you will see we have started to visit you and will arrive some time in the future. When you come up next summer we will take you out to our new farm which we bought this summer. We wish you all a Merry Christmas and Happy New Year. From Allen and Bess."

Allen and Bess are very likely Allen O. Dobbins, M.D. and his wife Bessie V. (Clifford) Dobbins. Allen was born December 23, 1869, at Mineral City, Greene County, Indiana, and died on January 12, 1945 at Valparaiso, Porter County, Indiana. Allen and Bess married at Wheeler on April 26, 1906.

The Dobbins family resided in Wheeler until they moved to Valparaiso in 1922. The family owned two 160-acre dairy farms in Union Township. One farm, named Hickory Lawn, was located one mile east of Wheeler in Section 6 (E½SW¼ and W½SE¼). The other farm, named Maple Hurst, was located a mile south of Wheeler in Section 11 (SE¼).

Allen Dobbins served as the Union Township Trustee from 1918 to 1922. In 1924, Allen was elected to the position of Coroner of Porter County, serving a total of six years.

This postcard is inscribed "PHOTO BY WHITE." A neighbor of Dobbins in Wheeler was William White; both the Dobbins and White families resided on North 2nd Street. William White's occupation, according to the 1910 Federal Census record for Wheeler, Indiana, indicates he was a Photographer. Thus, this postcard was most likely taken by William White.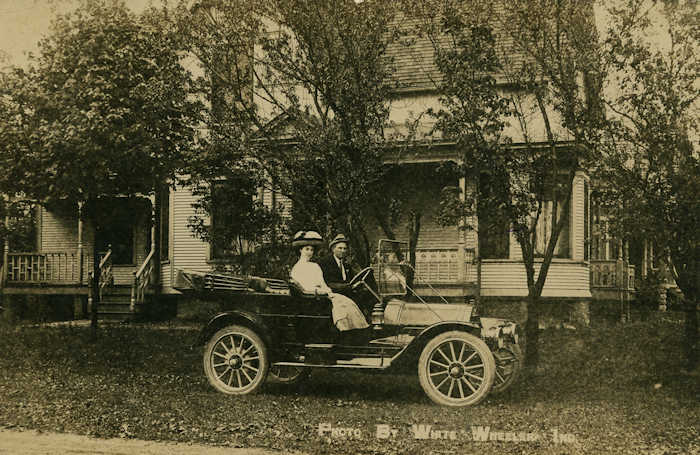 Return to Wheeler Images Index
Return to Porter County Photographs & Historical Images

Please contact the Porter County GenWeb Coordinator if
you can provide any additional information concerning this image.