Historical Images of Porter County
Helena Anders Reimer Field's Ice Cream Parlor and Confectionary
Wheeler, Indiana

Date: Circa 1920
Source Type: Photograph
Publisher, Printer, Photographer: Unknown
Postmark: Not Applicable
Collection: Clarence and Helen (Reimer) Brown
Remark: Robert L. Field and his wife Helena Frances (Anders) Reimer Field owned and operated the ice cream parlor and confectionary in Wheeler for many years. The following newspaper item that mentions the Wheeler ice cream parlor was published in The Vidette-Messenger, Valparaiso, Porter County, Indiana, on August 18, 1936 [Volume 10, Section 3, Page 4]:
"At the present time there are three stores and an ice cream parlor. Wilbur's Grocery store was stated in 1919; however, in 1911 the building was built and used as a post office and telephone office. Later it was used as a printing office and store combined. It has been run by the Wilbur family since 1919. John Reimers owns the building at the present time. Our present ice cream parlor was established thirty years ago; however, it began thirty-seven years ago as a meat market and grocery store combined. Seven years later it became an ice cream parlor, but has been improved continually until the present time."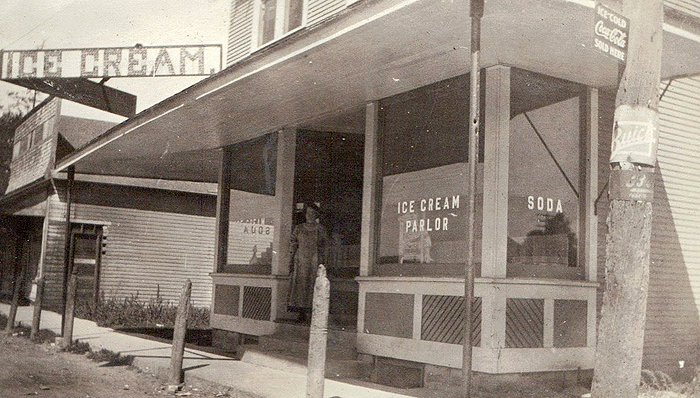 Return to Wheeler Images Index
Return to Porter County Photographs & Historical Images

Please contact the Porter County GenWeb Coordinator if
you can provide any additional information concerning this image.