Historical Images of Porter County
Polk's Piano Tuning School
Valparaiso, Indiana

Date: 1911
Source Type: Photograph
Publisher, Printer, Photographer: Joseph Decker
Postmark: Not applicable
Collection: Steven R. Shook
Remark: Polk's School of Piano Tuning was located on what historically has been called the Excelsior Block, which is located on the southeast corner of Mechanic Avenue (now Indiana Avenue) and Washington Street. Constructed in 1858, the structure was initially used for many years as housing by private families and a place where rooms were rented out. Later, the building became known as the Winchell House. In 1875, the structure became known as the Merchant's Hotel, with Thomas T. Maulsby as proprietor; the Merchant's Hotel was a leading hotel in Porter County for many years. Polk's School of Piano Tuning then became the primary tenant of the building, and later the Court Hotel, operated by Charles Kenyon. The structure was destroyed by fire in 1927, ending its 69 years of existence.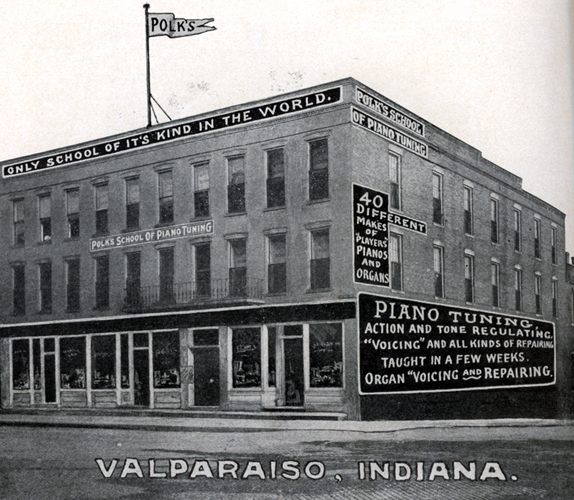 Return to Valparaiso Schools Images Index
Return to Porter County Photographs & Historical Images

Please contact the Porter County GenWeb Coordinator if
you can provide any additional information concerning this image.

Image and related text prepared by Steven R. Shook