Historical Images of Porter County
The Old Central School Building
Valparaiso, Indiana

Date: 1905
Source Type: Photograph
Publisher, Printer, Photographer: A. H. Reading
Postmark: Not applicable
Collection: Steven R. Shook
Remark: This particular site located at 305 North Franklin Avenue has been occupied by four different schools; namely, the Valparaiso Collegiate Institute (1861-1871), the first Central School (1871-1903), the second Central School (1904-1938), and Central Elementary School (1938-present). The Valparaiso Collegiate Institute was a four-room structure opened by the Presbyterians in 1861. When the Valparaiso Collegiate Institute went defunct, the school trustees for the City of Valparaiso purchased the site and buildings on it for use as a public school. The construction of the original Central School, seen here, took place in 1871. The general contractor for the building was Bonham and Winslow. Stone and brick was contracted to Shade and Gregg, James O'Keefe had the painting contract, and R. Rose was architect. Incidentally, R. Rose was also the architect of the Porter County jail constructed in 1870. This school building was made using more than 1,017,000 bricks and 150,000 board feet of lumber. Each quadrangle tower was 100 feet in height, and a veranda was constructed on the east side of the building. The stone steps used at the entrances were quarried from Joliet, Illinois. The structure consisted of sixteen study rooms, an intermediate floor on the second floor, and an assembly room, sometimes referred to as a chapel, measuring 64 by 36 feet in dimension and lit by four hanging chandeliers. A large restroom was also located within the building. It has been noted that the towns of Wanatah and Wheeler could be seen from the towers without the aid of optical equipment. The school opened with an enrollment of 400 students and with William H. Banta serving as superintendent. The first Valparaiso High School class graduated from this building in 1874. This building was replaced in 1904 by the Central School Building, which was later destroyed by fire in 1938. Today, the site is occupied by the Central Elementary School.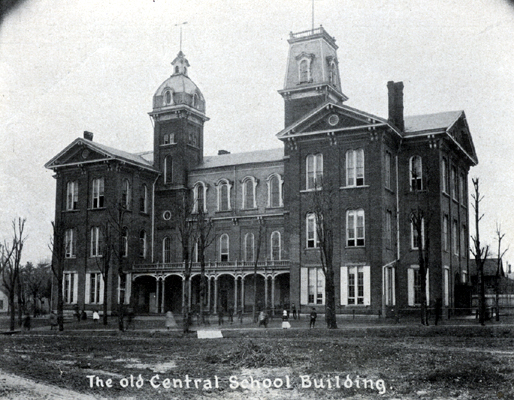 Return to Valparaiso Schools Images Index
Return to Porter County Photographs & Historical Images

Please contact the Porter County GenWeb Coordinator if
you can provide any additional information concerning this image.

Image and related text prepared by Steven R. Shook