Historical Images of Porter County
Public Library
Valparaiso, Indiana

Date: Circa 1940s
Source Type: Postcard
Publisher, Printer, Photographer: Unknown
Postmark: Unknown
Collection: Steven R. Shook
Remark: The City of Valparaiso's second library was more centrally located than its first library, which was the former Hubbard and Finnette Hunt house located on North Washington Street. The Carnegie Corporation provided the City of Valparaiso $20,000, secured largely through the efforts of Arthur A. Hughart, a library trustee, for the construction of the library building. The Carnegie Corporation funding required that the city council guarantee annually levying a maintenance fund that was equal to ten percent of the gift, as well as provide a suitable lot for the building site. Construction planning for this library began on February 9, 1911, with the formal announcement by Arthur A. Hughart of the Carnegie Corporation funding. Carnegie Corporation architect Arthur Tilton designed the structure, while the city purchased the quarter block fronting Michigan Avenue and Jefferson Street. Two lots were purchased for $8,500 from George S. Haste and the heirs of Reverend J. C. Brown. The city also raised an additional $1,500 to expand the entrance, which was seen as more desirable than that called for by the original architectural design. The library was built by Charles F. Lembke and Company of Valparaiso with William E. Pinney, a library trustee, acting as the construction supervisor. The library opened to the public on May 26, 1916, with Oliver P. Kinsey, also a library trustee, providing the dedicatory exercises. In 1973, the city library merged with other county library boards to form the Porter County Library System, serving ten of the twelve townships in the county. An expansion to the library in Valparaiso occurred with the opening of a new library adjacent to the Carnegie Library on August 4, 1980.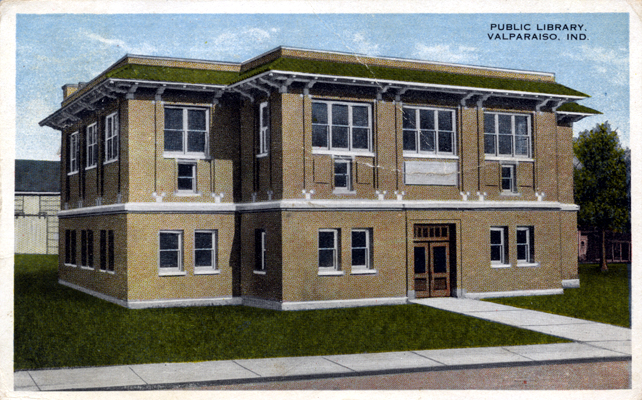 Return to Valparaiso Public Buildings Images Index
Return to Porter County Photographs & Historical Images

Please contact the Porter County GenWeb Coordinator if
you can provide any additional information concerning this image.

Image and related text prepared by Steven R. Shook