Historical Images of Porter County
Stinchfield and Fehrman Company
Valparaiso, Indiana

Date: 1910
Source Type: Postcard
Publisher, Printer, Photographer: The Como Company
Postmark: June 8, 1910, Valparaiso, Indiana
Collection: Steven R. Shook
Remark: June 1910 -- Home Harmonies -- Harmony of spirit is induced by harmony of home environment. Such harmonies as pictured here tend to keep June Roses with their fragrance of Romance always fresh in memory. The bedroom being the place where Shakespeare says: "Sleep kits up the ravelled sleeve of Care", the furniture and furnishings should be softly and richly harmonious creating an atmosphere of rest and sweet repose. We offer bedroom furniture in all styles and finishes, with furnishing to match at prices to suit any purse.
STINCHFIELD & FEHRMAN CO.
FURNITURE AND UNDERTAKING
Telephone 903
158, 160 and 162 W. Main St.
VALPARAISO, IND.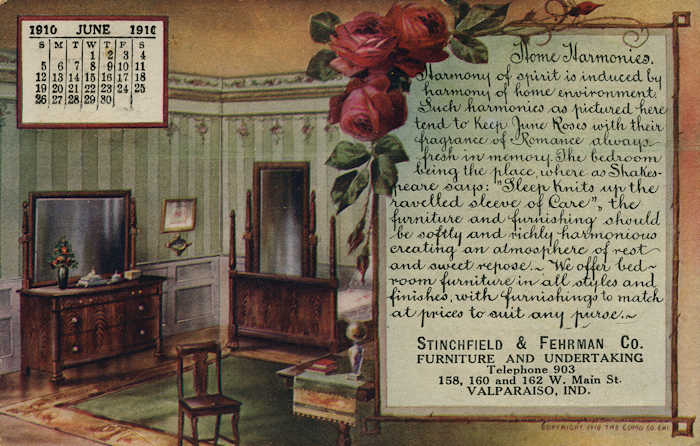 Return to Valparaiso Miscellaneous Images Index
Return to Porter County Photographs & Historical Images

Please contact the Porter County GenWeb Coordinator if
you can provide any additional information concerning this image.

Image and related text prepared by Steven R. Shook