Historical Images of Porter County
Upthegrove & McLellan, Manufacturers of Shooting, Fishing, Ranchman and Business Suits
Valparaiso, Indiana

Date: 1889
Source Type: Postal card
Publisher, Printer, Photographer: H. J. Upthegrove
Postmark: August 7, 1889, Valparaiso, Indiana
Collection: Steven R. Shook
Remark: W. H. Holabird began the manufacture of shooting suits in 1871, and in 1873 established his business in Valparaiso, Indiana. Holabird's suits became well-known and the sales increased substantially. However, the state of Holabird's health resulted in the sale of the business to Hudson James Upthegrove and McLellan. Hudson James Upthegrove was born May 21, 1846, and died in Valparaiso, Indiana, on July 7, 1910; he and his family resided at 208 North Morgan Avenue. Upthegrove served three years in the 73rd Indiana Volunteer Infantry during the Civil War, where at one point he was imprisoned at Andersonville and later released in a prisoner exchange. The business of Upthegrove and McLellan was located at South Franklin Avenue, just south of Lincolnway and directly across the east side of the courthouse square on what was referred to as the Windle Block.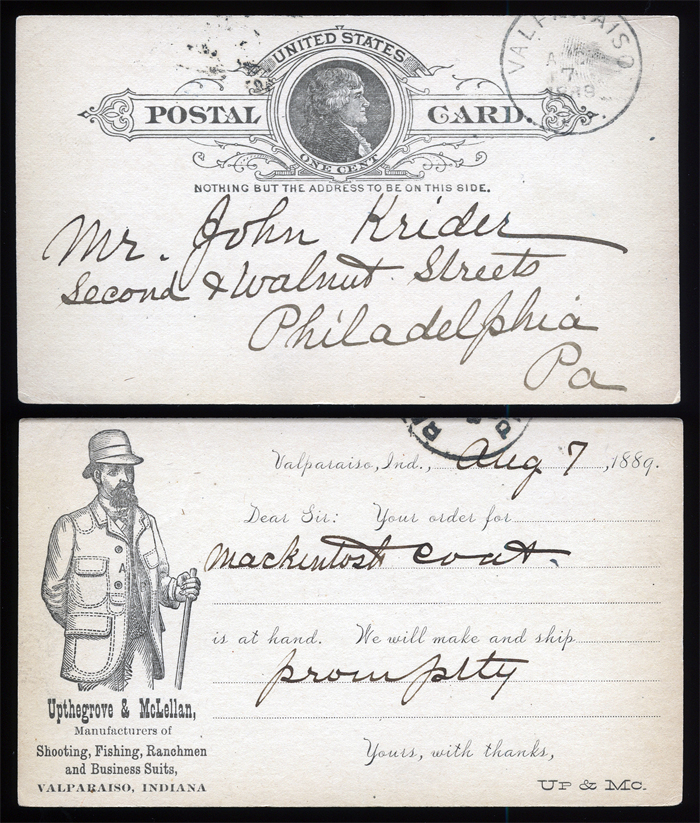 Return to Valparaiso Miscellaneous Images Index
Return to Porter County Photographs & Historical Images

Please contact the Porter County GenWeb Coordinator if
you can provide any additional information concerning this image.

Image and related text prepared by Steven R. Shook