Historical Images of Porter County
Bartholomew & McClelland, Civil War Token, 1863
Valparaiso, Indiana

Date: 1863
Source Type: Civil War token
Publisher, Printer, Photographer: Bartholomew & McClelland
Postmark: Not applicable
Collection: Steven R. Shook
Remark: During the American Civil War, coins issued by the government began to experience a severe decrease in circulation as citizens hoarded coins containing gold, silver, and copper. As a result, transacting business became increasingly difficult as the war progressed. Many merchants therefore contracted to have private minters produce tokens as a proxy for government issued coinage. H. A. Ratterman, of Cincinnati, Ohio, was the first merchant to circulate privately minted tokens during the fall of 1862. The United States Congress, however, banned the usage of non-government issued coins on June 8, 1864, when it enacted 18 U.S.C. § 486; this law made the minting and usage of privately minted coins illegal and punishable by a prison term of up to five years, a fine of up to $2,000, or both. In Valparaiso, the dry goods merchants Bartholomew & McClelland issued two types of copper tokens. Both types have one side that is identical, reading "BARTHOLOMEW & McCLELLAND - DRY GOODS - VALPARAISO, IND. - BOOTS SHOES &c." One version of the token has a reverse side reading "UNITED STATES CAPITAL 1863" and includes an image of the capitol building in Washington, D.C. and eight stars, while the other version of the token has a reverse side reading "THE FLAG OF OUR UNION 1863" and includes an image of the American flag with a Liberty cap atop the flag pole and thirteen stars. Artillus V. Bartholomew and Marquis L. McClelland formed a partnership in the dry goods business in Valparaiso in 1862, a partnership that continued for four years when McClelland left the partnership to pursue other business interests. Bartholomew continued in the dry goods business for many years after the dissolution of the partnership.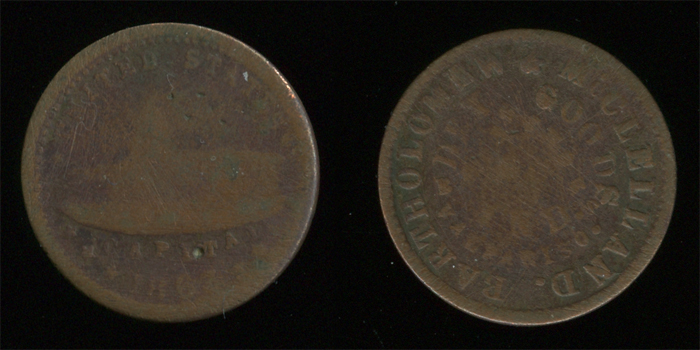 Return to Valparaiso Miscellaneous Images Index
Return to Porter County Photographs & Historical Images

Please contact the Porter County GenWeb Coordinator if
you can provide any additional information concerning this image.

Image and related text prepared by Steven R. Shook