Historical Images of Porter County
Northern Indiana Normal and Business Institute, Obsolete Scrip
Valparaiso, Indiana

Date: Circa 1975-1900
Source Type: Obsolete scrip
Publisher, Printer, Photographer: Unknown
Postmark: Not applicable
Collection: Steven R. Shook
Remark: The Northern Indiana Normal School and Business Institute, which operated from 1873 through 1900, later to be renamed Valparaiso College in 1900, and then renamed again as Valparaiso University in 1906, issued scrip as a form of trade. The Institute is known to have issued scrip in denominations of 10¢, 25¢, and $500, which was backed by its deposits held in the First National Bank located in Chicago, Cook County, Illinois. This example represents an example of an uncirculated 25¢ scrip note.
Source: Wolka, Wendell A., Jack M. Vorhies, and Donald A. Schramm. 1978. Indiana: Obsolete Notes and Scrip. Iola, Wisconsin, Krause Publications. 306 p.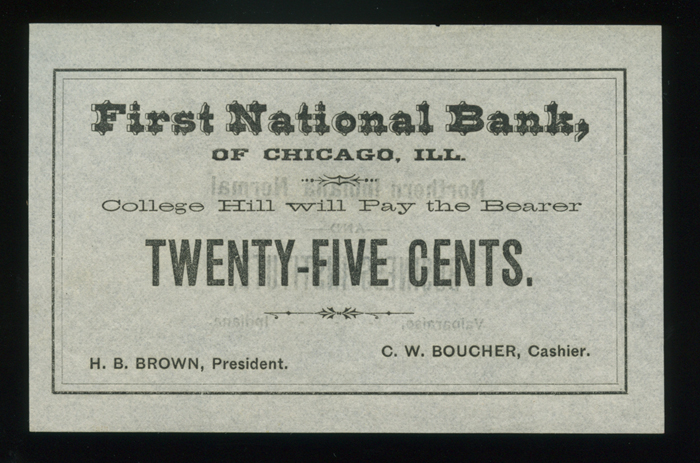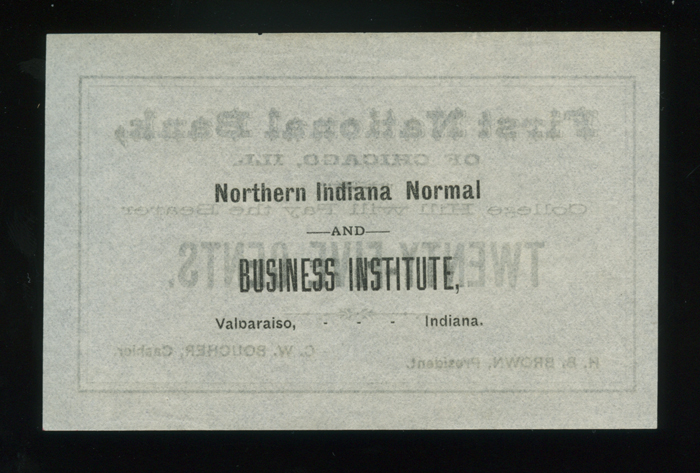 Return to Valparaiso Miscellaneous Images Index
Return to Porter County Photographs & Historical Images

Please contact the Porter County GenWeb Coordinator if
you can provide any additional information concerning this image.

Image and related text prepared by Steven R. Shook