Historical Images of Porter County
Molby Carr, Obsolete Scrip, 1862
Valparaiso, Indiana

Date: June 19, 1862
Source Type: Obsolete scrip
Publisher, Printer, Photographer: Molbay Carr (#1124)
Postmark: Not applicable
Collection: Steven R. Shook
Remark: Molby Carr operated a stage coach line between Valparaiso and Calumet (now Chesterton) in Indiana. It also believed that he owned a store in Valparaiso. According to Wolka et al. (p. 255), Carr issued scrip in denominations of 5¢, 10¢, 25¢, and 50¢. Given that currency was rather scarce during the Civil War, some businesses would issue private scrip for trade, as well as to provide a method to pay their employees. A newspaper article concerning Molby Carr's scrip that was published on June 6, 2012, states that "The substitute currency is believed to be one of only five like it still in existence, and it was printed in Valparaiso, not by the federal government." Actually, the scrip was printed in Chicago by the Chicago Times, which is evidenced in the extreme lower right corner of the scrip.
Source: Wolka, Wendell A., Jack M. Vorhies, and Donald A. Schramm. 1978. Indiana: Obsolete Notes and Scrip. Iola, Wisconsin, Krause Publications. 306 p.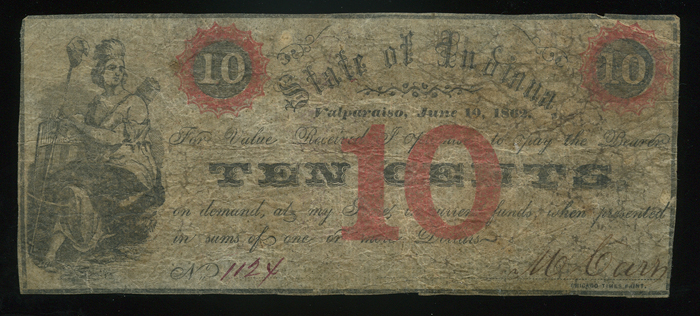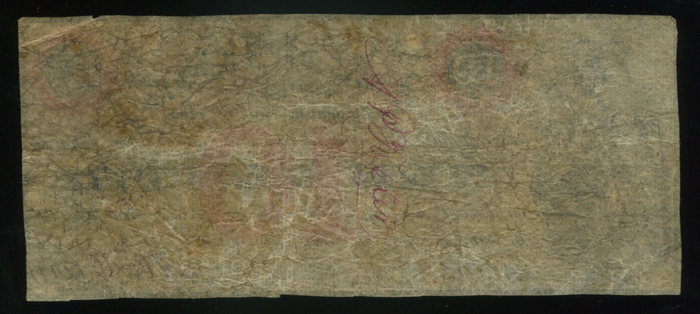 Return to Valparaiso Miscellaneous Images Index
Return to Porter County Photographs & Historical Images

Please contact the Porter County GenWeb Coordinator if
you can provide any additional information concerning this image.

Image and related text prepared by Steven R. Shook