Historical Images of Porter County
Stinchfield and Fehrman Company
Valparaiso, Indiana

Date: 1910
Source Type: Postcard
Publisher, Printer, Photographer: The Como Company
Postmark: July 6, 1910, Valparaiso, Indiana
Collection: Steven R. Shook
Remark: July 1910 -- Midsummer Comfort -- Why go away to the discomforts of a 'summer resort' when for less money, you can have all the comforts of midsummer right on your own veranda or lawn? At evening after the sweltering heat you will find all the luxury of living in our big, old fashioned lounging chairs, in cane, willow and rattan. Our porch furniture chairs, settees, tables, stools, mats, make it possible for any one to convert the porch into a luxurious out-of-door living room at small expense.
STINCHFIELD & FEHRMAN CO.
FURNITURE AND UNDERTAKING
Telephone 903
158, 160 and 162 W. Main St.
VALPARAISO, IND.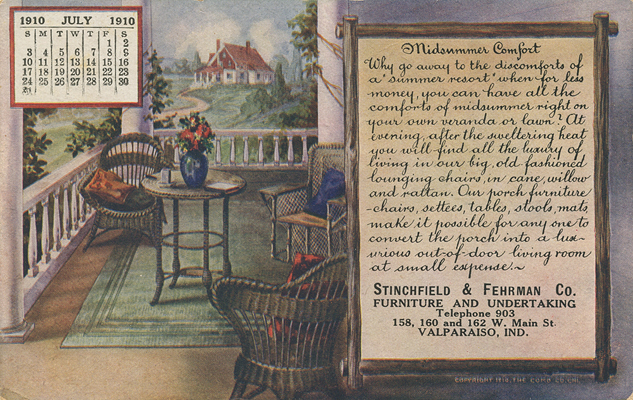 Return to Valparaiso Miscellaneous Images Index
Return to Porter County Photographs & Historical Images

Please contact the Porter County GenWeb Coordinator if
you can provide any additional information concerning this image.

Image and related text prepared by Steven R. Shook