Historical Images of Porter County
Stinchfield and Fehrman Company
Valparaiso, Indiana

Date: 1910
Source Type: Postcard
Publisher, Printer, Photographer: The Como Company
Postmark: None
Collection: Steven R. Shook
Remark: October 1910 -- True Hospitality -- True hospitality feeds the eye as well as the palate, a cozy setting being an aid to digestion, and half the enjoyment of the dinner. The dining room that invited lingering fellowship is a mark of culture, and every dollar used to make it a place of comfort and beauty, quickens the spirit and pays rich dividends in family cheer and contentment. The variety of our stock, and wide range of prices, brings the Dining Room Beautiful within reach of every one.
STINCHFIELD & FEHRMAN CO.
FURNITURE AND UNDERTAKING
Telephone 903
158, 160 and 162 W. Main St.
VALPARAISO, IND.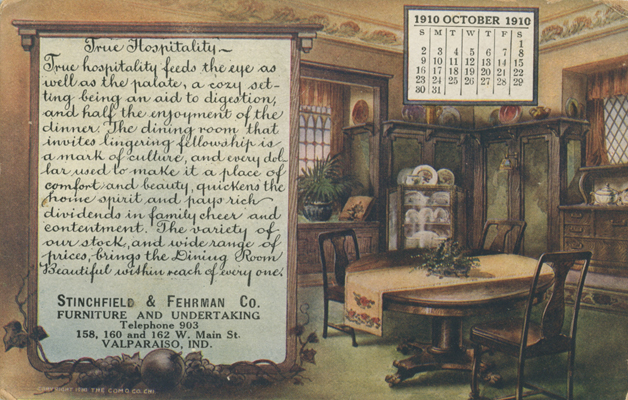 Return to Valparaiso Miscellaneous Images Index
Return to Porter County Photographs & Historical Images

Please contact the Porter County GenWeb Coordinator if
you can provide any additional information concerning this image.

Image and related text prepared by Steven R. Shook