Historical Images of Porter County
Roasted Peanut Wagon - Marshall, #30 S. Locust St.
Valparaiso, Indiana

Date: Circa 1900
Source Type: Photograph
Publisher, Printer, Photographer: Unknown
Postmark: Not Applicable
Collection: Steven R. Shook
Remark: The following information appears on this photograph. The horse drawn peanut wagon was operated by G. G. Sherwood of Valparaiso, Indiana. The wagon was manufactured by Charles Cretors & Company of Chicago, Illinois, a company established in 1885 and still in existence [circa 2011]. According to the Cretors & Company website, the wagon shown here was produced between 1900 and 1910; it was steam powered and could roast 12 pounds of peanuts. The steam was generated by burning white gasoline (naphtha) under a small boiler. The roaster included a small mechanical clown, the Tosty Rosty Man, that acted as a merchandiser for the machine. The sign posted on the building advertises Wilfred G. Marshall's photograph studio, which was located at 30 South Locust Street in Valparaiso. Wilfred G. Marshall appears in the 1900 Federal Census for Center Township, Porter County, Indiana. He was a student at Valparaiso University, aged 22 years and was born in Illinois in June 1877. G. G. Sherwood also appears in the 1910 Federal Census for Center Township, Porter County, Indiana as George Sherwood, aged 43, occupation of salesman-peanut roaster. George resided at 404 Chicago Street in Valparaiso.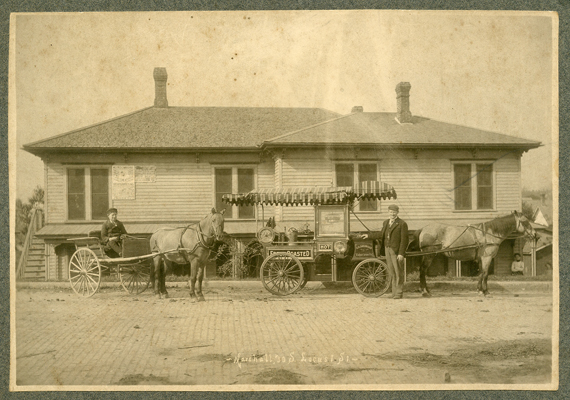 Return to Valparaiso Miscellaneous Images Index
Return to Porter County Photographs & Historical Images

Please contact the Porter County GenWeb Coordinator if
you can provide any additional information concerning this image.

Image and related text prepared by Steven R. Shook