Historical Images of Porter County
The Salisbury Family, A family of musicians of national reputation, born and reared in Valparaiso
Valparaiso, Indiana

Date: 1911
Source Type: Photograph
Publisher, Printer, Photographer: Joseph Decker
Postmark: Not applicable
Collection: Steven R. Shook
Remark: One of Valparaiso's most noted musical organizations was the Salisbury Family Orchestra. Led by Joseph M. Salisbury and his wife, Abbie, the family performed professionally for seventeen years. When the youngest Salisbury child was about five years old (circa 1900), the family began to give public performances. The family disbanded in June 1917, giving several farewell concerts in Valparaiso. After disbanding, some members of the family then joined other organizations and were involved in vaudeville work. Agents for the family included Ernest Butler, Edgar Dowdell and John Manion. Joseph and Abbie Salisbury were both killed when a South Shore electric train struck their automobile in The Pines subdivision in Pine Township, Porter County, on May 1, 1932.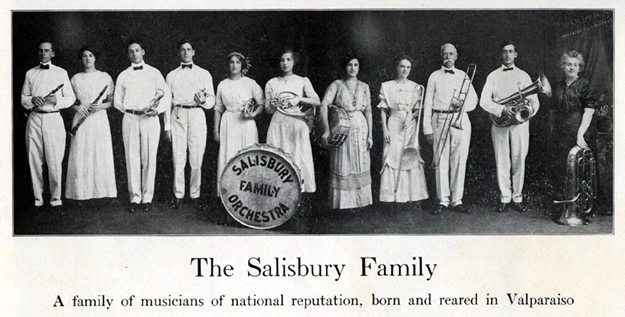 Return to Valparaiso Miscellaneous Images Index
Return to Porter County Photographs & Historical Images

Please contact the Porter County GenWeb Coordinator if
you can provide any additional information concerning this image.

Image and related text prepared by Steven R. Shook