Historical Images of Porter County
Gary Railways Interurban Line, Valparaiso Division, at Milepost 18.9, Wauhob Lake Siding
Valparaiso, Indiana

Date: 1938
Source Type: Photograph
Publisher, Printer, Photographer: J. F. Humiston
Postmark: Not applicable
Collection: Steven R. Shook
Remark: The Gary and Valparaiso Railway's Valparaiso Line operated from 1917 to October 23, 1938, when it was abandoned. The interurban provided hourly runs between Garyton (East Gary/Lake Station) and Valparaiso for many years. During the Great Depression, however, the schedule was reduced, with runs being operated every two hours. The discontinuance of interurban service was largely affected by the increasing use of automobiles, an improved highway system, and the financial depression. A freight service was also run on this line, transporting goods between Gary, LaPorte, South Bend, and Goshen. Milk cars were especially important in moving this commodity to larger population centers located to the west; milk cars were run on this line between Chesterton, Gary, Hammond, Indiana Harbor, LaPorte, and Valparaiso. Milk traffic on the line increased from 70 cans a day in 1913 to 270 cans by 1916. Milk cars continued operation from Valparaiso to Hammond until 1924. Originally called Van Loon Lake, Wauhob Lake was purchased by Olcott Dillingham. William Wahoub acquired ownership of the land and lake after marrying Betsy Electa Dillingham on January 28, 1837, renaming the lake after himself. By 1876, Wauhob Lake was owned by Chauncey Elwood. Around 1900, Elwood sold his property to Isaac W. Dillingham, who also owned farm land to the north of Elwood's property. Along the western shore of Wauhob Lake ran the Valparaiso & Northern Railway's interurban line, and a station was established at the lake. At the northwest side of the lake a deep cut, known as the Wauhob Cut, was made into the hillside during the construction of the interurban line as it proceeded north to its junction at Woodville. The Wauhob Cut is visible today from County Road 700 North, east of Indiana State Road 49. Wauhob Lake would be located to the right of the tracks in this image. The house located on the horizon is believed to be that of Arthur Hanrahan.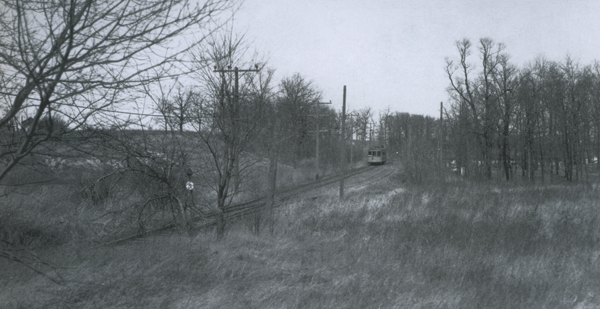 Return to Valparaiso Wauhob Lake Images Index
Return to Porter County Photographs & Historical Images

Please contact the Porter County GenWeb Coordinator if
you can provide any additional information concerning this image.

Image and related text prepared by Steven R. Shook