Historical Images of Porter County
Lakewood Park
Valparaiso, Indiana

Date: Circa 1960s
Source Type: Postcard
Publisher, Printer, Photographer: Harvey's Studio, Dexter Press (#73511-B)
Postmark: None
Collection: Steven R. Shook
Remark: This new park at the north edge of the city is a favorite spot for swimming, boating and fishing. The lake seen here is Loomis Lake. In an effort to increase its water supply, the Valparaiso Water Department placed a pipeline between Flint Lake and Spectacle Lake. Overflow water from Flint Lake would flow into Spectacle Lake, which would then overflow itself into an adjacent 55 acre lowland area. This 55 acre reservoir lake became known as Loomis Lake, named in the honor Elbert Leslie Loomis, who headed the Valparaiso Water Department. After the creation of Loomis Lake, three fishing and boating camps were erected along it shores; these camps were operated by F. W. Erickson, who owned the land west of the lake, Merton L. Knapp, who owned the land north of the lake, and Persch D. Hughart, who owned the land east of the lake. On February 27, 1961, the City of Valparaiso purchased approximately 85 acres of land surrounding Loomis Lake from James Chester, and the city opened Lakewood Park on June 19, 1961. Another 37 acres were later added to the park, resulting in a total of 122 acres. The park was later dedicated as Harold L. Rogers-Lakewood Park. Rogers was the first director of the Valparaiso Parks and Recreation Department.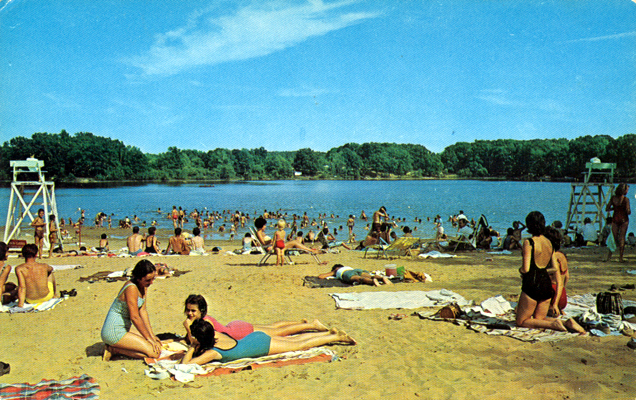 Return to Valparaiso Lakewood Park Images Index
Return to Porter County Photographs & Historical Images

Please contact the Porter County GenWeb Coordinator if
you can provide any additional information concerning this image.

Image and related text prepared by Steven R. Shook