Historical Images of Porter County
Burlington Beach, Chas. Specht - Prop.
Valparaiso, Indiana

Date: 1913
Source Type: Postcard
Publisher, Printer, Photographer: AZO
Postmark: None
Collection: Steven R. Shook
Remark: It is believed that this crowd is gathered to observe the flight of a pontoon airplane off of Flint Lake. According to a Specht family descendant, the airplane was a "promotional," and never actually flew except for a short bit of perhaps 25 feet...landing into an area by the City of Valparaiso's water pumping station and suffering little damage. According to a newspaper article published on August 18, 1936, in The Vidette-Messenger, this event took place on July 20, 1913, when aviation pioneer Tony Jannus announced he would give an exhibition on Wauhob Lake. Apparently, a large crowd had assembled for the flight, but Jannus was unable to get the airplane to fly because Wauhob Lake was too small. As a result, the airplane was hauled in a wagon to Burlington Beach on Flint Lake. It was reported that the airplane spent most of the time skimming along the lake. On one occasion, however, Jannus got his airplane into the air where he managed to circle the lake above the tree tops without touching water. The newspaper article also reports that the some of those in the crowd thought that railroad officials had purposely arranged the event in such a way that people had to be transported between Wauhob Lake and Flint Lake on the interurban, thus increasing the railroad's business. This charge was denied by the officials of the railroad.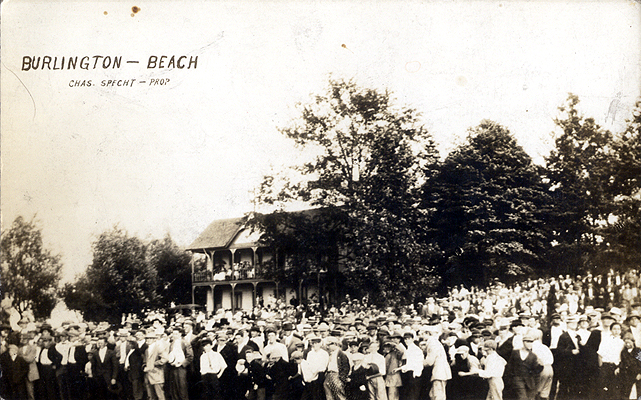 Return to Valparaiso Flint Lake, Burlington Beach, Part 1, Images Index
Return to Porter County Photographs & Historical Images

Please contact the Porter County GenWeb Coordinator if
you can provide any additional information concerning this image.

Image and related text prepared by Steven R. Shook