Historical Images of Porter County
Hotel Lembke
Valparaiso, Indiana

Date: Circa 1920s
Source Type: Postcard
Publisher, Printer, Photographer: E. C. Kropp Company (#10, #30392)
Postmark: None
Collection: Steven R. Shook
Remark: Just prior to 1920, several local citizens and the Valparaiso Chamber of Commerce lobbied for the construction of a new hotel located in Valparaiso. Investors, operating under the name of Valparaiso Hotel Company, bought lots from Barney Carr. These lots were located on Lafayette Street and Jefferson Street. Charles F. Lembke soon announced that he would finance, design, and supervise the construction of the new hotel on the former Carr lots. Construction of the $130,000 "fireproof" steel and concrete hotel began 1924. Lembke, however, died before the completion of the five story structure. The interior of the structure of finished carved oak and rosewood panels. Initially operated in the 1920s by Julius Dreschoff, of South Bend, the hotel was later operated by Paul Carmichael from the 1940s to the mid-1960s. In 1988, the 150 Lincoln Square development project resulted in the Lembke Hotel being razed so that the property could be used as a parking lot.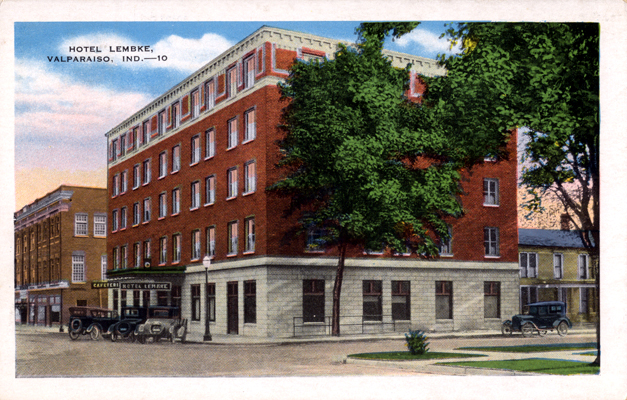 Return to Valparaiso Hotels and Motels Images Index
Return to Porter County Photographs & Historical Images

Please contact the Porter County GenWeb Coordinator if
you can provide any additional information concerning this image.

Image and related text prepared by Steven R. Shook