Historical Images of Porter County
Hotel Spindler
Valparaiso, Indiana

Date: 1911
Source Type: Photograph
Publisher, Printer, Photographer: Joseph Decker
Postmark: Not applicable
Collection: Steven R. Shook
Remark: In 1845, Elizabeth Harrison, from Tennessee, built a tavern on this site, enlarging the structure in 1849. Around 1855, A. R. Gould moved into the structure erected by Elizabeth Harrison, where he operated a hotel and tavern there, called the Gould House, until his death in 1877. Gould was succeeded in the operation of the business by his widow. In 1880, the Gould House was razed and the Central House erected on the site. Some of the proprietors of the Central House were Edward Mee, Mark Killian, John H. Spindler, C. R. Barnhart, Virgil Dawson, Dell Carr, William Burdick and James Wilson. The Central House was later called the Lafayette Hotel, followed by the Spindler Hotel, and then the Sheldon Hotel. The Sheldon Hotel was operated by James H. Sheldon. The structure was then sold in 1921 to G. G. Shauer and Sons. The hotel building was razed and the Premier theatre was erected on the site.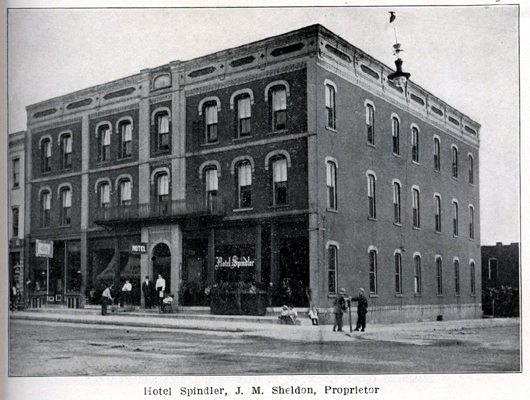 Return to Valparaiso Hotels and Motels Images Index
Return to Porter County Photographs & Historical Images

Please contact the Porter County GenWeb Coordinator if
you can provide any additional information concerning this image.

Image and related text prepared by Steven R. Shook