Historical Images of Porter County
Court House
Valparaiso, Indiana

Date: 1907 (undivided back)
Source Type: Postcard
Publisher, Printer, Photographer: Reading and Haase
Postmark: July 7, 1909, Valparaiso, Indiana
Collection: Steven R. Shook
Remark: The image here shows the third court house constructed in Porter County. This structure was completed in 1883 at a cost of $157,348, nearly 25 percent over the original bid cost of $125,909. The building's footprint measured 128 feet by 98 feet, and had a tower height of 168 feet. A fire at the court house occurred during near zero temperatures on December 27, 1934, and required the assistance of fire departments from Gary and LaPorte to help extinguish the blaze. Tragically, fireman Raymond Meinke died of injuries sustained when his fire truck skidded on an icy highway six miles from Valparaiso on its return trip to LaPorte from this fire. Considerable controversy resulted from this fire; several residents had stated that the county had been warned repeatedly about building safety issues, especially about alleged faulty wiring, long before the fire took place and that these warnings were continually ignored by the county commissioners. William Hutton, an architect from Hammond, Indiana, assisted the county in receiving $100,000 from insurance companies after the fire. In 1936, William Scholer, an architect from Lafayette, Indiana, was hired by the county to prepare two separate plans: one plan for the complete demolition and construction of a new court house, and the second plan for the remodeling of the fire-damaged structure. In the end, remodeling the damaged structure won out. The cost for reconstructing the fire-damaged structure was $172,000, which was completed in 1937 by the the local firm Foster Lumber Company.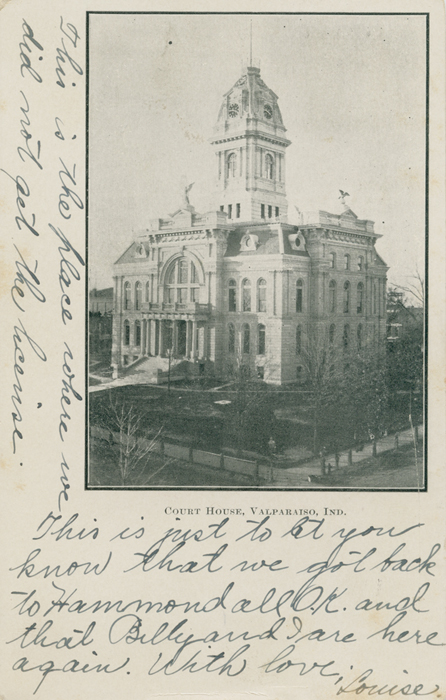 Return to Valparaiso Court House Images Index
Return to Porter County Photographs & Historical Images

Please contact the Porter County GenWeb Coordinator if
you can provide any additional information concerning this image.

Image and related text prepared by Steven R. Shook