Historical Images of Porter County
Old Court House
Valparaiso, Indiana

Date: 1875
Source Type: Photograph
Publisher, Printer, Photographer: The Lewis Publishing Company
Postmark: Not applicable
Collection: Steven R. Shook
Remark: Published in: Lewis Publishing Company (1912), History of Porter County, Indiana: A Narrative Account of its Historical Progress, its People and its Principal Interests, Volume I. Chicago, Illinois: The Lewis Publishing Company. 357 p. The following from the above source discusses this structure (p. 59): "In 1850 a new court house was commenced. It was finished in 1853, the delay having been caused by the use of unsuitable material, a portion of the building having to be torn down and rebuilt, yet when completed it was considered one of the handsomest county buildings in the state. It was 40 by 60 feet, built of brick, and cost the county $13,000. As the county continued to grow, additions to this building became necessary, and by 1880 the question of erecting a new building came up for consideration. In December, 1882, the board of county commissioners ordered the erection of a new court house."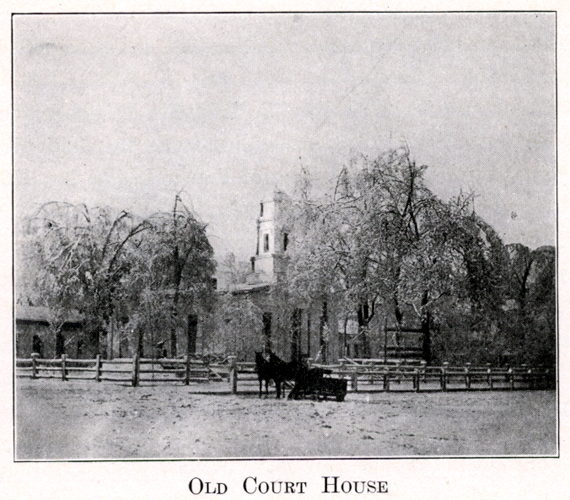 Return to Valparaiso Court House Images Index
Return to Porter County Photographs & Historical Images

Please contact the Porter County GenWeb Coordinator if
you can provide any additional information concerning this image.

Image and related text prepared by Steven R. Shook