Historical Images of Porter County
Christian Church Organ
Valparaiso, Indiana

Date: 1907 or 1908
Source Type: Postcard
Publisher, Printer, Photographer: Elmer E. Starr (#60018)
Postmark: May 22, 1908, Valparaiso, Indiana
Collection: Steven R. Shook
Remark: The organ in the Valparaiso Christian Church was produced and installed by Johnson & Son Organ Company of Westfield, Massachusetts. The organ was officially dedicated on April 27, 1895, by Louis Falk, concert organist of Chicago. The dedication provided the opening of the Grand May Organ Festival, which consisted of a series of four concerts at the church performed by various concert organists from Chicago. The first concert, given on May 3, 1895, featured Frederick Archer. Clarence Eddy was the principal artist at the second concert given on May 10, 1895. Harrison M. Wilde presented at the third concert given on May 17, 1895. The final performance in the Grand May Organ Festival was performed by Wilhelm Middelchulte. W. Huntington was the resident organist at the Christian Church from 1895 to about 1907. Huntington's daughter, Edna, filled in as organist when her father was absent. The organ was dismantled in 1972. Located on the northwest corner of Franklin Street and Chicago Street, the First Christian Church was constructed in 1888.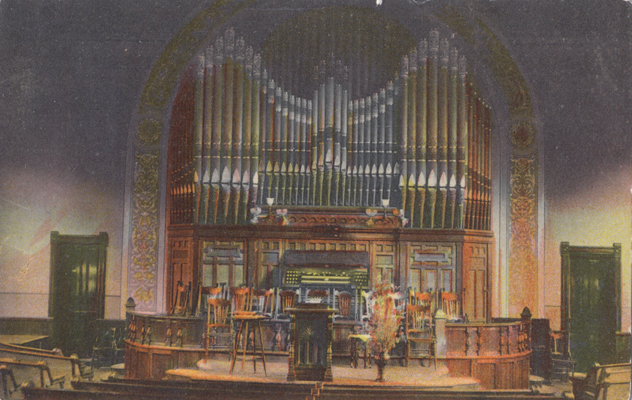 Return to Valparaiso Churches Images Index
Return to Porter County Photographs & Historical Images

Please contact the Porter County GenWeb Coordinator if
you can provide any additional information concerning this image.

Image and related text prepared by Steven R. Shook