Historical Images of Porter County
First Baptist Church, Rev. H. B. Benninghoff
Valparaiso, Indiana

Date: 1905
Source Type: Photograph
Publisher, Printer, Photographer: A. H. Reading
Postmark: Not applicable
Collection: Steven R. Shook
Remark: Harry Baxter Benninghoff was born in Venango Co., Pennsylvania, on April 8, 1874. His parents were Lewis Nelson Benninghoff and Mary Matilda McClintock. His mother passed away when he was about 17 and he left for Indiana on his own to work his way through college. While in Indiana, he met and married Trottie Merrell. The Benninghoffs became Baptist missionaries and teachers and their first assignment was in Burma, where he taught and became principal of the Rangoon Baptist College. Their daughter was born in in Rangoon in 1901. Due to the illness of Mrs. Benninghoff, they returned to the United States and he served as pastor of Valparaiso Baptist Church from 1904-1907. The family then went to Japan were Mr. Benninghoff served as principal of the Duncan Baptist Academy and then taught at a university in Japan. Due to the hostilities towards Americans, the family returned to the United States in 1941 and he was the chaplain at a college in Illinois for a few years, and then taught Oriental Studies at his alma mater, Franklin College in Indiana, until his death in 1949. Located on the northwest corner of Franklin Street and Chicago Street, the First Baptist Church was constructed in 1881.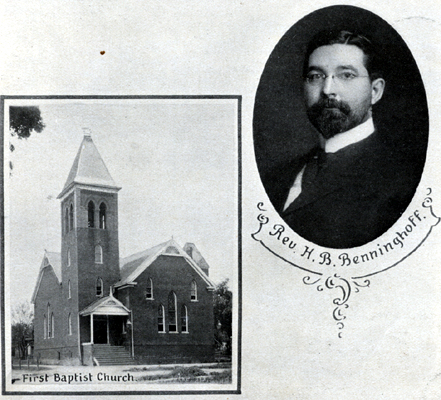 Return to Valparaiso Churches Images Index
Return to Porter County Photographs & Historical Images

Please contact the Porter County GenWeb Coordinator if
you can provide any additional information concerning this image.

Image and related text prepared by Steven R. Shook