Historical Images of Porter County
Merchant's Hotel Block Fire Demolition
Valparaiso, Indiana

Date: 1927
Source Type: Photograph
Publisher, Printer, Photographer: Unknown
Postmark: Not Applicable
Collection: Steven R. Shook
Remark: Note that this photograph is stamp dated April 17, 1924; the date stamp apparently has no connection to the date when this photograph was taken or the event shown in the photograph.

The photograph shows Indiana Avenue in 1927 at its intersection with Washington Street after a fire has destroyed the block; this block was commonly referred to as the Merchants' Hotel Block. The Merchant's Hotel Block was constructed in 1854 by Messrs. Skinner and Mason and was the first brick-constructed block within the city. The brick buildings were previously occupied by a "thicket of hazel brush."

Businesses visible from right to left are:
Wayne T. Fidler Piano House
Leetz's Meat Market and Grocery. Louis F. Leetz, "Leetz for Eats" owned and operated this business.
Family Shoe Store, owned and operated by Morris Linkimer. Morris' son, Sam Linkimer, later owned and operated the business as Linkimer's Shoes for 51 years. At the time this photograph was taken, the Family Shoe Store specialized in retailing Peters Solid Leather Shoes.
Valpo Bargain Store, owned and operated by Morris Linkimer.
Barber Shop owned and operated by John G. Marks.
The former Merchants' Hotel, the large building on the right, was later occupied by Polk's Piano Tuning School before being occupied Fidler's and Leetz's businesses.

Tragically, this fire took a personal toll. According to the July 15, 1935, issue of The Hammond Times, Wayne T. Fidler committed suicide on Friday, July 12, 1935 at his home in Walkerton, St. Joseph County, Indiana:

"The body dangling from a rafter was discovered by his granddaughter. According to members of his family, he had been despondent for some time over financial reverses…. Fidler was a resident of Valparaiso for a number of years, and conducted a music store in the old Merchants' hotel block, later destroyed by fire. Following the fire in which he was a heavy loser, Fidler moved to a farm near Walkerton."

Sources
The Hammond Times, Hammond, Lake County, Indiana; July 15, 1935; Page 12, Column 4
The Vidette-Messenger, Valparaiso, Porter County, Indiana; February 22, 1937; Volume 10, Page 8, Column 1.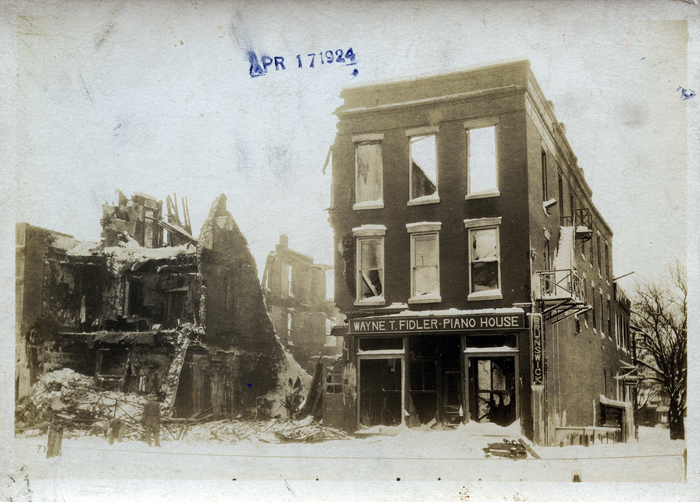 Return to Valparaiso Businesses Images Index
Return to Porter County Photographs & Historical Images

Please contact the Porter County GenWeb Coordinator if
you can provide any additional information concerning this image.

Image and related text prepared by Steven R. Shook