Historical Images of Porter County
John H. Ross Hardware Store
Valparaiso, Indiana

Date: 1911
Source Type: Photograph
Publisher, Printer, Photographer: Joseph Decker
Postmark: Not applicable
Collection: Steven R. Shook
Remark: This structure was located at 15 Main Street (presently 15 East Lincolnway), and faces the north entrance of the Porter County Court House. According to an article published in the May 25, 1962, issue of The Vidette-Messenger, the building at 15 East Main was built in 1855 for Hiram Bickford's solor run as a hardware merchant and was known at that time as "The New Brick Building." This came as a result of the dissolution of Bickford's business partnership with Bidwell.

Bickford later sold out to the partnership of Freeman & Hawkinds. George S. Haste married Hawkins' daughter on October 26 (or 28), 1868, and replaced Freeman in 1870. Hawkins & Haste eventually became Haste & Hollette for a period of 19 years when J. D. Hollette bought out Hawkins. John H. Ross joined Schuyler C. Wilson in 1902, and eventually ran the store on his own, a later sold the business to Charles Wark upon his retirement of August 23, 1919.

Wark was originally located at 11 East Main Street, where he got his start in the partnership of Banister & Wark (succeeding the partnership of Banister & Otis) before receiver J. B. Dilley sold him the remaining hardware stock of B&O on July 8, 1909. This building was constructed in 1858 and modified and "modernized" to accommodate the Central Drug Company and the Vail Jewelry Store.

The interior of Wark's was destroyed by fire on July 3, 1927, when an employee accidentally set off their cache of fireworks. The building was still operating as a hardware store as late as 1989, being run by James Wark. The building is currently [2016] occupied by a business called Radius, a restaurant.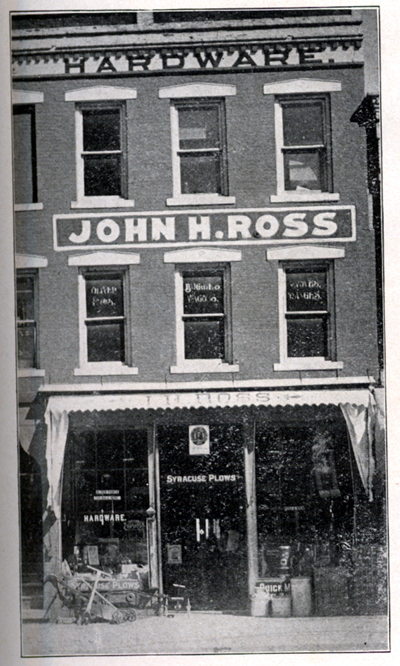 Return to Valparaiso Businesses Images Index
Return to Porter County Photographs & Historical Images

Please contact the Porter County GenWeb Coordinator if
you can provide any additional information concerning this image.

Image and related text prepared by Steven R. Shook