Historical Images of Porter County
Lowenstine's Department Store
Valparaiso, Indiana

Date: 1911
Source Type: Photograph
Publisher, Printer, Photographer: Joseph Decker
Postmark: Not applicable
Collection: Steven R. Shook
Remark: Jacob Lowenstine located his business in Valparaiso in May 1885. His first retail outlet was called the Grand Opera One-Price Clothing House, which was housed on the lower floor of the Grand Opera House (not the Memorial Opera House). At that time, the ground floor of the Grand Opera House was vacant given that the Quartermass Brothers had discontinued their business. After the rent was increased considerably at the Grand Opera House location, Lowenstine decided to purchase the old Odd Fellows building on Franklin Street, shown here, and move his business there. Lowenstine's department store business grew rapidly and the Odd Fellows building constrained growth. Hence, Lowenstine began purchasing lots located to the north and south of his building. Eventually a new store replaced the Odd Fellows building, as well as some buildings adjacent to it. The alley behind the Odd Fellows building was also vacated so that it could be used as ground for the new building.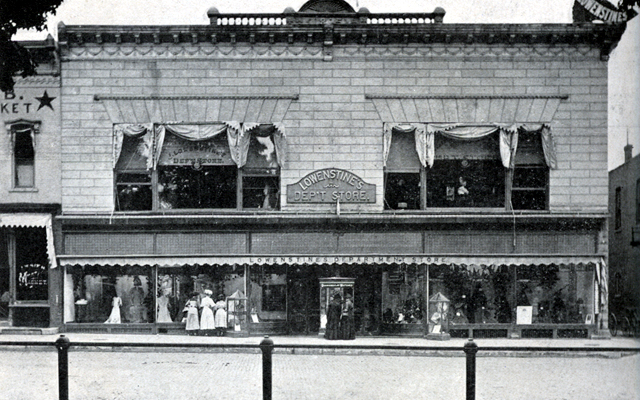 Return to Valparaiso Businesses Images Index
Return to Porter County Photographs & Historical Images

Please contact the Porter County GenWeb Coordinator if
you can provide any additional information concerning this image.

Image and related text prepared by Steven R. Shook