Historical Images of Porter County
Students After Fire
Valparaiso, Indiana

Date: 1911
Source Type: Postcard
Publisher, Printer, Photographer: Charles W. Beam
Postmark: March 14, 1911, Valparaiso, Indiana
Collection: Steven R. Shook
Remark: On the reverse of this postcard is written: "I am sending a picture of three buildings with our rooms marked. We had taken our goods back when the picture was taken. Fire was mostly in back of the two parts on the right, so it doesn't show much. C.W.D."

According to the March 10, 1911, issue of The Lake County Times of Hammond, Lake County, Indiana: "The worst fire Valparaiso University ever experienced yesterday [March 9] destroyed Locksley and Winsor halls. One hundred students, the majority of whom lost all their personal effects, were cared for at other dormitories. During the second alarm Captain Otton Lepell fell from a sleeping room down the slide pole at the fire station and sustained serious injuries. Loss of building, $10,000; on personal property and furniture, $5,000."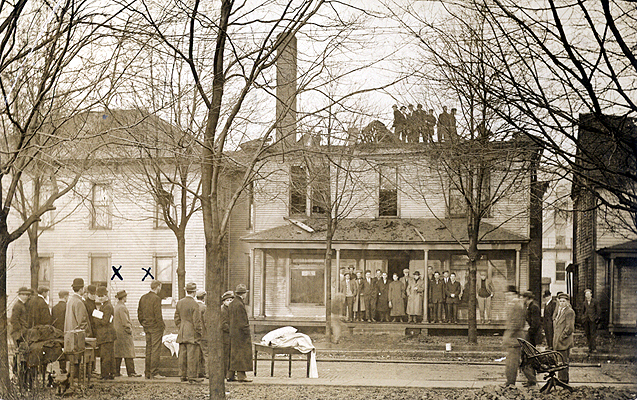 Return to Valparaiso Businesses Images Index
Return to Porter County Photographs & Historical Images

Please contact the Porter County GenWeb Coordinator if
you can provide any additional information concerning this image.

Image and related text prepared by Steven R. Shook