Historical Images of Porter County
Grand Opera House and Opera House Emporium Formerly Owned by L. D. Bondy
Valparaiso, Indiana

Date: 1898
Source Type: Photograph
Publisher, Printer, Photographer: Headlight Engraving Company
Postmark: Not applicable
Collection: Steven R. Shook
Remark: Published in "Headlight: Sights and Sounds Along the Grand Trunk Railway," Volume 3, Number 6. The Grand Opera House, located at 162 West Lincolnway and built circa 1875, was a venue for numerous theatrical, musical, and vaudeville performances in Valparaiso. However, the opening of the G. A. R. Memorial Opera House in 1891 seriously affected business at the Grand Opera House. The Valparaiso Odd Fellows then located in the structure. On the ground floor, this structure housed the Quartermass Brothers business. When the Quartermass Brothers quit business, Jacob Lowenstine located here in May 1885 and opened the Grand Opera One-Price Clothing Store, the predecessor to Lowenstine's Department Store. Lowenstine later moved his business to Franklin Street. The ground floor of this building was also occupied by the furniture and undertaking business of Stinchfield & Fehrman Company, followed by department store retailer Sears, Roebuck and Company.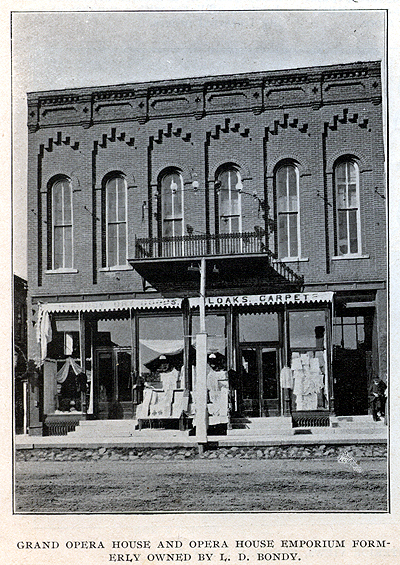 Return to Valparaiso Businesses Images Index
Return to Porter County Photographs & Historical Images

Please contact the Porter County GenWeb Coordinator if
you can provide any additional information concerning this image.

Image and related text prepared by Steven R. Shook