Historical Images of Porter County
Chautauqua Manufacturing Company, Educational Specialties -- Chautauqua Park
Valparaiso, Indiana

Date: 1911
Source Type: Photograph
Publisher, Printer, Photographer: Joseph Decker
Postmark: Not applicable
Collection: Steven R. Shook
Remark: This structure was located at West Main Street (now West Lincolnway) and Center Street, and the site was later occupied by the Valparaiso Technical Institute. The building was headquarters of the Home Herald Press, established in 1887. In 1896, the company was incorporated as Powers-Higley & Company. The company's initial line of products focused on educational materials. Later, a personal wooden desk that included a blackboard and a scrolling educational lithograph was produced, called the Chautauqua Desk; this desk became a very successful product for the company. Powers-Higley & Company products were marketed by the L. E. Myers Sales Company, founded by L. E. Myers. By 1913, Powers-Higley & Company and L. E. Myers Sales Company had merged and operated under the name of L. E. Myers Company. Around 1915, the company was sold, but continued operating under the L. E. Myers Company name. In 1921, a nonprofit company, the Children's Foundation of Valparaiso, became affiliated with L. E. Myers Company. The foundation focused primarily on the publication of educational materials for children. Immediately south of the this building was located the Pitkin & Brooks building, which was a manufacturer of glassware.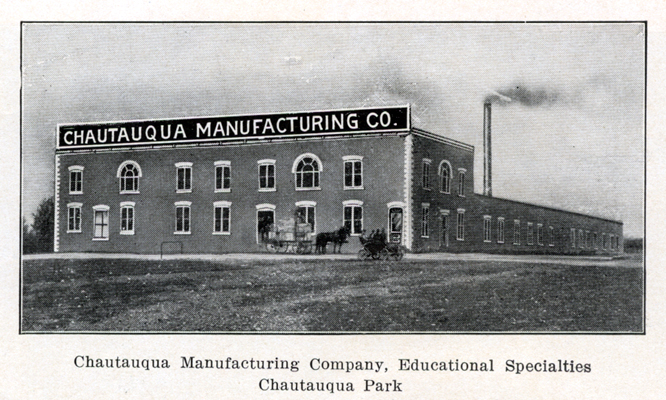 Return to Valparaiso Businesses Images Index
Return to Porter County Photographs & Historical Images

Please contact the Porter County GenWeb Coordinator if
you can provide any additional information concerning this image.

Image and related text prepared by Steven R. Shook