Historical Images of Porter County
Chicago Mica Company. Miners, Importers, Manufacturers of Mica for All Purposes. A Leading Industry.
Valparaiso, Indiana

Date: Circa 1907-1910
Source Type: Postcard
Publisher, Printer, Photographer: Unknown
Postmark: None
Collection: Steven R. Shook
Remark: This building was located on South Campbell Street, just south of the Pennsylvania Railroad tracks in Valparaiso. Erected in 1866, it initially housed the Valparaiso Woolen Manufacturing Company, manufacturers of flannels, jeans, knitting yarns, blankets, and other fabrics. Julia A. George, William Powell, A. V. Bartholomew, and Hollis R. Skinner started the business with a capital of $60,000, with Bartholomew and Skinner being stockholders in the operation. The woolen mills was unprofitable due to poor prices and high costs and its operation ceased by 1872 when the building became the home of the National Pin Factory. The National Pin Factory, established by the Fontaine Brothers, operated in the building for approximately three years before moving the business to Detroit. This factory was the only pin factory west of New York and one of only four in the United States. The Powell family then took up manufacturing of Germantown yarn in the structure around 1875, adding hosiery in 1881. The knitting and hosiery operation was then moved to a site in Muskegon, Michigan. The next tenant of the building was Mike Barry, who operated a wagon works, followed by the Cosmo Buttermilk Soap Company, also known as the Culbert-Hutchison Factory, which came to Valparaiso from Elkhart, Indiana. Cosmo Buttermilk Soap Company was a business owned by J. J. Burns, a native of Ohio. A former Cosmo Buttermilk Soap Company manufacturing plant still stands in Goshen, Indiana, and appears very similar in construction and design to the structure in Valparaiso. In 1899, the Chicago Mica Company, which had organized in 1898, purchased the factory buildings to produce goods used in the electrical products market. The name of the company was later changed to Continental Diamond Fibre Company, a division of the Budd Company, and it ceased operation at this plant in 1960. The Anderson Company owned and leased the buildings on this site from 1960 to 1985.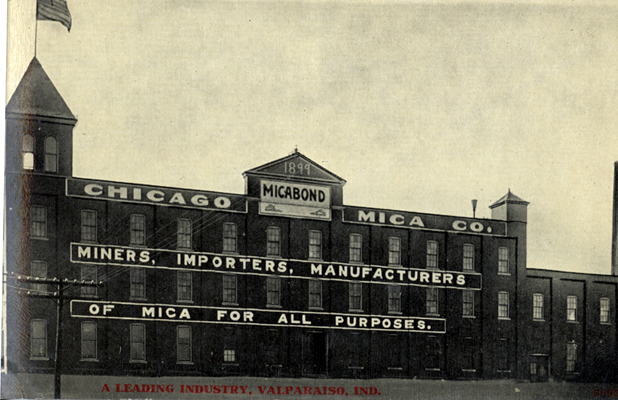 Return to Valparaiso Businesses Images Index
Return to Porter County Photographs & Historical Images

Please contact the Porter County GenWeb Coordinator if
you can provide any additional information concerning this image.

Image and related text prepared by Steven R. Shook