Historical Images of Porter County
School Store, Northern Indiana Normal School
Valparaiso, Indiana

Date: 1907
Source Type: Postcard
Publisher, Printer, Photographer: Unknown
Postmark: July 8, 1907, Valparaiso, Indiana
Collection: Steven R. Shook
Remark: The sender of this postcard was Wilbur M. Sutter, while the recipients were Mr. and Mrs. A. W. Sutter of Storm Lake, Buena Vista County, Iowa. The message is as follows:

"7/7/07
Dear Parents
Got your letter & enclosure all o.k. in due time. Will try to write another letter as soon as I can get time. You can see from the picture that Im all O.K. Lovingly Wilbur

Valpo, Ind
Myself and classmate chum as we tried to cool off the other day. Taken in front of the College Pharmacy - sort of a headquarters for we Pharmics as it is owned by the Dean of Pharmacy and Pharmics are particularly welcome.
Wilbur"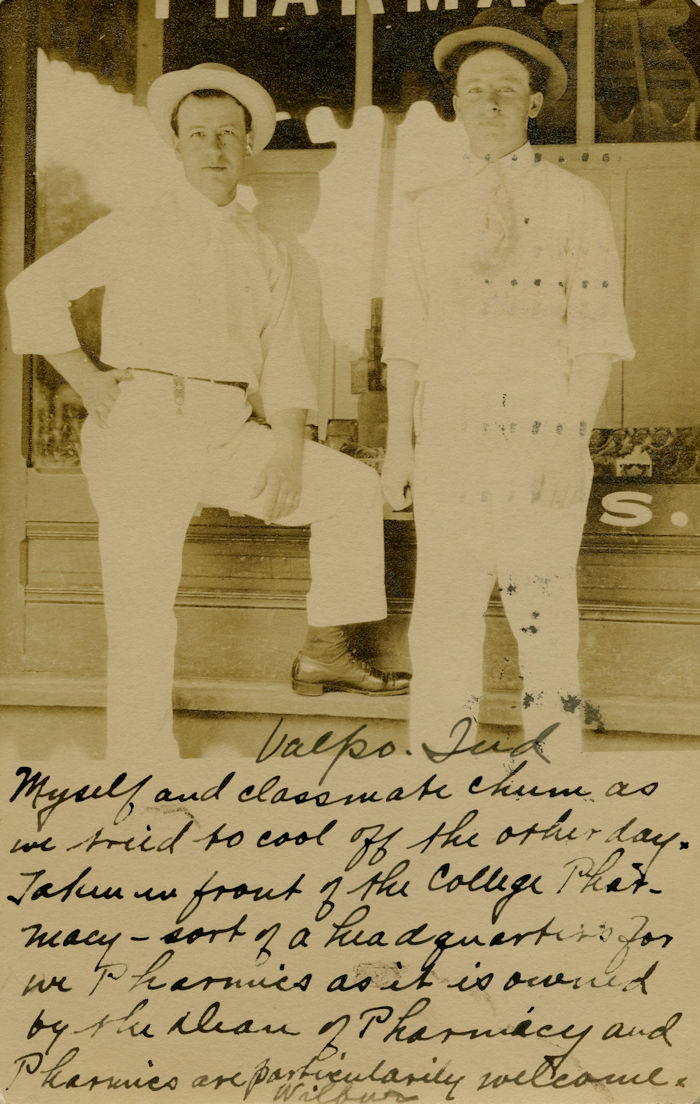 Return to Valparaiso University Miscellaneous Images Index
Return to Porter County Photographs & Historical Images

Please contact the Porter County GenWeb Coordinator if
you can provide any additional information concerning this image.