Historical Images of Porter County
Old College Bell 1873 Valparaiso, University
Valparaiso, Indiana

Date: 1918
Source Type: Postcard
Publisher, Printer, Photographer: Unknown
Postmark: November 29, 1918, Valparaiso, Indiana
Collection: Steven R. Shook
Remark: The "Go Bell" is not the Victory Bell currently located on the Valparaiso University campus. In the 1890s and early 1900s, the "Go Bell" rang at 10:00 pm nightly as a notice to discontinue all visitations between male and female students. The October 12, 1942, issue of The Vidette-Messenger [Volume 16, Page 2, Column 4], published in Valparaiso, mentions that "Way back in 1892 a 'go-bell' rang at 10 p. m. which stopped all visiting. Boy friends had to 'skedaddle' from the girls' dorms or be locked in. All was supposed to be quiet. Of course studying continued until the wee small hours. Saturday this same "go-bell" was figuratively rung, and all retired for the night."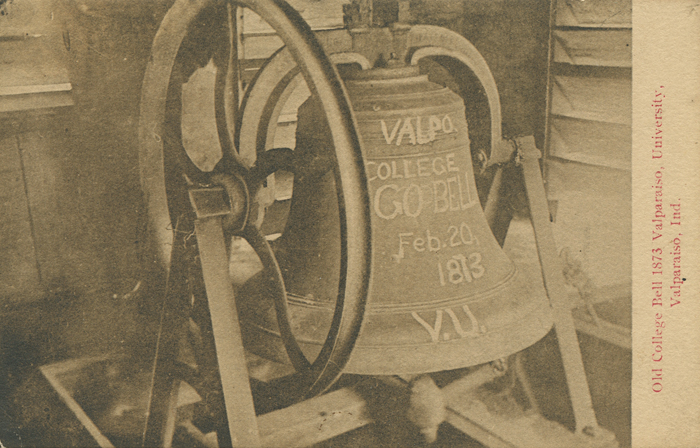 Return to Valparaiso University Miscellaneous Images Index
Return to Porter County Photographs & Historical Images

Please contact the Porter County GenWeb Coordinator if
you can provide any additional information concerning this image.