Historical Images of Porter County
Stiles Hall
Valparaiso, Indiana

Date: August 11, 1918
Source Type: Postcard
Publisher, Printer, Photographer: Unknown
Postmark: None
Collection: Steven R. Shook
Remark: Stiles hall was a relatively modern building in its day, having steam heat and "modern improvements." During World War I, troops from Company C were housed here. One noted resident of Stiles Hall was Lowell Thomas, a famous writer, broadcaster, and traveler. The hall was operated by the Stiles family under relatively strict rules. Dues to these rules, the hall was popularly referred to as "Libby Prison." The message on the reverse of this postcard reads as follows: "Dear Sister: On the other side of this card is the photo of the place where we sleep. There are quite a number of us 'lunks' in this building. Three to six in a room. There are five in our room. I'll see if I can name them. Shitz and myself occupy the small room at the rear of the suite of rooms, 'Possum,' 'Shorty' and 'Skinny' hold forth in the larger room. We are on the second floor -- there are three floors.; and we have to scrub, mop, sweep them and the hall-ways, and keep our room in first class condition at all times, besides caring for our rifle and equipment. Had to air our blankets day before yesterday for inspection, yesterday. Oh, yes! We've got to sweep the sidewalks and street in front of the barracks every day too. Walter."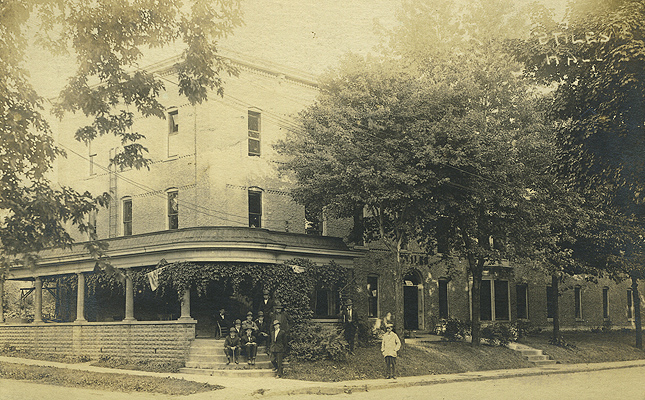 Return to Valparaiso University Stiles, Union, Vineyard, and Wehrenberg Halls Images Index
Return to Porter County Photographs & Historical Images

Please contact the Porter County GenWeb Coordinator if
you can provide any additional information concerning this image.