Historical Images of Porter County
Heritage Hall Waiters, Valparaiso (Ind.) University
Valparaiso, Indiana

Date: 1909
Source Type: Postcard
Publisher, Printer, Photographer: Unknown
Postmark: March 4, 1909, Valparaiso, Indiana
Collection: Steven R. Shook
Remark: Originally named Flint Hall, this structure was built as a three story building in 1875 and served as a boarding house. However, a fire in 1879 destroyed much of the third floor. Music Professor Richard A. Heritage then purchased the damaged structure in 1879. In remodeling the structure after the fire, the third floor was removed and a flat roof was placed over the second story. The hall was then renamed Heritage Hall. The structure served as the university library from 1925 to 1946. Professor Richard A. Heritage served as head of the Music Department at Valparaiso University from 1877 to 1894.

The writing on this postcard states, in part: "The picture is of the waiters. Say Clem come & see Kelley & stop and see me while you are here it will cost you nothing on me. I have a stand in with the cook. This is the waiters squad of Heritage Hall. It seats 125. We serve two sets of meals at 6, 13 & 6 & 6:35, 12:35, & 6:35. I wait first tables." This postcard is signed by George Kepler and was mailed to Clem Breckheisen of Sturgis, Michigan.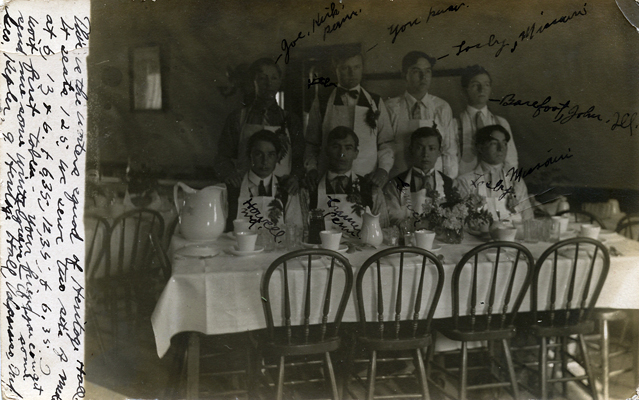 Return to Valparaiso University Graland, Greenwich, Guild & Memorial, and Heritage Halls Images Index
Return to Porter County Photographs & Historical Images

Please contact the Porter County GenWeb Coordinator if
you can provide any additional information concerning this image.