Historical Images of Porter County
Vernier China Co. Fine China and Glassware.
The Pines, Indiana

Date: 1940
Source Type: Postcard
Publisher, Printer, Photographer: Curt Teich (#0B-H2058)
Postmark: None
Collection: Steven R. Shook
Remark: Vernier China Co., Fine China and Glassware. On U. S. 20, Four Miles West of Michigan City, Ind. Haviland, Syracuse Fine China. 150 Patterns, Open Stock American Dinnerware. Cambridge Hand Made Glassware. Gifts for all occasions. Visitors welcome any time. Open daily including Sunday 10 a. m. to 10 p. m. Mail Address: Michigan City, Ind. The Vernier China Company was owned by Glenn and Eva (Fagley) Vernier. It is believed that the shop opened in 1936. Glenn Vernier died about 1966 at which time the business was taken over by his son, Robert, and perhaps his daughter, Pauline (Mrs. George Schlundt), both of whom lived in Michigan City, Indiana. Robert died in 1976. It is believed that Robert's eldest son, James, then ran the company.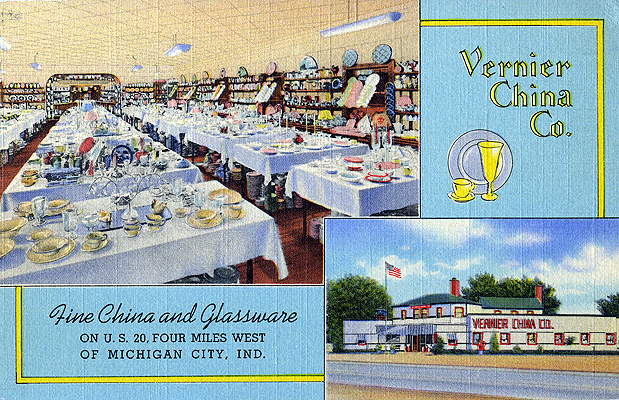 Return to The Pines Images Index
Return to Porter County Photographs & Historical Images

Please contact the Porter County GenWeb Coordinator if
you can provide any additional information concerning this image.